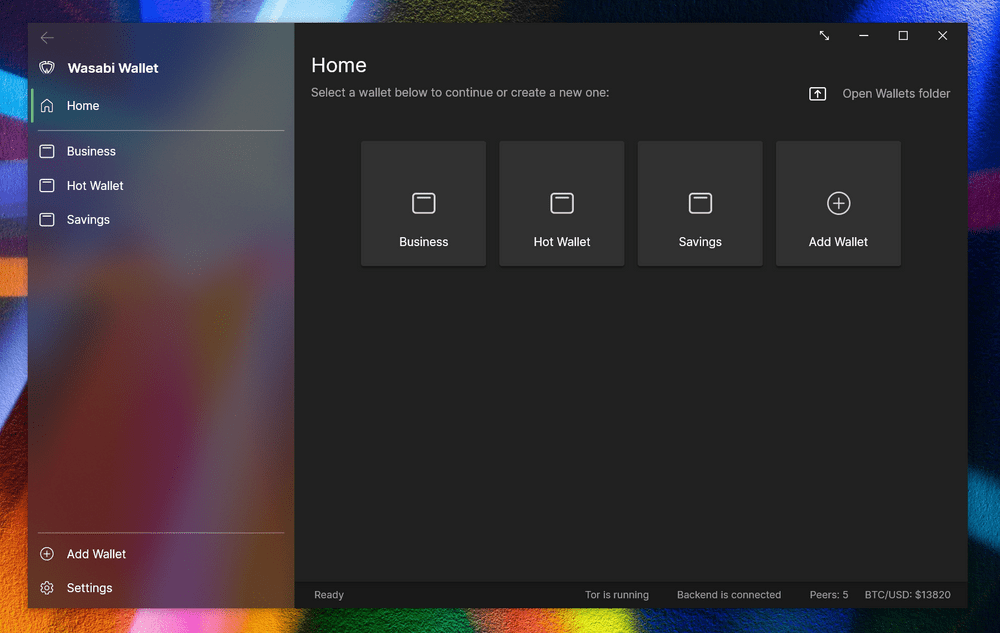 ---
Wasabi Wallet 2.0 is a Bitcoin wallet based on the popular Wasabi Wallet . Wasabi Wallet allows light wallet users to maintain their privacy without a trusted third party. Wasabi 2.0 takes things to the next level, not only making Bitcoin privacy faster and cheaper.
Wasabi announced Wallet 2.0. According to the developers, Wallet 2.0 will help bitcoin scale faster, as well as prepare bitcoin for mass adoption and improve privacy. Wasabi 2.0 could be Bitcoin's last chance at becoming "good money." Wasabi 2.0 is a combination of user interface (UI), user experience (UX) and coinjoin (CJ) improvements.
Wasabi 2.0 has completely rewritten the user interface using modern, fluid design principles without breaking away from the current software's existing feature set.
In terms of UX, manual coin pairing will be a thing of the past or will remain for advanced users only.
On the CJ front, the long-awaited debut of WabiSabi will also take place. It will facilitate faster, more cost-effective, lossless collaborative transactions, lay the foundation for coinjoin payments, and open up opportunities for combination with other technologies.
Wasabi Wallet
Welcome. This is the fourth release of TestNet. This version of Wasabi 2.0 is suitable for testing . It only allows you to use CoinJoin on TestNet, and we don't recommend using the wallet on MainNet just yet – don't be reckless. The software is still under active development, so be careful.
Are you a first time user?
Download the package below with your favorite operating system.
Install and try it out!
Already using Wasabi?
This install will replace your current Wasabi 1.0.. If you would like to continue using Wasabi 1.0, especially CoinJoining on MainNet, we suggest installing this version under a new user profile of your operating system. If you still want to experiment with overwriting your existing installation, be sure to change your network settings to TestNet and back up everything as usual.
Download the package below with your favorite operating system.
Install and try it out!
You can migrate from the test version by uninstalling it and then installing latest stable Wasabi 1.0.
System Requirements
Requirements? Windows 10 1607+ (except 1703), macOs 10.15+, Ubuntu 16.04, 18.04, 20.04+, Fedora 33+, Debian 10+
Compatibility? Click here .
Get the .NET 6.0 SDK: https://dotnet .microsoft.com/download
If necessary, disable .NET telemetry by running the command in the terminal export DOTNET_CLI_TELEMETRY_OPTOUT=1on Linux and macOS or setx DOTNET_CLI_TELEMETRY_OPTOUT 1 on Windows.
Download here 
What has changed?
Renamed P2wpkhOutputSizeInBytes to P2wpkhOutputVirtualSize by @onvej-sl in #7728
[VDG] Fix DualCurrencyInput not updating text value by @ichthus1604 in #7734
[ VDG] [Fluent] [Trivial] xaml error fix by @wieslawsoltes in #7737
Announcement calculation fix by @nopara73 in #7719
AmountDecomposer: Passing Random via ctor by @kiminuo in #7700
Add CoinJoinIdStore to store old and new coinjoin in one place by @Szpoti in #7726
[Trivial] Move automatic restart log message from @yahiheb to #7670
Add RPC dump of wallet coin list by @lontivero in #7715
[VDG] SearchBar – warning fixes and simplification by @soosr in #7757
[VDG] Manual cursor for dropdown items Searchbar by @MarnixCroes in #7772
[VDG] Adding label column sorting when viewing wallet coins by @soosr in #7744
[VDG] Getting addresses – enable sorting in label column by @soosr in #7743
[VDG] Error message improvement by @soosr in #7742
[VDG] Using SmartLabel in HistoryItemViewModelBase.cs by @soosr in #7741
[VDG] Add MaxLength to Searchbar by @MarnixCroes in #7754
[VDG] Add hint to privacy settings by @MarnixCroes in #7769
[VDG] Make LabelsPanel compatible with SmartLabel by @soosr in #7746
[Trivial] Removing unused code by @yahiheb in #7768
Reimplementing SecureRandom by @kiminuo in #7688
Rename task manager and add tooltip to TrayIcon by @MarnixCroes in #7780
[VDG] Retrying after entering wrong password to authorize wallet by @SuperJMN in #7758
[VDG] Add custom logic to display OOBE background when adding wallet from search bar by @SuperJMN in #7785
Add WabiSabi CoinJoin Monitor to Status Query API by @molnard in #7787
[VDG] [Fluent ] Clearing Xaml by @wieslawsoltes in #7788
[VDG] [Fluent] Don't register Global with locator by @wieslawsoltes in #7784
[VDG] [Fluent] Use TreeDataGrid from official NuGet by @wieslawsoltes in #7776
[VDG] [Trivial] SendView – To input max height by @ichthus1604 in #7691
[VDG] Ignore case when selecting pocket by @soosr in #7749
Add SuggestedMaxAmount by @molnard in #7748
Fix window state on startup by @adamPetho in #7779
Switch RoundStateResponseJsonConverter from 'JsonConverter' to 'JsonConverter' by @yahiheb in #7668
[Trivial] Fix typo in filename ProtocolConstants by @molnard in #7786
Indicate guilt rounds in logs by @yahiheb in #7782< /li>
Feedback
Your feedback is essential to the development of Wasabi 2.0.
---