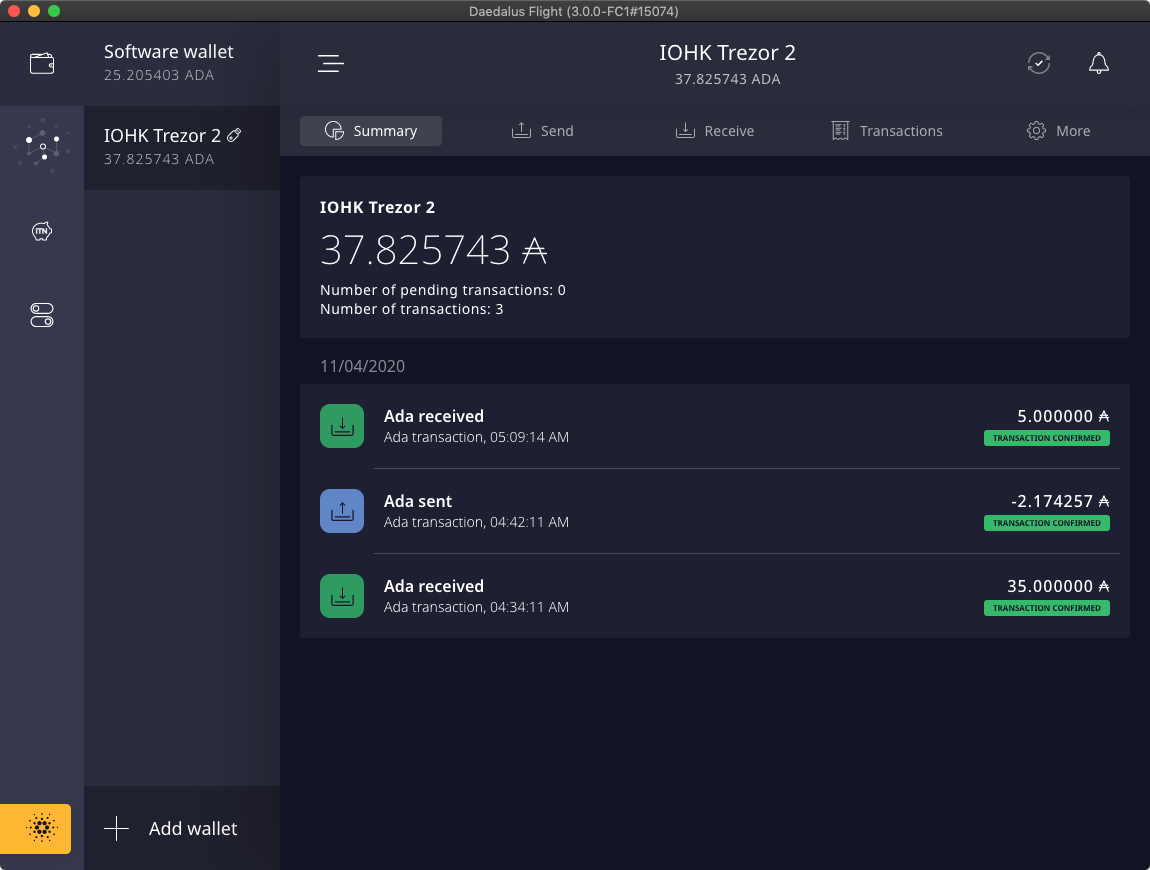 ---
DAEDALUS WALLET is an open source ADA wallet built to grow alongside the Cardano blockchain. ADA is Cardano's cryptocurrency. Daedalus is a secure ADA cryptocurrency wallet. Download and install a wallet so you can keep your ada secure. The Daedalus wallet is a product of the Cardano Foundation released back in September 2015. They focused on presenting it as being able to securely store your private keys. This web tool is hierarchically deterministic (HD), which enhances its security to the level desired by the user. Such a multi-platform representative of one coin reduces your security worries. More details will be explained later in the article and it is also easy to follow the detailed installation guide.
What is Cardano ADA?
Cardano (ADA) is a decentralized platform that enables complex programmable value transfers in a secure and scalable manner. Founded by Charles Hoskinson, its development began in 2015 under the leadership of Charles Hoskinson, and in 2017, during the ICO, the project received $60 million in funding. Hoskinson is also known as one of the founders of Ethereum. It is reported that Cardano is the first blockchain platform that was born from a scientific philosophy and research approach, and one of the first platforms built on the Haskell programming language. Cardano is developing a smart contract platform with more advanced functionality than any of the current protocols. The development team is a large global team of experienced engineers and researchers. Reportedly The protocol is based on a multi-layer blockchain software stack that will be flexible, scalable, and designed to meet the most stringent academic and commercial software standards in the industry. Cardano will use a democratic governance system that will allow the project to evolve over time and fund itself sustainably through the treasury system. Cardano also intends to balance user privacy protection with the need for regulation, such that Cardano's regulated computing style will promote financial inclusion. Cardano is backed by three organizations that are separated by both ownership and leadership. The Cardano Foundation is an independent Swiss organization that regulates the development of the Cardano ecosystem, IOHK develops and deploys Cardano, and Emurgo is the commercial division that supports Cardano in commercial projects. The Cardano development roadmap is divided into five eras: Byron, Shelley, Goguen, Basho, and Voltaire. Each of the eras has its own unique set of features that will be introduced and supported in several code releases in turn. Development for all eras is carried out in parallel. Cardano also has its own block viewer with which users can check the history of ADA transactions that are publicly recorded on the blockchain. Development for all eras is carried out in parallel. Cardano also has its own block viewer with which users can check the history of ADA transactions that are publicly recorded on the blockchain. Development for all eras is carried out in parallel. Cardano also has its own block viewer with which users can check the history of ADA transactions that are publicly recorded on the blockchain.
Daedalus features
Even matching a single coin, Daedalus has gained popularity due to the wide range of features offered to the user. This wallet is built to be easy to manage, with every action protected by high-tech security features. Daedalus developers provide a product with a fast and easily accessible refund process.
However, the Cardano Foundation is notable for anti-malware safeguards such as extended passwords and encrypted special keys. To ease your mind, they also offer paper certificate export. As an added guarantee, this wallet allows you to use the ADA recovery option available for both encrypted and unencrypted versions.
Operating system compatibility
This web wallet is only available for Mac OS and Windows, where the required version must be 64-bit. As far as Linux is concerned, Daedalus is incompatible there. It does not have the required ETA for such a release. Pretty old computers cannot benefit from this secure and easy to use wallet.
Moreover, by choosing this tool, select one of the proposed OS and install a compatible application. It is automatically opened in the Cardano ecosystem. This leaves you with one simple step – set up a wallet and start managing the crypto wealth that will come your way. To do this, you need a system with a dual-core processor, 4 GB of RAM, 10 GB of free space, and one of the operating systems listed below.
Daedalus wallet guide: how to set up and use
This section is for step by step instructions on installing and using the Daedalus wallet. I've included the location and function of the key components, how you end up getting the software you own, and some specific details. In the following paragraphs, you will also see how to check your addresses, send, receive, backup and restore. The last part of the data in this segment of the article informs you about how to avoid possible problems and scams.
Interface Overview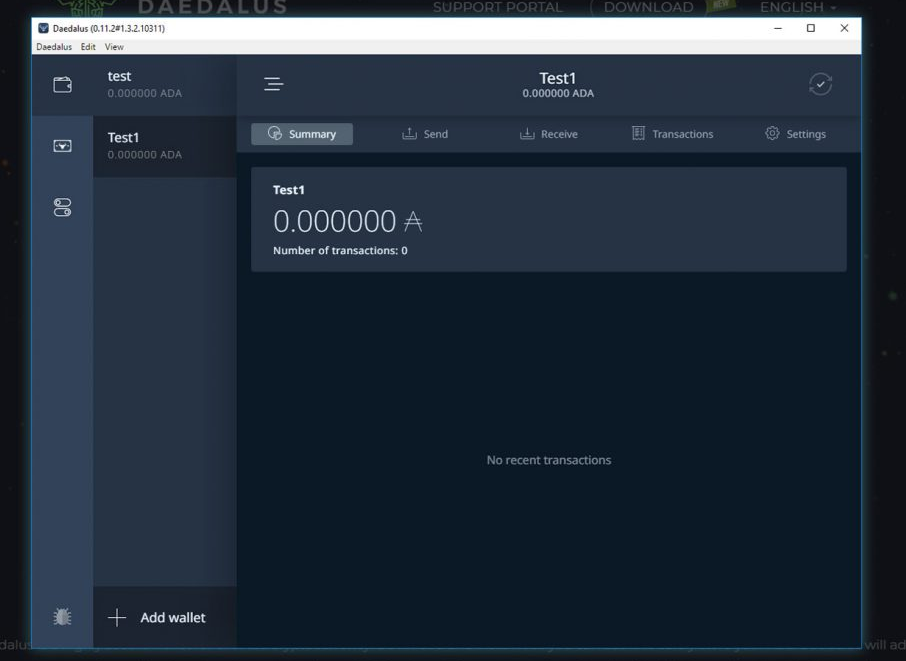 Once launched, Daedalus greets you with a simple and user-friendly interface. The main menu page displays your wallet balance with support resources at the top and clickable icons on the left. To create an additional wallet, use "Add Wallet" and follow the instructions. When using "Create a new address", there are no restrictions on the number. Daedalus can even display all of your wallets at once in the Summary tab. This is also possible for all transactions on the Transactions tab. When receiving cryptocurrency, simply select which of your addresses will be funded and paste it into the empty field. You can also select Normal or Strict "Transaction Security Level" in "Settings".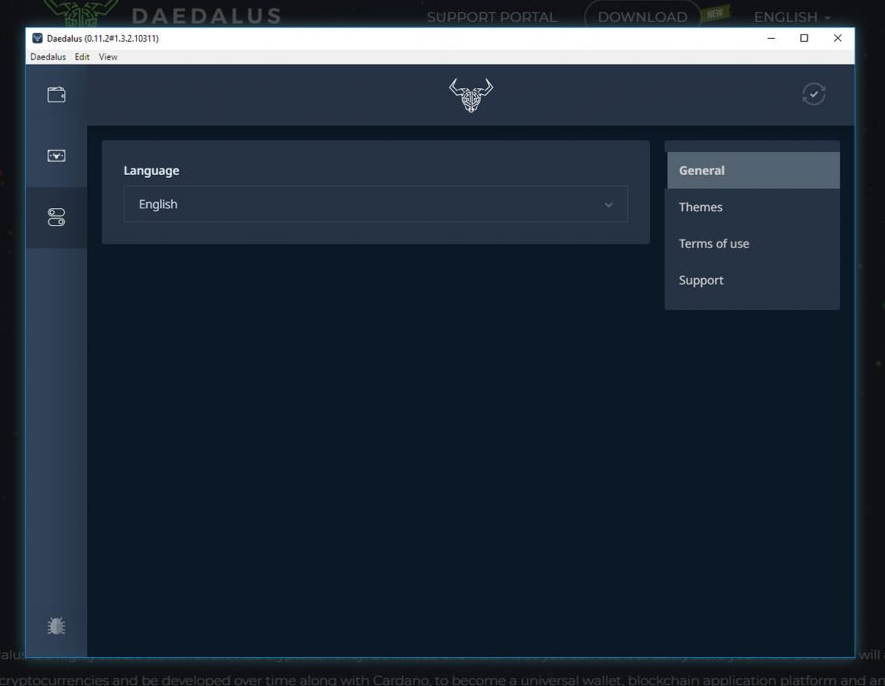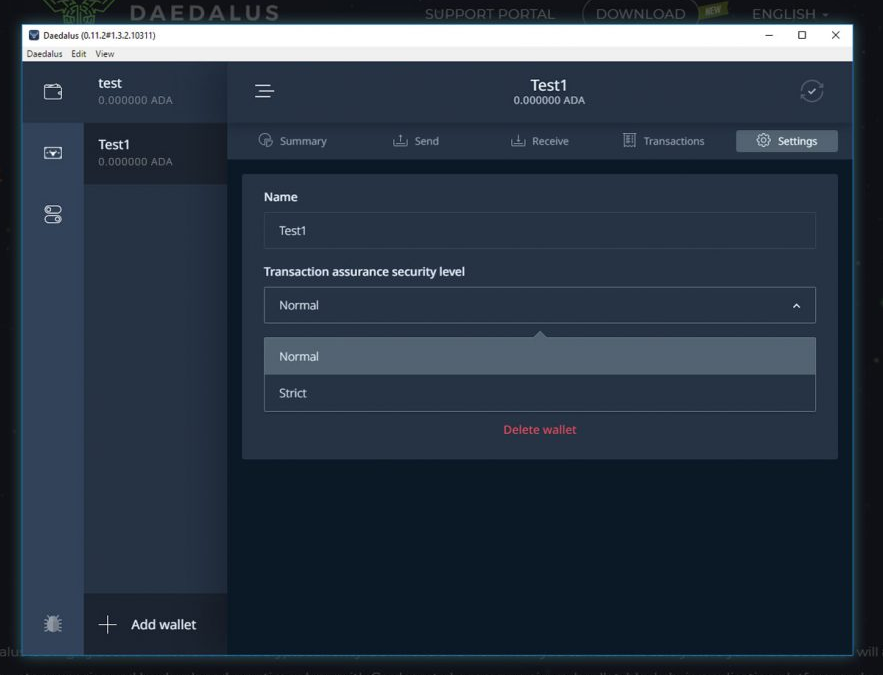 Create address
You are not actually creating a new address. As mentioned earlier, Daedalus is an HD wallet, so it generates a new address every time you want to receive coins. When you click the "Get" section, the program automatically generates an address from the seed. You can copy/paste it, email it, or print the QR code to access it.
Sending and receiving assets
Let's start with receiving. It is recommended that you know which of your addresses you want to top up and paste it into the empty field on the Receive tab. The good news is that you can create multiple addresses by selecting "Create a new address" and entering your password. Instantly created appears at the bottom of the list with existing ones. How about sending coins? Simply click "Submit" and in the new menu window, paste the recipient's address into the "Recipient" section. Then select "Amount" and click "Next".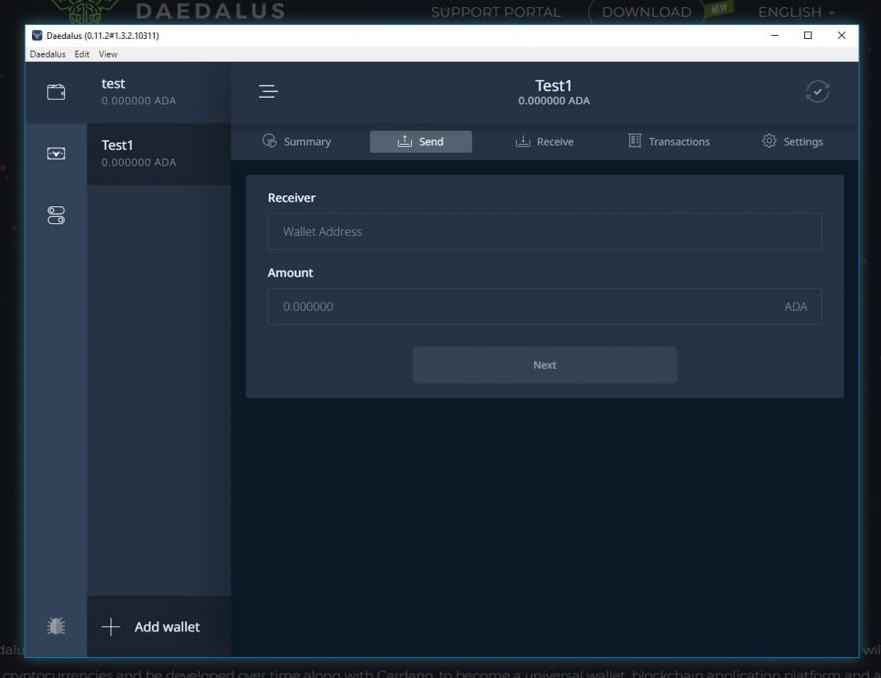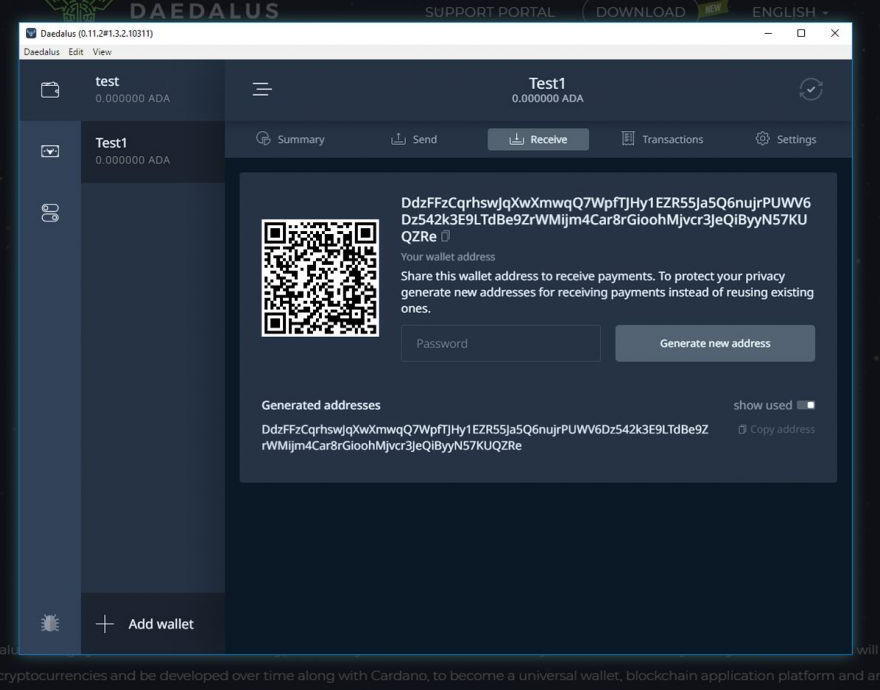 Hint: always double-check the recipient's address – if one of the characters is misspelled, your coins will not go anywhere. They are lost and cannot be recovered.
Backup
Step Install and create a wallet – On the main panel, you will see a "+" sign. Click on it and create your very first Daedalus wallet. This will take you to the Create Wallet window. Now is the time to name your wallet and protect it with a password.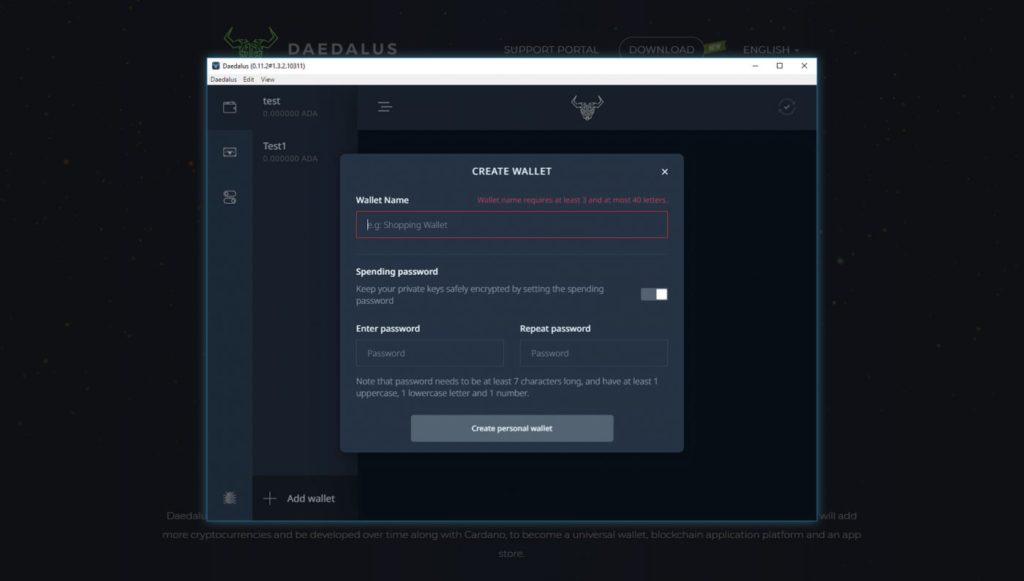 Step Create and save your seed – Next in line is "Create a Recovery Phrase". It starts with a warning message and a reminder not to show the recovery phrase to anyone. Just check the box and click Continue. The wallet then reveals the recovery phrase. Write it down and enter the correct words on the next page. They need to be marked and click "Confirm".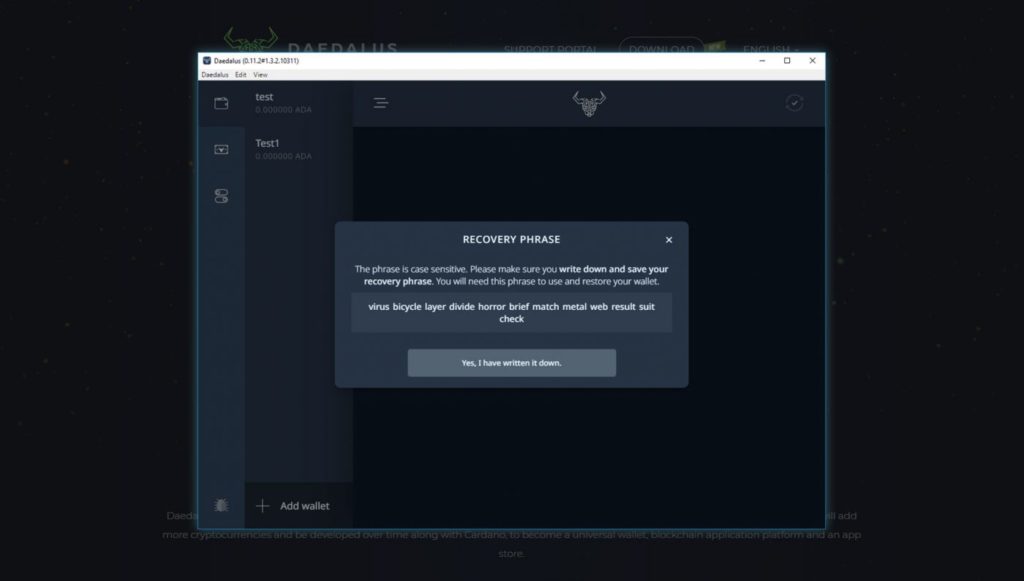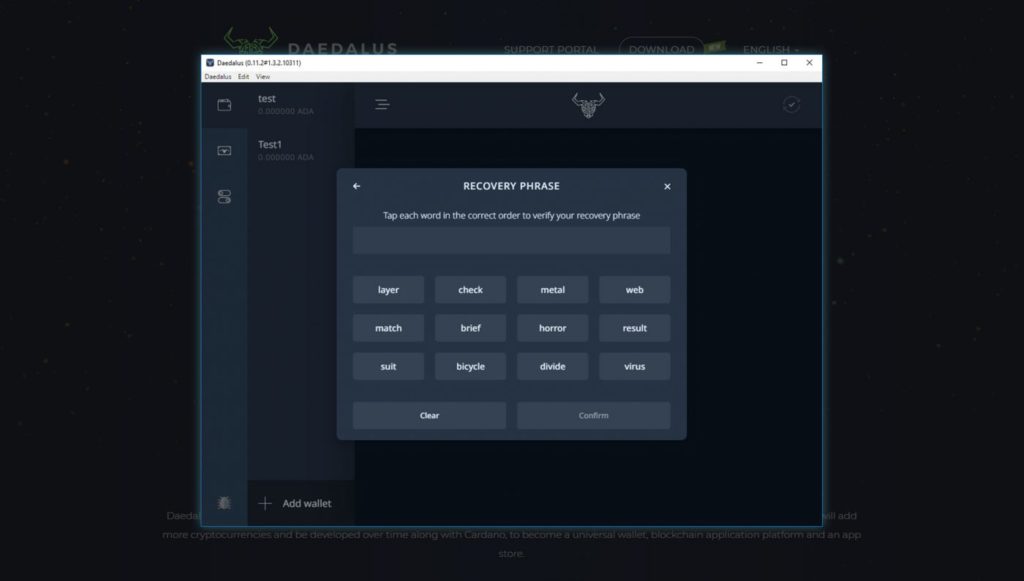 Restore wallet from seed
Successful installation and synchronization will activate the "Restore" option on the main Daedalus toolbar. After you click on it and then on "Backup Recovery Phrase" you can name the wallet and enter your recovery phrase (backup seed). For added security, enter your spending password to ensure secure access to your wallet.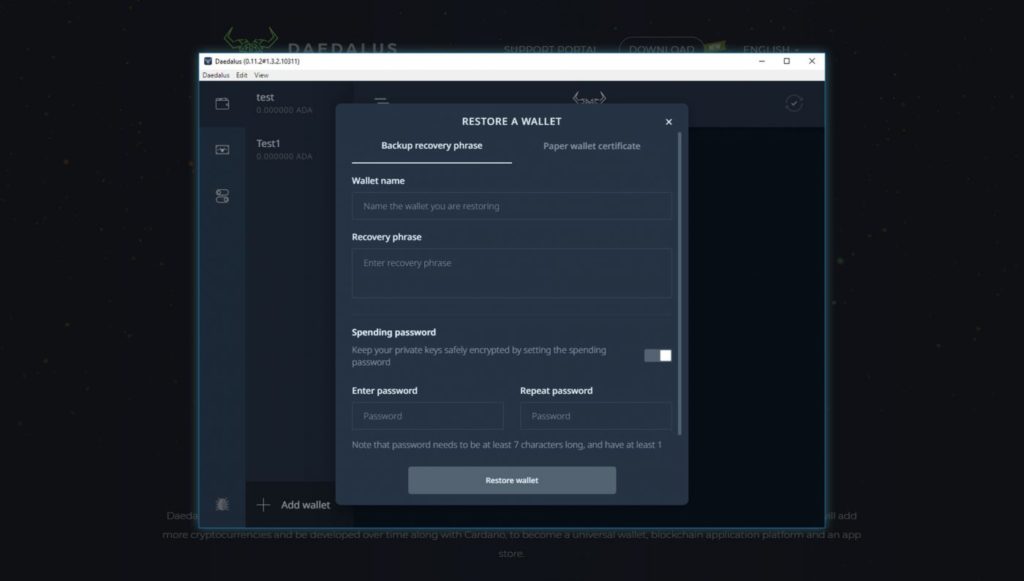 Restore by importing private keys or using wallet files after installation. To complete this step, choose to restore using a paper wallet certificate. Create it using the "Add Wallet" icon in the lower left corner of the screen. Then click the Restore tile/Paper Wallet Certificate tab and add the password by selecting the correct words. This happens in the recovery phrase field. Then enter the wallet name, payment password and click "Restore". Find the restored wallet in the list to the left of the Daedalus screen.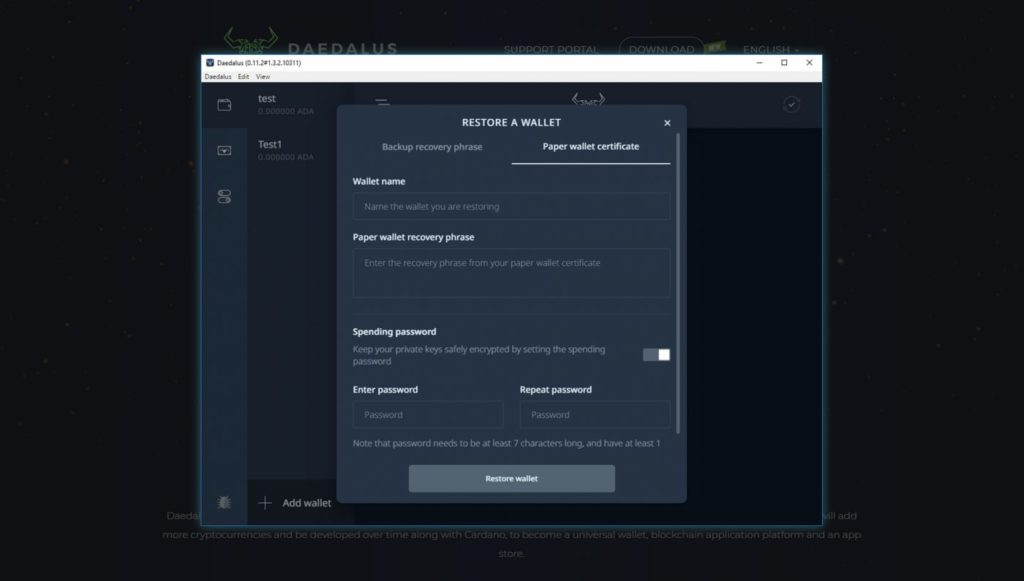 Special Features
Daedalus simplifies your every action and increases your security level with several special features. The malware has no chance against wasters of passwords and encrypted private keys. Paper certificates are the ideal and safe transition to cold storage. What about the reassurance you get from knowing your transactions are irreversible? That's what Daedalus' wallet is hiding up his sleeve. The developers set themselves even higher goals by creating new and useful features (for example, support for ETC and BTC, mobile version, staking, community-built app store, and support for all coins).
Possible problems and how to avoid them
Let me highlight the known issues so you don't get surprised during the whole process. For example, wallet blockchain synchronization sometimes takes up to 40 seconds after Daedalus is created and opened. Another known delay is when you successfully redeem ADA and the transaction appears on the list after a minute or two. It's good that the amount is added to the balance in an instant. Also, transaction timestamps are offset by a minute or two.
---
Read more articles about cryptocurrencies and mining on the CRYPTO-WALLETS.ORG website . If you like to read such articles and want to support the author, then you can subscribe to our telegram channel and recommend it to your friends, this will help a lot to support our project! Telegram channel about cryptocurrency and mining of Bitcoin, Ethereum, Monero and other altcoins @cryptomineg ( https://t.me/cryptomineg)