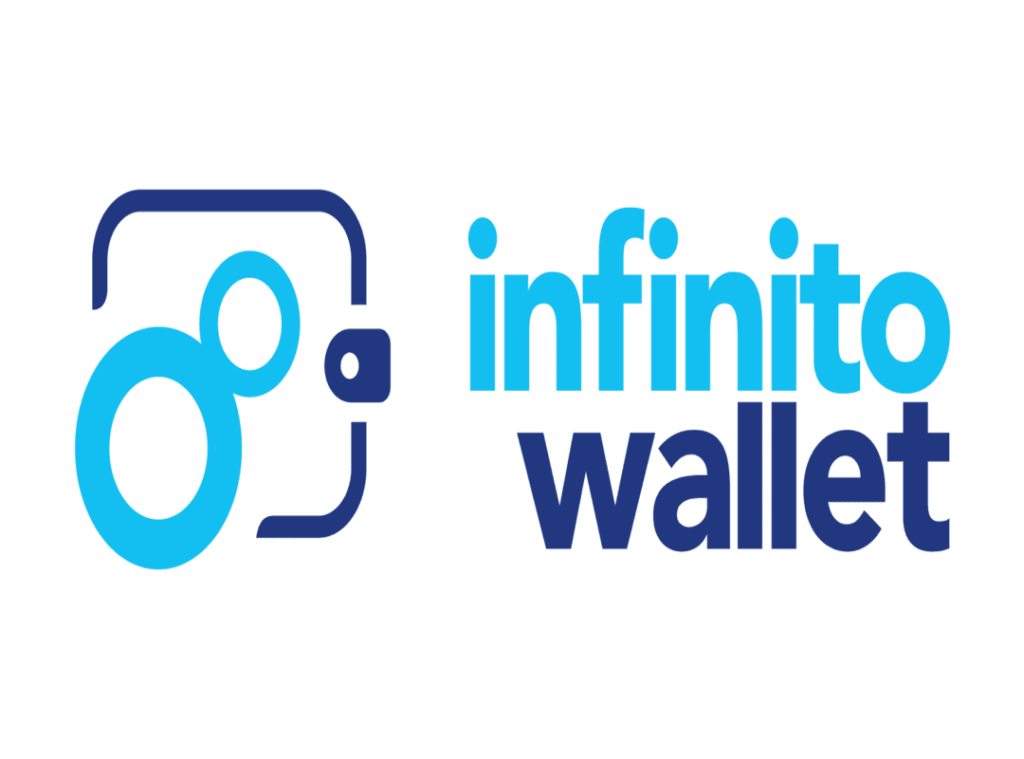 Infinito Wallet —popular mobile wallet compatible with Android and IOS devices. The Universal Cryptocurrency Wallet is compatible and can store a wide variety of coins. The number of wallets that can be configured in the application is not limited. The wallet has several unique and popular features, including giving away free cryptocurrency giveaways to its users and the community. There is also a wallet section directly integrated with popular decentralized applications (D'Apps). Infinito Wallet has a great user interface that is easy to set up and easy to interact with.
Supported cryptocurrencies: Bitcoin (BTC), Bitcoin Cash (BCH), Litecoin (LTC), Dogecoin (DOGE), Dash (DASH), Ethereum (ETH), Ethereum Classic (ETC), Cardano (ADA), NEO (NEO), GAS (GAS ) ), EOS (EOS), Ontology (ONT), Ontology Gas (ONG), ERC-20 tokens, NEP5 tokens.
Install Infinito Wallet
Select Infinito Wallet from the App/Play Store and install the app on your device. Once the download is complete, open the app.
Install:
Google Play:
App Store: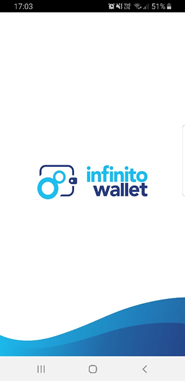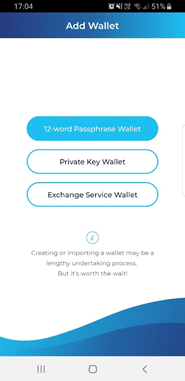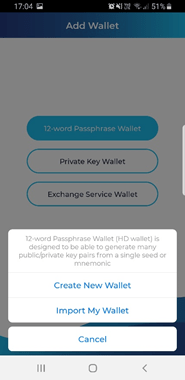 You will be prompted to select a language and accept the terms. Select the option "Wallet with 12-word passphrase" and "Create a new wallet".
Backup passphrase
Make sure you write down a backup passphrase and keep this information safe. The easiest way to do this is to write the displayed passphrase on a piece of paper. You can also take a screenshot of the passphrase, but this is not recommended.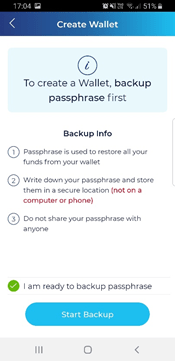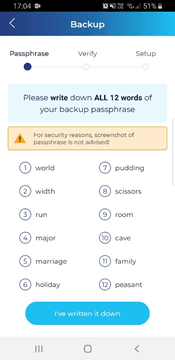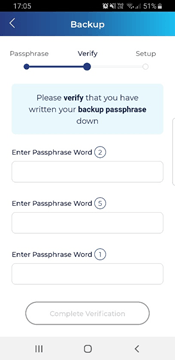 After you have written down the information, confirm the wallet by entering the requested password words. When you successfully enter the passphrase, proceed to complete the verification.
It is important that you keep this information safe and do not share it with anyone, as you risk losing your cryptocurrency.
Set wallet name and password
To complete the setup, give your wallet a name and set a strong but memorable password.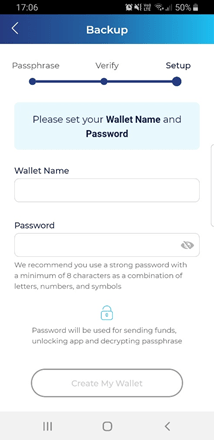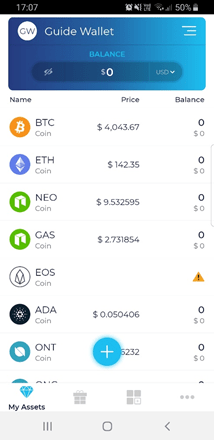 The password will be required when unlocking the wallet, sending funds and decrypting the passphrase. Once you've set your wallet name and password, continue by selecting "Create my wallet".
Add/remove assets and get wallet address
To manage enabled wallets, click the blue plus and select the coins you want to add/remove. You will need to enter your wallet password to add a new wallet.
You can view the full list of compatible coins at the beginning of the guide.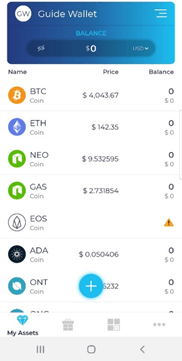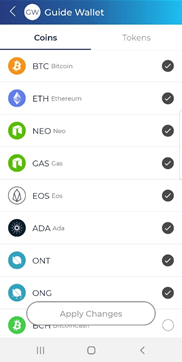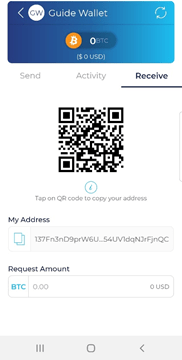 Once you have enabled the wallets for the coins you want to use, you can view the receiving wallet address.
Select a coin from the menu and click "Get" to display the wallet address and QR code. This will display your wallet address, which is used to receive the selected cryptocurrency.
Please make sure you only send compatible assets to the correct wallet.
Your wallet address will look something like this:
My bitcoin address: 137Fn3nD9prW6UmE8AX54UV1dqNJrFjnQC
Click the leftmost icon to copy your wallet address in full. You can also select the entire length, making sure all values are selected and copied. You need this address to receive cryptocurrency. The process can be repeated for each of the enabled wallets.
Infinito Wallet Review
Advantages:
Very easy to download and set up. Compatible with both Android and IOS.
Wide range of supported cryptocurrencies and compatibility with most major ERC-20 coins and tokens.
Selective wallets, you can choose which wallets you want to activate. Tracks the value of assets in real time.
Free rewards in the form of distribution of cryptocurrency and built-in functions of a decentralized application.
Flaws:
Not all cryptocurrencies are available in the Infinito Wallet.
Two-factor authentication is not available. Without this protection, wallet security can be compromised by device access and password.
Suitable for users of all experience levels, Inifnito Wallet has an easy-to-use interface. The wallet is highly trusted by thousands of users and was developed by the well-known and respected company Infinity Blockchain Labs. Infinito Wallet users receive a number of benefits, including early access to airdrops, decentralized services and protocols. It is also one of the few available mobile wallets that are compatible with NEO and NEP5 tokens. Infinito Wallet is focused on simplicity and ease of use, making it a great wallet for beginners.
Read more articles about cryptocurrencies and mining at CRYPTO-WALLETS.ORG.

The Telegram channel about cryptocurrency and mining Bitcoin, Ethereum, Monero and other altcoins:

CRYPTO WIKIES | Bitcoin & Altcoins Mining