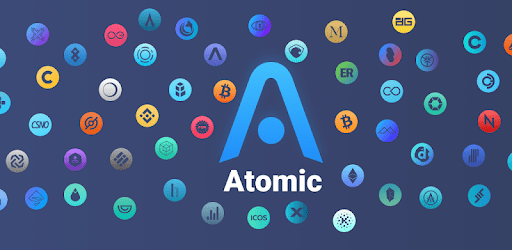 Atomic wallet — it is a software wallet that can be downloaded on a desktop computer or mobile device. It has a wide range of features including improved anonymity, decentralization and security, as well as support for various coins and operating systems.
Atomic Wallet also supports internal staking options for certain networks. To see which coins are available for staking, you can visit the staking menu in your Atomic wallet.
Supported cryptocurrencies:Current supported cryptocurrencies that can be received, sent and stored in Atomic Wallet include Bitcoin, Ethereum, Litecoin, Bitcoin Cash, Ripple, Stellar, EOS, Tether USD, Cardano, Bitcoin SV, Tron, Dash. , NEO, Vechain, OmiseGo, Monero, Cosmos, Chainlink, Brave Attention Token, Binance Coin and Tezos.
Install Atomic Wallet
The first step in setting up an Atomic wallet is to download it. This can and should only be done through their official website here:
Download: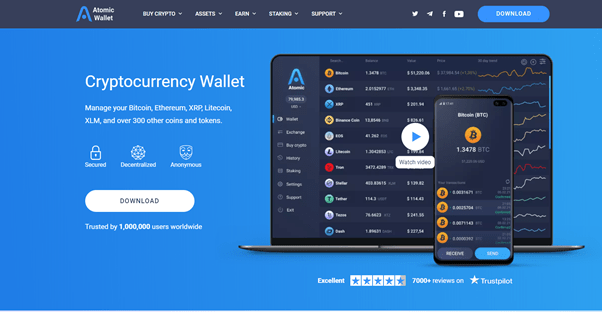 You will need to click the download button at the top right of the page. A new window will appear where you can select the appropriate operating system for your device. Installation will begin.

Once installed, you can open the wallet and start the setup process.
At this point, you will have two options: create a new wallet or restore your old wallet. If this is your first Atomic wallet, you will need to click New Wallet. "Restore from backup" will only be relevant if you have an existing Atomic wallet that you need to restore access to.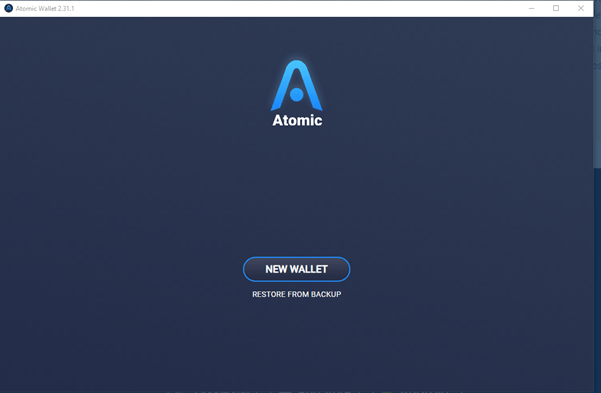 Create a password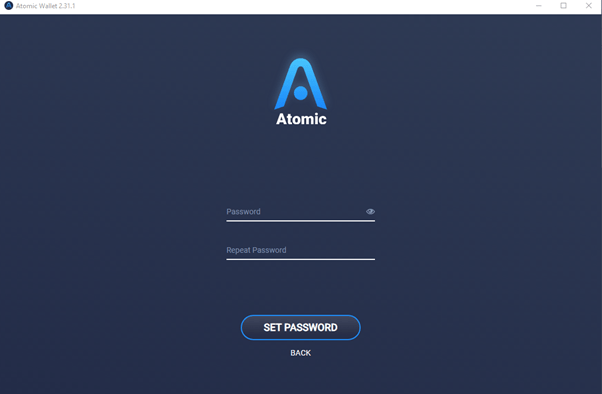 Setting up a fallback phrase
One of the most important security procedures you need to follow when setting up a wallet. This is the recovery information that will allow you to access the coins in your wallet from another device. This is important as it protects you from losing all your assets if your device is lost or damaged. Write down the phrases in the order they appear so that you have a hard copy in a safe place. It is recommended that you use a pen and paper for this step.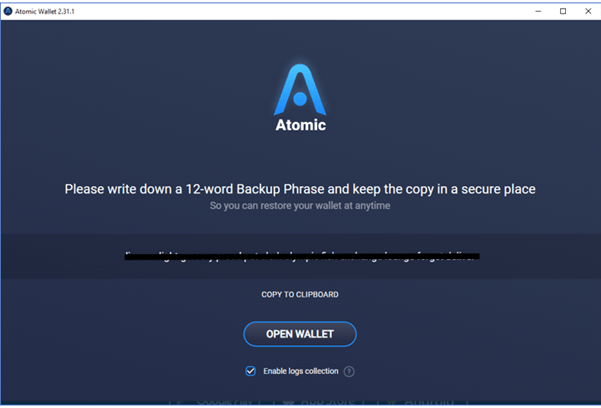 After setting up your recovery information, you will have full access to your device. The main screen will display your wallet portfolio with all active coins. It will show the balance of the number of coins and the estimate of their value in fiat based on the average real market rate. The currency in which this is displayed can be changed.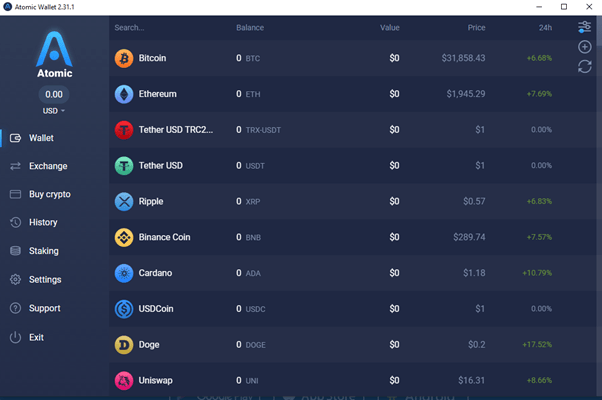 Clicking on the coin of your choice will take you to its page. Here you can view the balance and price charts of the selected coin. More importantly, this is where you can send and receive your chosen coin.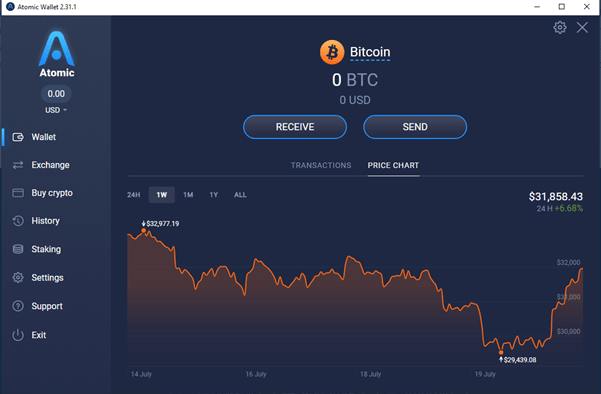 Clicking on the "Get" button will display the deposit wallet address for the selected coin. You will need to provide this to whoever is sending you the cryptocurrency.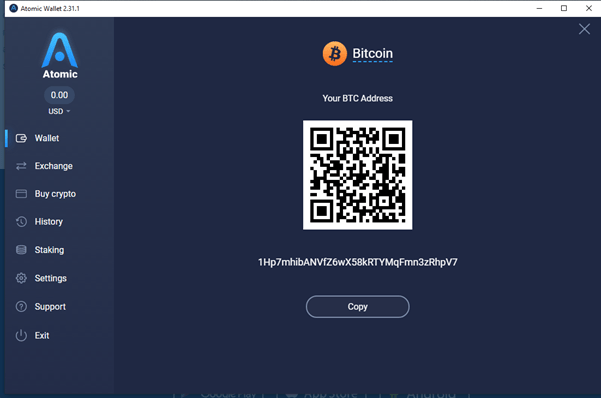 By clicking on the "Send" button, you will be able to send the selected coin from your Atomic wallet. You will need to insert the recipient's address and the amount of coins you wish to send. Always copy and paste addresses, as entering them can lead to errors and loss of funds.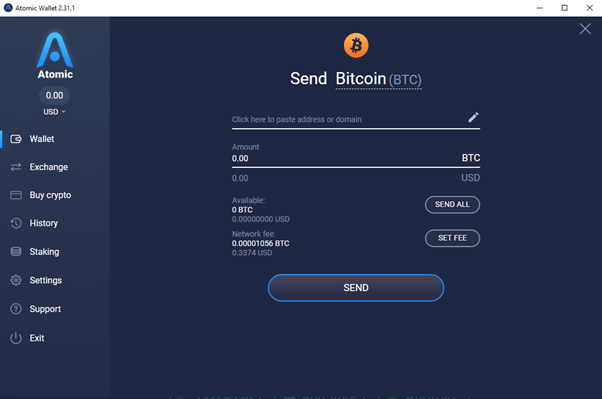 Fees can also be configured in the Atomic wallet for certain coins, cheaper fees will take longer. Too low a fee can even lead to a return of coins.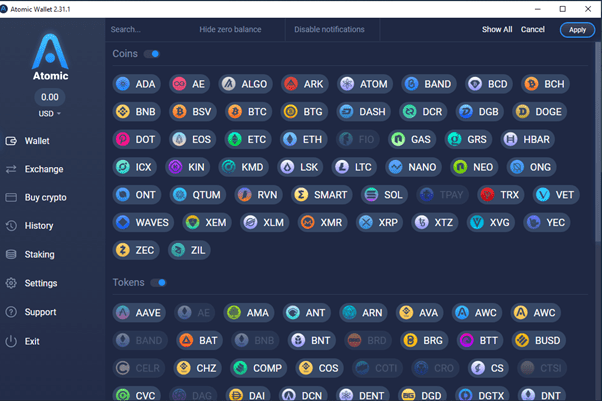 You can activate multiple coins if they have not been activated yet. You can enable new assets by clicking the slider icon in the top right corner. You will then be taken to a page with all supported coins. If you want to enable a coin, click the coin you want to enable and then click "Apply" in the top right corner. Once completed, you will be able to return to the main wallet page and access all send and receive functions.
Atomic Wallet Review
Advantages:
The simple layout and design makes it easy for beginners to operate.
Large selection of coins
Additional features such as staking and atomic swaps.
Flaws:
A software wallet may not be as secure as a cold wallet.
Backup phrases and password are the only real security features
The Atomic Wallet is a popular wallet for many reasons. It is very easy to use and supports a huge number of cryptocurrencies. This makes it convenient for users who want to store a variety of assets. This is a great option for users who want to store low volumes or on a short term basis. However, users with larger assets or longer-term investments may want to consider a cold wallet due to its advanced security features.
Read more articles about cryptocurrencies and mining at CRYPTO-WALLETS.ORG.

The Telegram channel about cryptocurrency and mining Bitcoin, Ethereum, Monero and other altcoins:

CRYPTO WIKIES | Bitcoin & Altcoins Mining