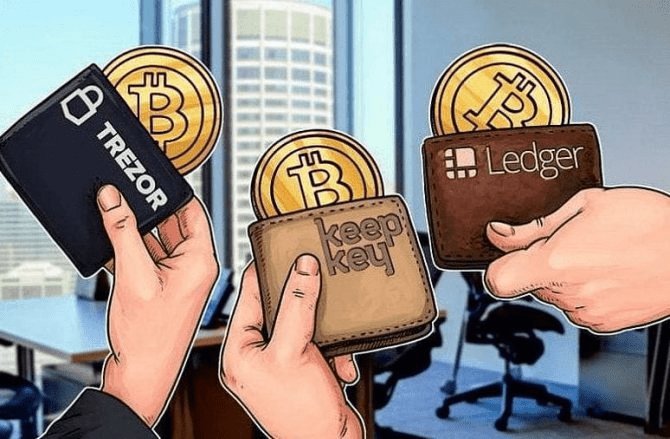 The emergence of Bitcoin and other cryptocurrencies has radically impacted the global economy. Direct transfers between users, anonymity and ease of transactions have encouraged large companies to support cryptocurrencies and the creation of many startups in a variety of industries. But along with convenience, the lack of a single transaction processing center requires increased security measures for bitcoin storage, better protecting funds from theft or unauthorized access. The use of passwords and encryption unfortunately doesn't solve the problem completely, as seen in numerous examples of Bitcoin theft. One of the options to strengthen the security of transactions are specialized wallets in the form of external devices connected to a computer or mobile gadget. Such a wallet can also be fully autonomous.
The pros and cons of hardware wallets
The advantages of such devices are fairly obvious:
Support for all types of cryptocurrency wallets: "thick", in which the base of all transactions is stored on the computer – Bitcoin Core or Armory;
"thin", using nodes with full clients to confirm transactions. Example: MultiBit, Electrum;
Online wallets located on websites: My Wallet, Coinbase, Circle, InstaWallet, etc.
Software for all major operating systems including iOS and Android;
When modifying software, any cryptocurrency can be used, not just Bitcoin;
Easy to connect and use;
High level of private key protection.
Apart from the risk of losing the device and subsequent problems with regaining access to your coins, there are no significant disadvantages. But this problem is solvable, since the developers have thoughtfully made backup and recovery programs. However, the safety of storing the backup copy should also be on top, it is desirable to keep it on an offline storage medium.
Before making a purchase, make sure that your country has no restrictions on the use of cryptocurrencies and everything related to them, as well as non-certified data encryption devices, which include most hardware wallets. For example, in the Russian Federation, the purchase and unauthorized use of such devices can lead to problems with regulatory authorities. But we are not used to difficulties, so let's move on to the description of the most popular hardware wallets.
Why cold storage is necessary
In this article, let's understand how to safely store cryptocurrency and what options are available. Let's take a practical look at how crypto can be stored and how to safely transfer and receive digital currencies.
The question is interesting and quite logical. The point is that by using online resources or storage services you are entrusting your funds to a third party. This is an automatic transfer of the possibility of losing your funds to other participants. There have already been several situations, for example, with the BTC-e exchange.
The owner of this exchange was accused of violating the law and the project was closed. The daily volume of transactions amounted to 50 million dollars. All these funds became inaccessible after the arrest. Such a message appeared in the media:
To avoid such consequences we will use cold storage of cryptocurrencies for a long time.
It is advisable if you constantly work with cryptocurrencies and decent amounts. In general, cold storage has certain time costs and inconveniences, but this is compensated by high reliability.
Trezor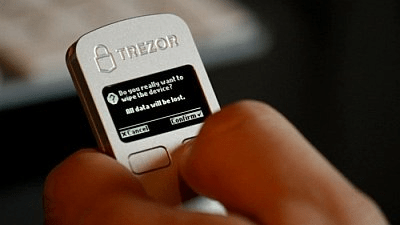 Trezor – the most popular Bitcoin ironclad wallet and the first to start shipping to customers – back in 2013. It became famous primarily because its development was led by Marek Palatinus, known as slush – the developer of the concept of group mining and the first pool. The wallet has a good reputation and an optimal combination of functionality and transaction security.
It is slightly larger than a credit card. Trezor connects via USB, has an OLED display for control and optional payment confirmation. It comes in a plastic or aluminum case. The private keys are encrypted and password protected. There is a function of backup and remote erasure of information in case of loss of the wallet.
PIN-code protection is implemented in a rather original way – if an incorrect password is entered, the waiting time for the device to start up doubles. There are more than 6000 PIN code variants available, which makes its direct selection almost impossible.
The company is constantly working on improving the security system, the reliability of Trezor is confirmed by independent tests and the experience of users around the world. You can order the wallet at buytrezor.com, worldwide delivery is free of charge.
Cold storage in Bitcoin Core
This is one storage method that will require about 160 GB on your disk and this size is constantly increasing. While the previous two methods are aimed at protecting against interception and hacking via an infected PC, this is the most vulnerable to such attacks.
Therefore, the ideal option is to use a separate machine for operations only. This is quite problematic, but in theory can be realized by using a virtual machine or remote access to the computer.
You can choose a wallet at this link. You can see the advantages and disadvantages. The main disadvantage is the environment.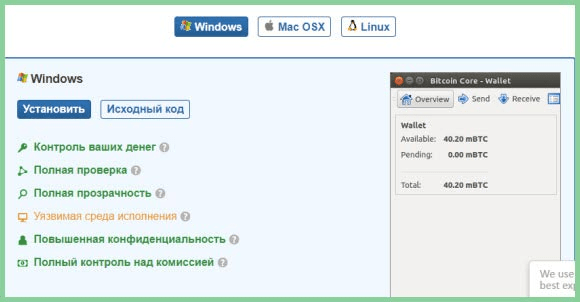 Installation takes a long time, the main thing is to download the file with all the hysteria on the blocks. Synchronization can take from a few hours to a whole day. In general, the wallet does not differ in any way from other wallets.
There is a function to manage logins. You can also encrypt data and set a password to enter the wallet.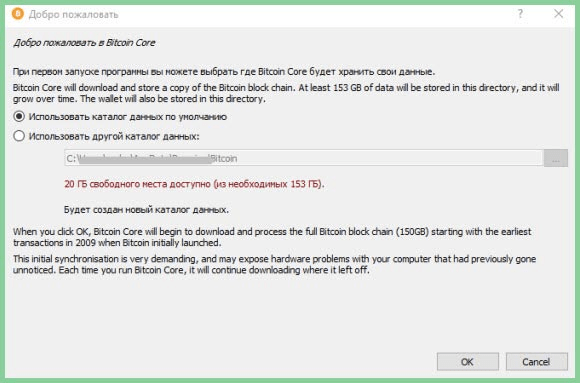 BWALLET (Trezor clone)
Bwallet is developed on open source Trezor wallet software and is a Chinese clone of the original. New versions of the software and settings will fit from the site of the original – MyTrezor.com. Therefore, except for the appearance and price, you should not expect any significant differences from it. However, this is the main advantage of Chinese electronics.
You can buy the wallet on the official website. Unlike buying a Tresor, this time you will have to pay for shipping as well. Therefore, if you do not live in China, the copy may turn out to be more expensive than the original.
Local Versions
A desktop option is a local cryptocurrency wallet that installs on your computer. They can be divided into two large groups:
«Thick» – the biggest wallets to work with. They need to download the entire blockchain, which can sometimes be a big problem. For example, the size of the Etherium blockchain is over 495GB. Despite this significant disadvantage, they are considered the most reliable.
«Thin» – is synchronized at the moment money is sent or received with the existing blockchain. This significantly reduces the amount of data stored.
"Thin" is divided into two other types:
Multi-currency – supports storage of multiple currencies;
To work with a single crypto.
This storage option is the golden mean between safety and convenience.
Popular reliable wallets include:
Exodus – multicurrency wallet with excellent security and user-friendly interface;
Jaxx – cross-platform multi-currency solution;
Electrum – decentralized cryptocurrency wallet for storing Bitcoin. Excellent functionality, protection at the highest level;
myetherwallet – is suitable for working with ether and tokens based on it. Read more about it in the article "The best online wallets for work";
bitcoin.org –official development of the Bitcoin team. One of the best security measures used, distributed under the MIT license. Among the shortcomings, I will note the need to download the entire blockchain to your device (about 200 gigs).
BTChip HW-1

The BTChip HW-1hardware wallet is a smart card with a USB connection and can be used for any cryptocurrency, not just Bitcoin.
To make a transaction, the card is inserted into the USB port and does not require installation of additional drivers, all necessary software is contained inside the device. The most compatible browser is Google Chrome, Green Address and Electrum wallets are supported. There is an API for developers.
Two-factor password protection is used to confirm the transaction, the private keys always remain on the device. Three attempts to enter an incorrect password can activate automatic erasure of information. The first transaction automatically creates a backup copy of the information with its unique password.
You can buy the wallet at btchip.com. Computer security experts recommend using HW-1 exclusively for small payments due to the use of only password protection, which cannot be considered reliable enough. The wallet confirms any transaction after it is connected to a computer, i.e. it must be configured as trusted, which further reduces payment security.
Installation
Two flash drives are required for installation. First you need to format the devices in FAT32 system. Then you need to download the Tails operating system image.
You can use Universal USB Installer for mounting. To mount, just select the image and the Tails operating system. When finished, you may see the following message.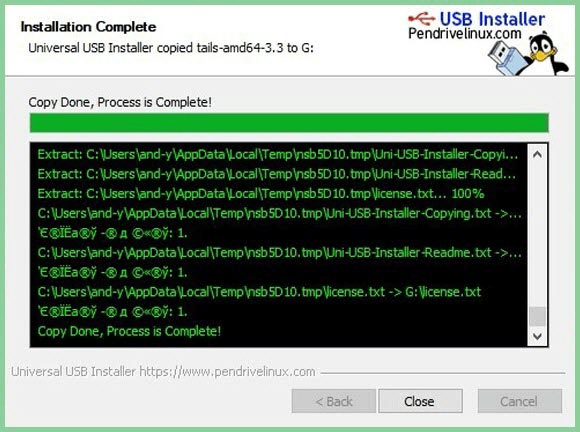 Next, you need to boot from this flash drive and start the system. After that, you need to insert the formatted flash drive and install the system there, where it will be stored on a long-term basis. To do this, go to:
Applications->Tails->Tails Installer
Next you need to select our flash drive and start the installation. The process is not complicated enough. After the installation you need to reboot from the new bootable flash drive.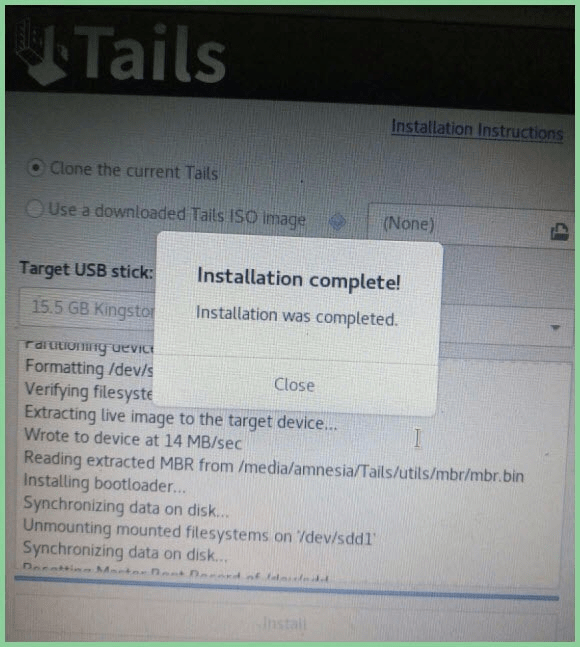 Ledger Wallet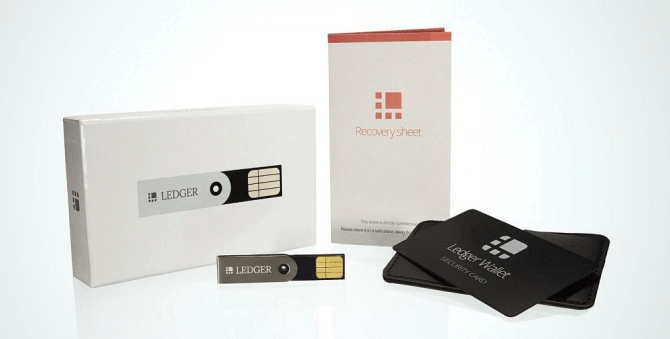 Ledger Wallet is claimed by its developers to be the most secure hardware Bitcoin wallet. Among the developers are such well-known companies as BTChip, the manufacturer of the HW-1 wallet described above, and the Chronocoin payment cryptosystem.
The device is protected according to EAL5+ standard, which is used in the banking industry to protect plastic and smart cards. Additionally, original algorithms have been developed to confirm transactions and restore access to the wallet. Ledger Wallet can contain several Bitcoin wallets.
After connecting to a USB port, the wallet asks the user to come up with a unique PIN and enter a special passphrase that comes with the device and, combined with the PIN, allows the wallet to be restored and create an unlimited number of public addresses and private keys. The wallet then installs a special plugin for the Chrome browser and the user gets access to Ledger's features. You can store your bitcoins on a special deposit account provided by the company.
Ledger Wallet comes with two plastic cards used to validate payment transactions. The payment will be made only if the user enters the password from one of the cards, which will be an additional security measure when using online wallets or when hackers remotely control the PC. All passwords and keys are processed in the secure Ledger OS only within the hardware wallet.
The software is developed for Windows, Linux, OS X, iOS and Android operating systems. Download applications, documentation and API for developers can be found on GitHub.
Digital Bitbox
Digital Bitbox — A minimalist wallet from a Swiss company. It pays special attention to security and privacy. Bitbox supports offline and simplified backup, plausible deniability, and multi-signatures. There is a full-fledged client for PC and a mobile application for verification and two-factor verification.
BitBox is a plug-and-play hardware wallet that allows you to store, receive and send cryptocurrencies. Currently, it supports bitcoin, ether, lightcoin and ERC-20 tokens. In the future, the developers plan to expand the list of available coins.
The device comes with a micro-SD card. It greatly simplifies data protection, backup and recovery.
If a BitBox is stolen, attackers will have to crack the password to gain access to the coins. If two-factor authentication is enabled, they will also need a second device (such as a cell phone). After 15 unsuccessful password attempts, BitBox will erase all content and reboot.
Pi Wallet
The Pi Wallet is based on the popular Raspberry Pi microcomputer and uses removable SD cards as a storage device. It is one of the few fully autonomous realizations of a cryptocurrency wallet, you can even install your own OS build on it. The device is not notable for its compactness and original design, connects to the network via Ethernet or optional Wi-Fi and runs on Armory software. Transactions are carried out without transferring private keys.
The Pi Wallet comes with two SD cards, one of which contains a backup copy of the information. In addition to Armory, the device can be equipped with Raspbian OS, which allows developers to create their own software solutions and security configurations.
Pi Wallet can be purchased on the company's website, users have access to full technical documentation and developer support. According to cryptocurrency experts, the price of the device is overpriced and the security is insufficiently elaborated.
Setup
After booting with the installed OS, you need to make a place for permanent data storage. To do this, go to the menu:
Applications->Tails->Configure persistent volume
All items must be selected. Reboot by setting a password for use. The system will automatically encrypt the stored data. After that you can start working with the wallet. The system is fully ready for work.
Set up partitions for a permanent storage location.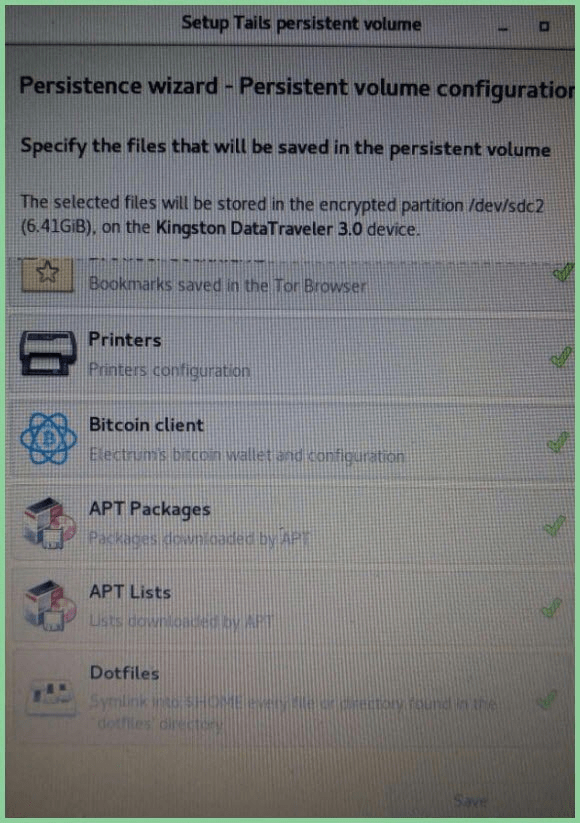 Enter the password to access the permanent storage location.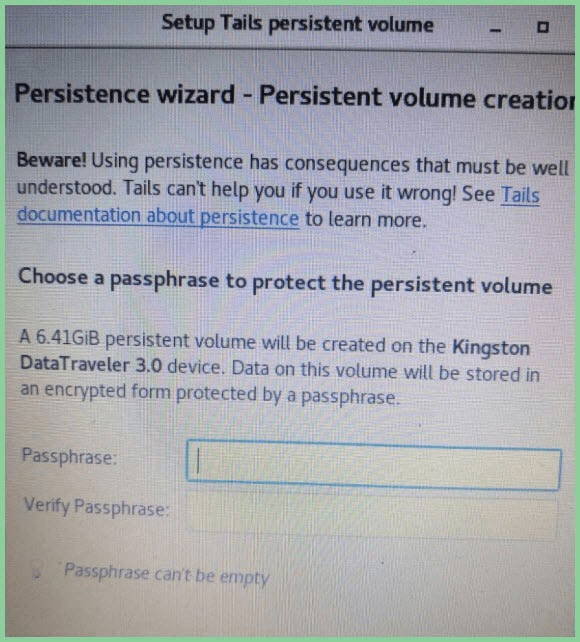 BitStash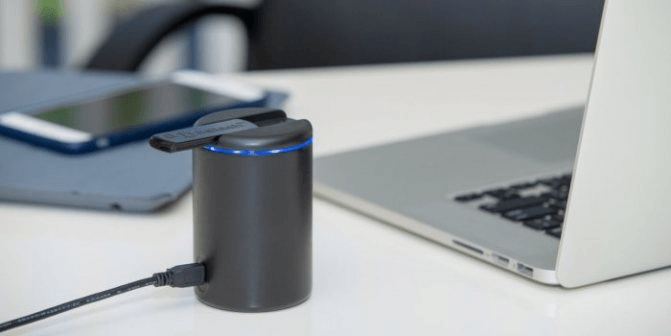 The BitStash wallet is currently under development, but it is nearing completion. The suite consists of three components – the main wallet, a mobile version and an external transaction data storage.
The external storage is a USB device with double encryption of data using the LUKS algorithm. The main wallet is connected to it to perform transactions and replenish the balance.
The mobile version of the wallet is an application for iOS and Android systems and is used mainly for making small payments. All private keys are located on the main wallet, and for mobile transactions, one-time unique addresses are generated using the BIP32 algorithm.
BitStash simultaneously uses three technologies to confirm monetary transactions: PIN code, text captcha and color captcha (changing the color of LEDs, which can be seen in the photo). Information is exchanged with the host via a secure Bluetooth channel; the mobile version uses additional two-factor user authentication. The device supports remote wipe function in case of wallet loss or unauthorized access attempt.
BitStash is available for pre-order, the first shipments of the device are scheduled for May 2015. You can find out the exact cost and order the wallet on the developer's website.
CoolWallet S
CoolWallet Sby CoolBitX is a mobile wallet for storing Bitcoin, Litecoin, Ether, Ripple, Bitcoin Cash and ERC-20 tokens. Durable, lightweight wallet the size of a plastic card is not afraid of water, hacking, unauthorized access, high and low temperatures. The cost of the device is $99.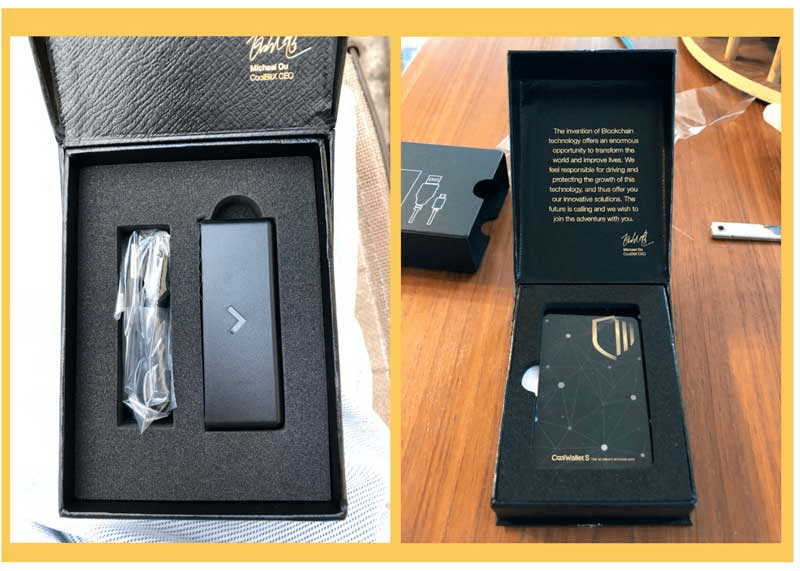 CoolBitX has signed a partnership agreement with decentralized exchange JOYSO, allowing you to trade cryptocurrencies directly in your wallet.
The CoolWallet S requires an Android or iOS app for initial setup. Users must download and install it, and then contact the wallet via Bluetooth with a one-time password. They will then be prompted to create a new wallet.
When creating a wallet, you can generate a backup phrase of 12, 18 or 24 words. In case of loss, it will help to restore its contents in the mobile application.
Alternatively, you can use any other standard deterministic wallet that uses the same protocol.
Unrealized hardware wallet projects
Not all developers managed to bring their cryptocurrency wallet ideas to the level of commercial products. Some lacked money, others lacked engineering and management skills. Nevertheless, their sites are still present on the Internet. Here are two of the most interesting projects from this category.
Bitcoincard (Mycelium)

This wallet is based on a smart card. A distinctive feature of the Bitcoincardis the use of radio communication to perform transactions with Bitcoin. The kit comes with a special radio gateway that connects to a computer or mobile device for transmitting / receiving information.
It is also possible to transfer cryptocurrencies between Bitcoincards using direct radio transmission between the two devices. Transactions in this case remain unconfirmed and actually take place after connecting to the network.
Digital signatures are stored directly on the card and are not transferred anywhere. There is no operating system on the device and there is no network software download, which makes the wallet quite resistant to hacking.
The developer's website still exists, but the project was officially closed in 2013. Attempts at open source development gradually stalled.
Cold Storage with Electrum + Tails
This method has a good level of security. You can read about this wallet on the famous bitcointalk forum. This is due to the fact that we will work with two types at once:
The first one will be placed on a bootable flash drive.
The second is on a working machine, this option allows you to minimize the risk of hacking. A private wallet does not need to be entered anywhere, and transactions can be signed and saved to a file, without an internet connection.
The bootable flash drive will be based on the Tails operating system. Tails is a Linux distribution, the main priority of the authors when creating it is the privacy of users.
This system was used by the most famous (after the President, of course) resident of Russia – Edward Snowden. You can find a lot of information about it on the web. The main thing is that it supports encryption, has the ability to permanently store data and has an Electrum wallet in its assembly.
Purchase via electronic payment systems
The WebMoney service has long answered the question of how to deposit money into a Bitcoin wallet by adding the ability to work with BTC. It's convenient: you can quickly transfer money from your ruble or dollar account to Bitcoin. The course, of course, may differ by a few percent from crypto exchanges, but remains more or less adequate. Read more about profitable ways to exchange in the educational program about buying crypto with a minimum commission.
Buying through a crypto exchange
The Yobit, Exmo exchanges performed well. They support working with fiat, they also have a direct withdrawal. They take small commissions and, most importantly, they support rubles. Through some payment systems, exchanges do not charge a commission at all.
You can deposit fiat currency to Yobit exchange without % through the following services:
Payeer;
Perfect Money;
AdvCash;
Capitalist.
On Exmo exchange, unfortunately, there is no possibility to deposit money without commission, but you can withdraw it for free via AdvCash service.
Cold cryptocurrency wallet is a great solution for storing electronic money. If you are not irresponsible about the safety of your keys, nothing will happen to your cryptocurrency.
Buying cryptocurrency through exchanges
The most convenient way to monitor exchange rates is the site bestchange. This resource compares the offers of various exchangers, giving out the most profitable options. On the site you can immediately see all the reviews about different exchangers, they are written by real people. I also advise you to always leave an honest review, so you will help other people decide on the choice of the exchanger.
Advantage — speed, ease of exchange.
Disadvantages of exchangers:
High Commissions;
The course reacts late to market changes;
Only popular cryptocurrencies are represented.
Although this method is the most convenient, it is clearly not worth losing 10-15% due to commission. It is better to consider other options.
Read more articles about cryptocurrencies and mining at CRYPTO-WALLETS.ORG.

The Telegram channel about cryptocurrency and mining Bitcoin, Ethereum, Monero and other altcoins:

CRYPTO WIKIES | Bitcoin & Altcoins Mining