---
EMERALD WALLET
Emerald Wallet – This is a multi-platform desktop cryptocurrency wallet. Supports Ethereum and Bitcon BTC and Bitcoin Cash BCH.
Full Node – automatically connects to a full node running on the local machine;
Light Node – When a complete node is not possible, it uses the secure endpoint provided by our servers. All private keys are stored on the local machine.
Hardware Wallets – supports hardware wallets, such as Ledger Nano, to ensure the security of private keys. It is recommended to use Ledger Nano S;
Secure Key Storage = stores all private keys either in local secure storage. Private keys are encrypted and are not transferred to another node, even when using light mode;
Multiplatform – compatible with major operating systems, and builds for Windows, Macos and Linux are provided for download.
Download Emerald wallet for Win/MacOS/Linux: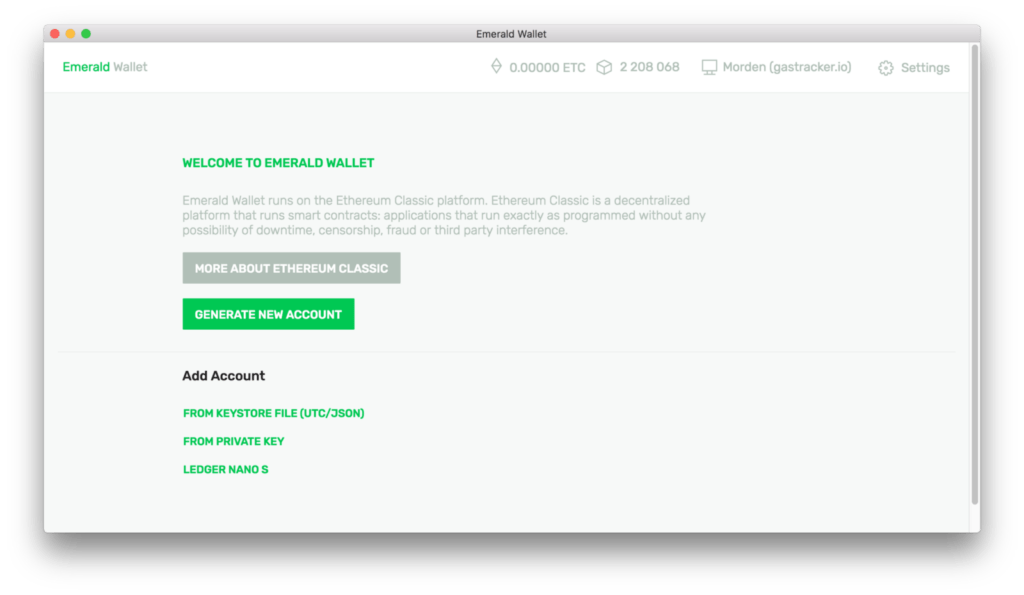 Version 2.1.5
Fix for the error "invalid rlp encoding: byte must be less 0x80"
Version 2.1.4
Bugfixes for Ledger Nano
Support Ledger Nano X
Fix for blank screen on sending transacti
Version 2.1.2
Tether (USDT) support, as ERC-20 Ethereum
Minor improvements
Version 2.1.1
Minor improvements and bugfixes.
Fixed raw Private Key import lead to a frozen screen though it's imported successfully.
Version 2.1.0:
Cold transactions – create signed raw transaction without immediate publishing to the blockchain
Support of DAI ERC20 token
Security enhancements for Private Key storage (Emerald Vault)
Many UI improvements