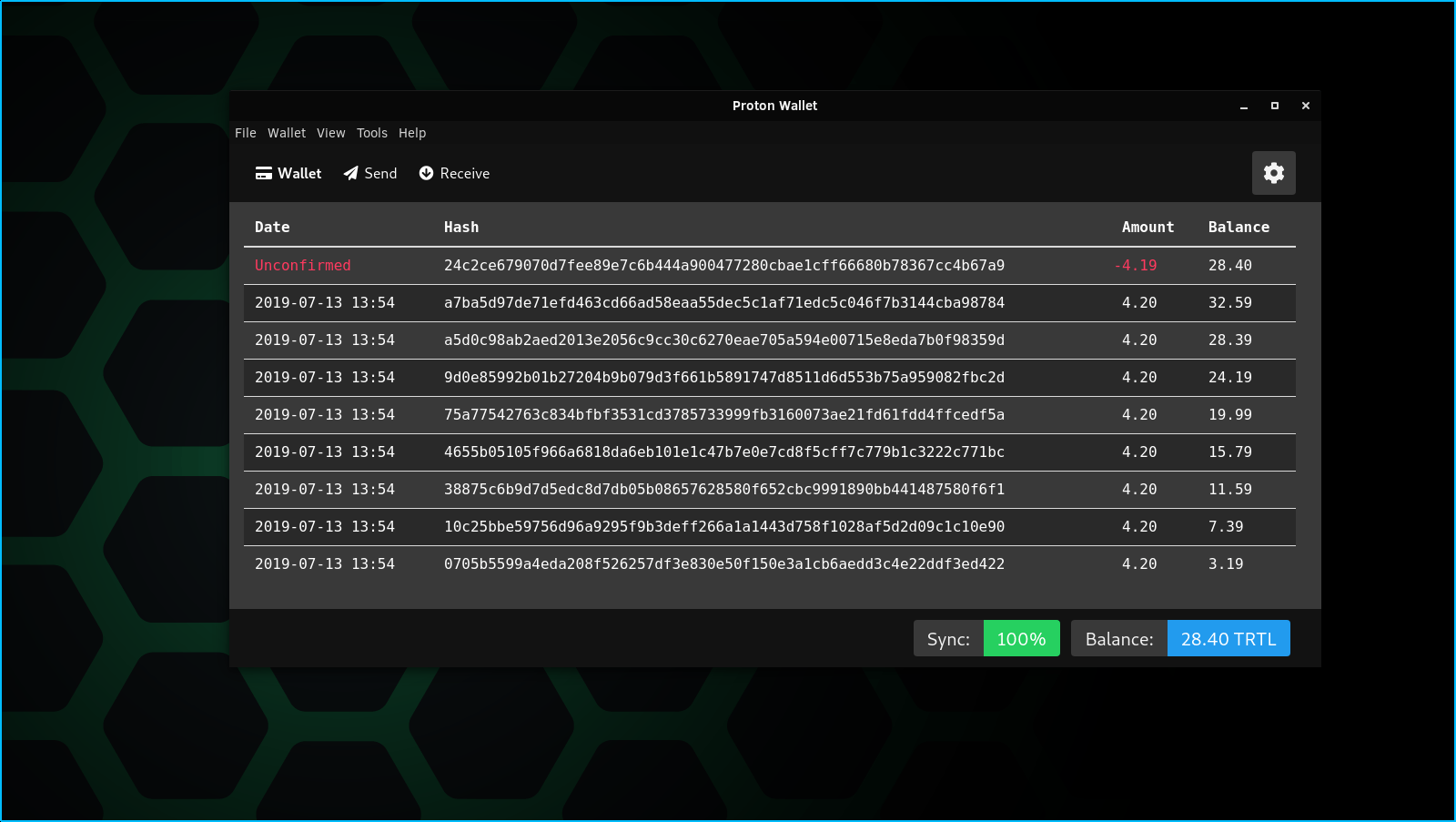 Sometimes it can be difficult to figure out what a particular coin is, especially on the exchange, and whether it is worth investing in it. It's about a project called Turtle Coin. What is this coin?
coin logo
TurtleCoin is an open source decentralized e-currency Peer-2-Peer. Easy to mine, completely private, sort of like Monero. By default, transactions on the network are private, but it is acceptable to make them public as well. The code is partly taken from the bitcoin coin code, but finalized. The creators of the project call themselves RockSteady and Bebop, but who they are is not known. TurtleCoin was born on December 9, 2017. The coin functions through PoW, and was initially mined using the CryptoNightLite ver 1 algorithm. Total planned coins: 1000000000000. No premine and ICO. On the exchange, there is a dependence on the bitcoin rate. Transactions take place much faster, say, than in the same bitcoin. Blocks in TurtleCoin are found in 30 seconds. The algorithm currently used is argon2/chukwa v2. It is permissible to mine both on the processor and on the video cards. This is if we talk about the first generation.
In the second, still planned generation, changes are already expected, and the changes are significant.
Simply put, v2 is the next generation of the TurtleCoin project, but as time goes on, the team plans to start from scratch. It is intended to be backward compatible, with version 1.
When will the transition to version 2 of the network happen? As the developers write, this will happen approximately before the 4,000,000 block of the chain of the 1 version of the network. The actual date is currently not entirely clear, but as the desired block approaches, the developers will separately notify about this event.
Additionally, there will be no audit, instead the team is working with volunteers in the relevant areas to provide feedback and recommendations on the implementation of cryptographic primitives, improvements and additions, for the upcoming update.
What are the biggest improvements or benefits of version 2 to look forward to?
New Core software written from the ground up in-house by the team.
proof of stake.
Blocks will no longer be used in mining, which will allow faster transactions that are confirmed by users who install verification nodes and verify transactions and blockchain data.
The so-called delegated portion. Where users vote for producers and validators by depositing funds instead of having all producers and validators pre-determined.
Staking.
Allows every user who wants to stake their funds, thus giving themselves the chance to receive block rewards, helping to secure the network.
In terms of stakes ("voting") of users for a candidate node, 1 TRTL = 1 vote. It is supposed to stake entire TRTL coins to vote. As with Candidate Node staking, you will need to wager your funds for a minimum period of time before they can be withdrawn.
Bulletproofs+.
The inclusion of masked amounts, which reduces the appearance of so-called "dust" in the chain. In a nutshell, what is "dust". Now there are more than 100,000,000 outputs in the v 1 chain, and most of them are "dust". Today, more than 10% of exits on the network are worth 0.01 TRTL. For example, now, to buy a cake, real, physical, you need at least more than 5000 TurtleCoin (for a very cheap cake, by the way). These 5000 can be made up of many inputs, and in the current way transactions are made, each of these inputs has multiple signatures attached to them, which means large transactions and high fees.
The so-called "Arcturus".
Faster transaction signature verification with more anonymity options.
Transaction shortening.
Less chain bloat means a smaller chain and less storage requirements for a node to run.
No spacing between blocks.
Blocks are only created when there are transactions.
TurtleCoin Proton Wallet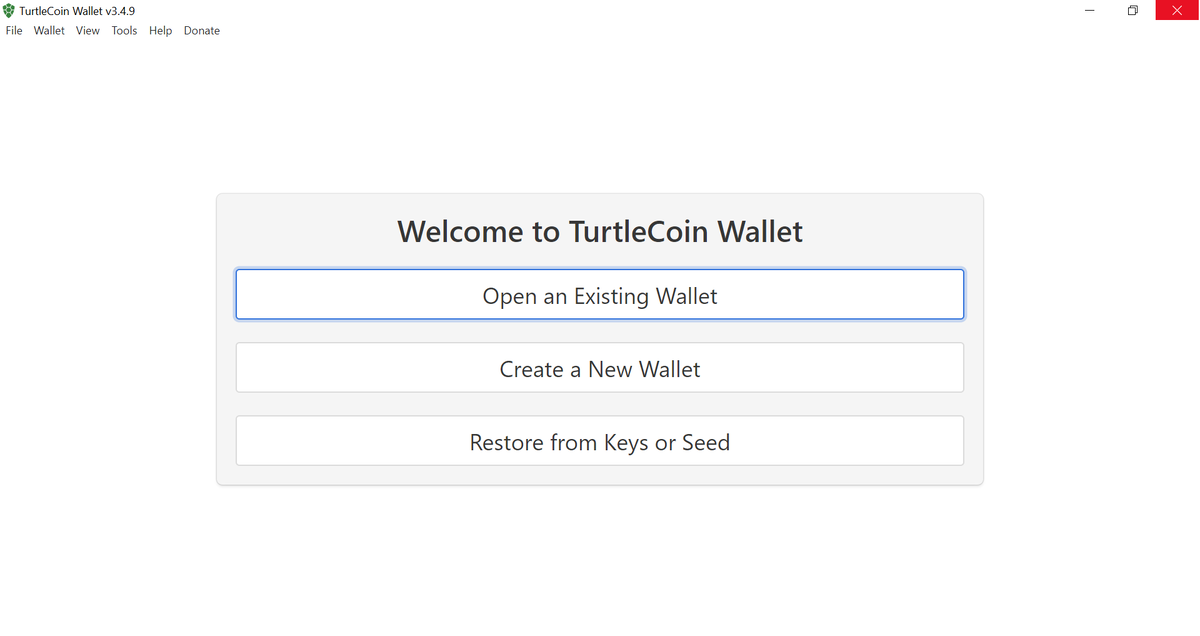 wallet gui start window
The start window is very standard, you can restore the wallet from the keys or phrase, or create a new one.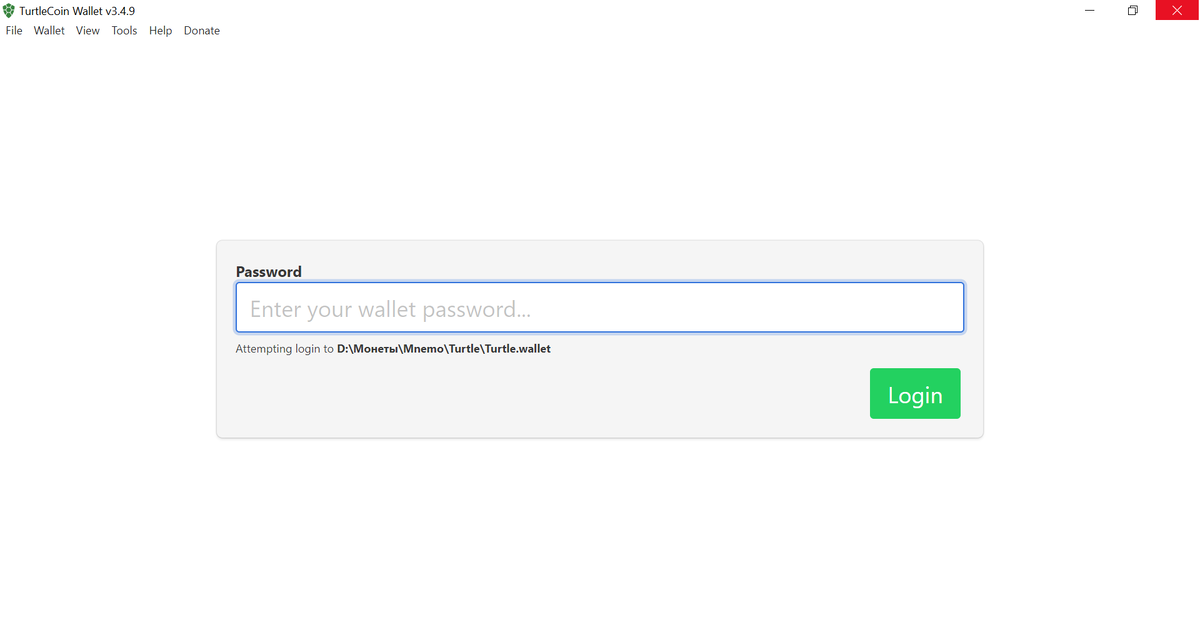 You can create a password to enter the gui Turtle Coin wallet
Separately, you can create a password when entering the wallet.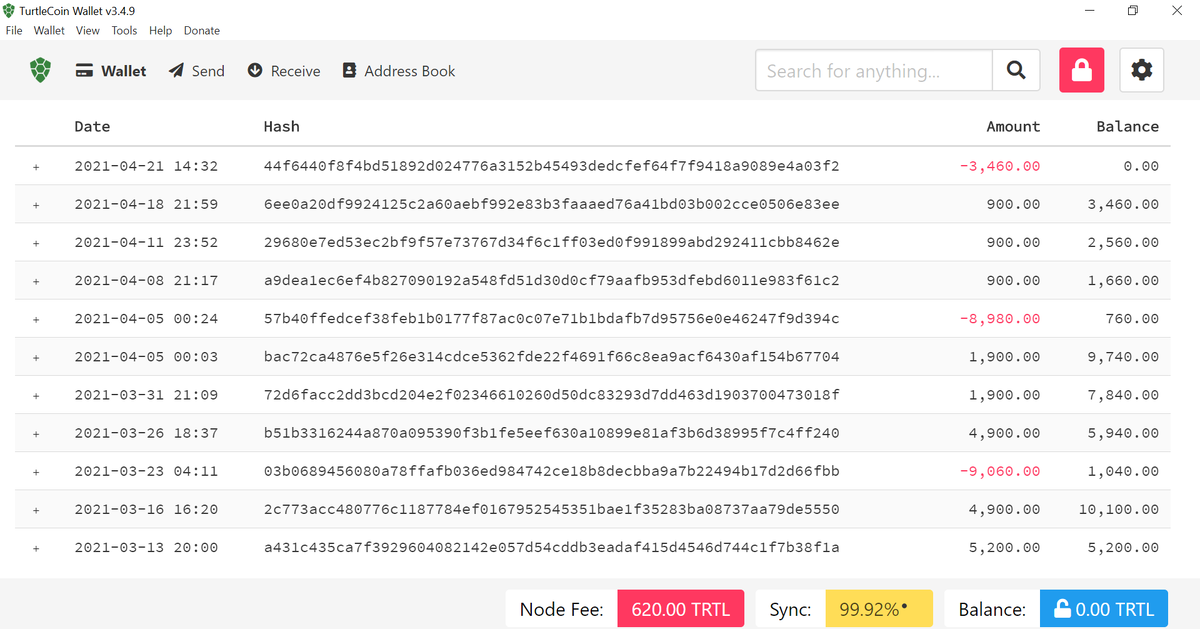 Displaying transactions in the gui wallet Turtle Coin
Transactions are displayed in a convenient list. There is a payment id.
It is worth mentioning right away the list of nodes that you can choose, or enter your own, given that there is also a node fee payment, which can be quite high.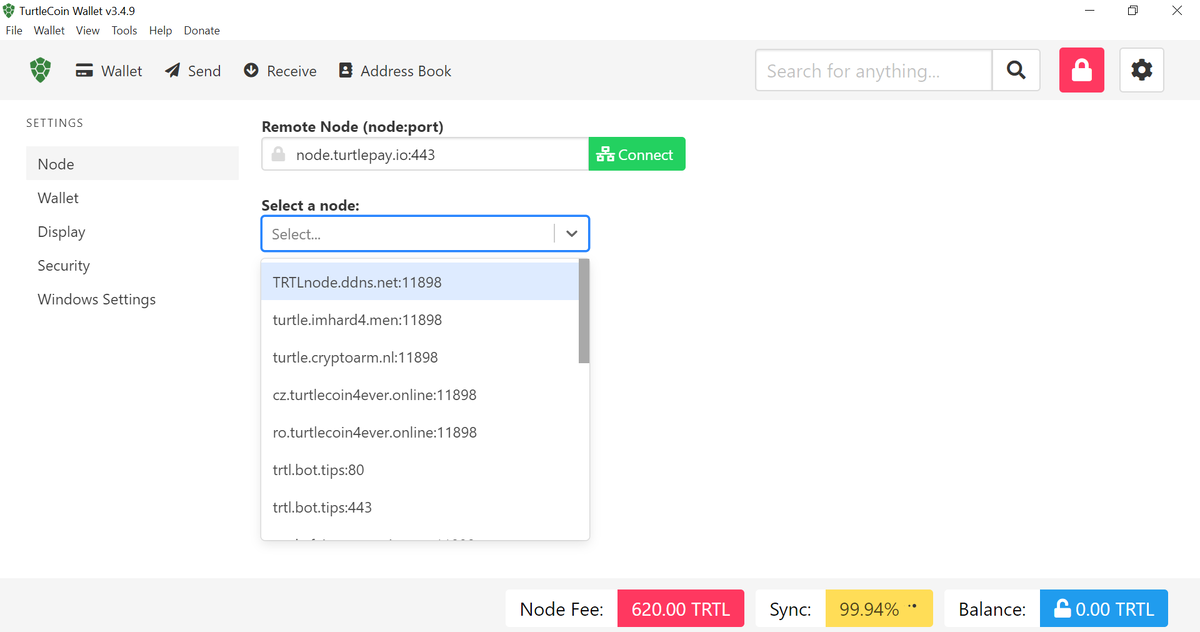 Node fees can be quite high
A separate and very convenient function, I think, is requesting a wallet password, say, after 15 minutes of inactivity, you can set other timecodes.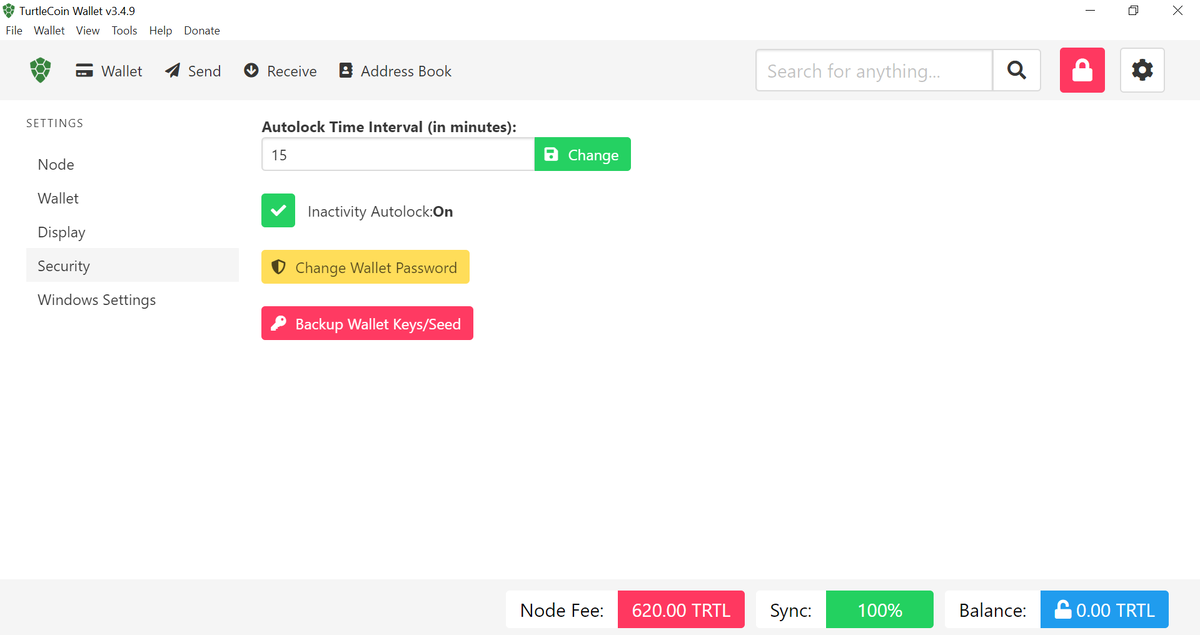 Convenient wallet blocking function when inactive
But what about coin mining at the moment?
Mobile processor intel i5 8250u gives about 2350 H/s.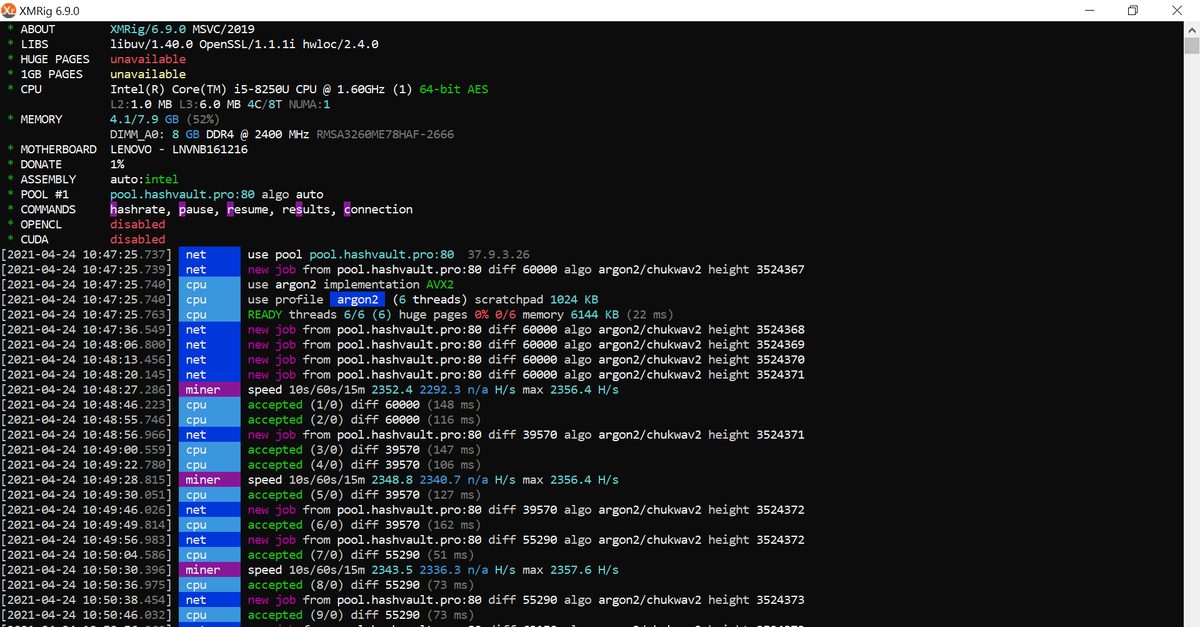 Mobile processor intel i5 8250u hashrate
Mining on a mobile discrete graphics card Geforce mx130 gives very modest results at about 1020 H/s.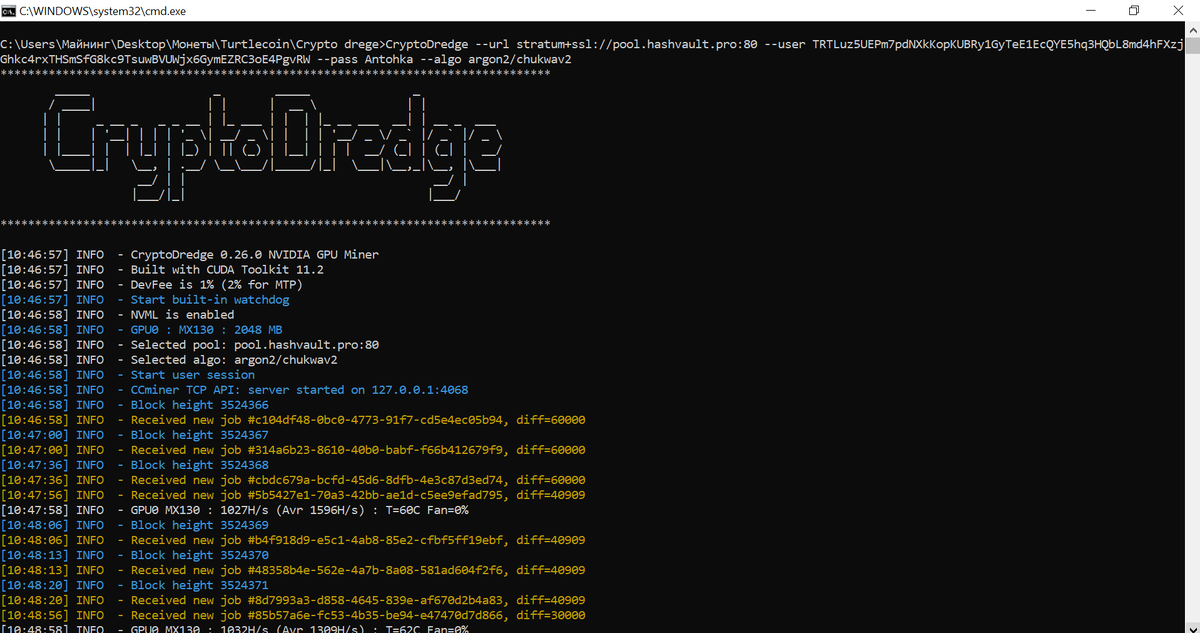 Hashrate of mobile video card Geforce mx130
On this "hardware" with variable difficulty, you can have a little more than 1000 coins per day.
As a result, we can say that the coin is more interesting as a prospect for the future, although it does not have a particular profit in the current situation.
Brief features.
Pros:
No premine and ICO;
CPU and GPU frendly, you can mine on pretty weak devices;
Convenient gui wallet;
Prospects for the development of the 2nd version of the network.
Minuses:
Few exchanges trading the coin.
Read more articles about cryptocurrencies and mining at CRYPTO-WALLETS.ORG.

The Telegram channel about cryptocurrency and mining Bitcoin, Ethereum, Monero and other altcoins:

CRYPTO WIKIES | Bitcoin & Altcoins Mining