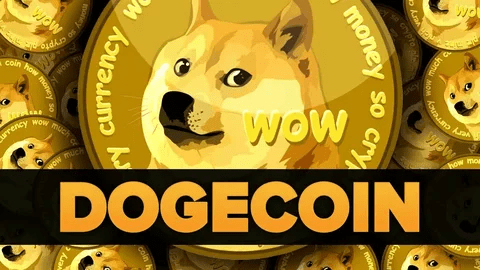 DOGE is of great interest among crypto investors and traders. It is difficult to find a trading asset that could rise in value by 800% within a day – this is exactly what happened to Dogecoin after the message of Elon Musk on Twitter.
Dogecoin (DOGE) is a popular cryptocurrency based on Litecoin (in professional terms, it is a fork of Litecoin). The coin is named after the famous Internet meme Doge.
At the very least, it is interesting to invest in this cryptocurrency – no one knows exactly how much the price of the asset will increase after the next publication in the media. Large investors invest in Dogecoin along with Bitcoin, Ethereum and other cryptocurrencies, because in 2021 the value of the DOGE coin increased by more than 20,000%. Today we will tell you about how to properly store this cryptocurrency and which wallets are best to use.
Official Dogecoin Core Wallet
The Dogecoin Core cryptocurrency wallet is the official open source DOGE wallet. It is suitable for Windows (34/64-bit), Linux (32/64-bit) and MacOS computers, as well as Android mobile devices. When installing a wallet, private keys are stored on the user's device, so no one has access to them.
To install Dogecoin Core, you must choose the version that suits your operating system. This will start downloading the installer file. By opening it and following the instructions, you will be able to install the wallet on your computer.
The Dogecoin Core wallet is quite easy to use. The source code of the official Bitcoin wallet (Bitcoin Core) was used to create it, so fans of the most popular cryptocurrency will see almost nothing new.
On the main page you can find 4 sections:
Review. Here is information about the current DOGE balance, the history of recent transactions and other information about the wallet;
Send. Section for sending transfers. You specify the recipient's address and the amount, and then determine the commission for sending confirmation on the network. You can choose the recommended commission or independently determine the balance between sending speed and cost.
Get. This is a form for requesting payments, where you can specify the amount, message to the user and copy the address (or QR code for transfer)
transactions. The history of transactions is stored here – to whom you sent DOGE, who transferred cryptocurrency to you, etc.
You can find your wallet address in the "File" – "Much receiving addresses" section. It starts with the letter "D" and then a number of random characters (no more than 34). If you wish, you can create several addresses, to each of which you can transfer DOGE.
Recommendations:
Set a password. This will protect the wallet from third party interference. You can set a password in the wallet settings ("Settings" – "Options"). Also here you can change the interface language, etc.
Copy private keys for all addresses. This can be done through the console ("Help" – "Debug window" – "Console"). If you have not set a password yet, then enter "dumpprivkey" and your wallet address (separated by a space), if you have set it, specify it with the command "walletpassphrase "your password" timeout" (where timeout is the unlock time specified in seconds).
In general, the official Dogecoin Core wallet is the best choice for those who want to use one of the simplest and most proven solutions. However, there are other ways to store DOGE cryptocurrency, which we will tell you about below.
Cold wallets for Dogecoin cryptocurrency
The most popular criterion for classifying cryptocurrency wallets is the way coins are stored. Crypto wallets are divided into 2 types:
Cold wallets store cryptocurrencies without being connected to the network. This is the maximum level of security, as no attacker will be able to access your funds over the Internet. The owners of such wallets can store coins and accept cryptocurrency transfers from other users. However, a network connection is required to send transactions.
All cold cryptocurrency wallets for Dogecoin can be divided into 2 types:
Consider the features of each type and talk about the most popular models.
Dogecoin Paper Wallet Generator Review
A paper crypto wallet (Paper Wallet) is a piece of paper on which a private key or Seed phrase is written.
A private key is a combination of characters that gives access to a cryptocurrency. Seed phrase – a set of 12 or 24 words that allows you to recover a private key.
A wallet is created using a special service – a paper wallet generator. It generates a wallet address and a private key from random characters. After that, you can print the wallet and use the received address to receive transactions and store currency. You cannot send cryptocurrency from a paper wallet – for this it must be converted to a hot wallet. This can be done with a private key.
Best DOGE Hardware Wallets
A hardware crypto wallet is a device for storing private keys in an isolated environment. Most often, it looks like a regular flash drive, keychain or bank card. On the body of the device are navigation buttons and a display, thanks to which you can manually confirm transactions and control the address of sending coins.
The main advantage of a hardware wallet is the ability to send cryptocurrencies without conversion. If a paper wallet can only store and receive transfers, then a hardware wallet can send money to other users.
To do this, just connect the device to a computer or smartphone. At the same time, private keys will not leave the device, which will protect you from interference by third parties.
The main disadvantage of hardware wallets is the cost. Their price can reach several thousand rubles (in rare cases – 15-20 thousand rubles). For comparison, a paper wallet is absolutely free to create.
Consider the best DOGE hardware wallets:
1. Ledger Nano X
Ledger is one of the world leaders in the production of multi-currency hardware wallets. The French company has been operating since 2014. In 2016, the legendary Ledger Nano S was released, and in 2019 it was replaced by the updated Ledger Nano X.
The wallet allows you to store not only DOGE, but also more than 20 other cryptocurrencies (including over 1.2 thousand ERC tokens). Externally, the Ledger Nano X looks like a USB-Flash drive with a USB Type-C connector (a USB-A cable is included). On the body of the device is a small (128×64 px) OLED display.
The wallet supports computers and mobile devices of all popular operating systems – Windows, MacOS, Linux, Android and iOS. To work with them, you must use the Ledger Live application. With it, you can view the status of your account, send transfers to other users, etc.
2. Trezor Model T
Trezor is a large Czech company producing hardware wallets for cryptocurrencies. In 2013, they released the world's first Trezor One hardware crypto wallet, and in 2018, they released the more modern Trezor Model T.
The wallet supports DOGE and more than a thousand cryptocurrencies – BTC, ETH, EOS, etc. Externally, the Trezor Model T looks like a keychain with a USB Type-C connector (USB-A cable included). On the body you can see a fairly large (240×240 px) OLED touchscreen and a micro-SD card slot.
The wallet can be connected to computers and smartphones.
3. KeepKey
An American hardware wallet released since 2015. One of the distinguishing features of KeepKey is its built-in ShapeShift cryptocurrency exchange platform. Thanks to this, the wallet is suitable not only for storing, receiving and sending DOGE, but also for exchanging cryptocurrency.
KeepKey supports DOGE and over 40 other cryptocurrencies. The wallet looks like a small gadget with a large (3.12″, 256×64 px) display. On the aluminum case is a Micro-USB connector. The wallet can be connected to computers and smartphones.
You can use any of the above hardware wallets to store Dogecoin. Each of these models has established itself in the market as a reliable cold storage for cryptocurrency.
Dogecoin Mobile Apps
Mobile wallets are software storage for cryptocurrencies. They are installed on users' mobile devices (for example, Android and iOS smartphones or tablets). Most often, software wallets are cross-platform (i.e. suitable for both mobile devices and computers).
The private keys of mobile wallets are stored on the devices themselves. In case of theft or loss, you can restore your wallet using the Seed phrase.
Consider the most popular Dogecoin storage mobile apps:
1. Trust Wallet
A mobile crypto wallet developed by the Binance exchange. It is a software storage for DOGE, BTC, ETH, DASH and other cryptocurrencies. The application can be installed on Android smartphones (from Google Play or through the APK file from the site) and iOS (from the App Store).
The wallet allows you not only to store and send Dogecoin, but also to trade cryptocurrency without identity verification, buy it with a card, etc.
2. Guarda Wallet
Multiplatform wallet for working with cryptocurrency. You can use Guarda Wallet as a web wallet, desktop wallet, mobile wallet, and Chrome extension. The mobile wallet supports smartphones on Android (download from Google Play or APK file from the site) and iOS (download from the App Store).
Additional features of Guarda Wallet include the purchase of cryptocurrency, exchange, earnings on staking.
3. Coinomi Wallet
Multi-currency wallet that supports mobile and desktop devices. The mobile version of the wallet can be installed on Android and iOS smartphones. You can store DOGE and other cryptocurrencies (BTC, ETH and over 1.7 thousand more blockchain assets) in the wallet.
Already from this list you can choose what is closer for you. Good luck with your investment!