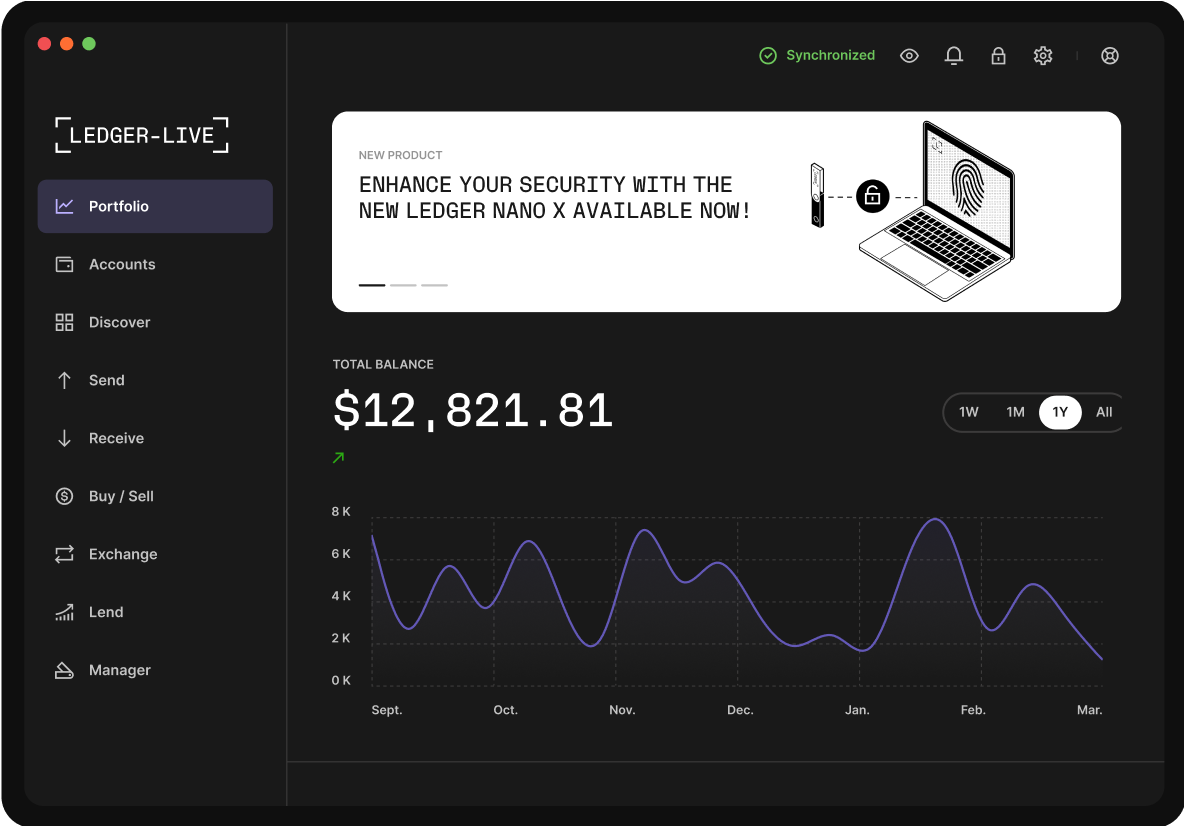 ---
Ledger Wallet Review
Features Ledger
Ledger Wallet is a product of Ledger, and its idea is based on the BOLOS platform and Secure Element. This hardware device is highly valued because of its ability to isolate and store your key pairs and other important cryptographic information away from every potentially vulnerable computer.
Ledger Nano is one of the preferred cryptocurrency wallets in terms of security. The developers wanted to build a secure device for seamless communication between the user and the blockchain world. To do this, we created a product that stores your data in a secure element that is protected from unauthorized access and eavesdropping. What's more, access is private and secure through a screen. There you have all the options available, controlled only by the device away from harmful intentions.
Another important note: each hardware wallet works with a specific software application. Ledger Nano S is compatible with Ledger Wallet Ethereum, Copay, Ledger Wallet Bitcoin, Ledger Wallet Ripple, Mycelium, Electrum, MEW, BitGo and GreenBits.
Pros and cons
In the following table I have listed the advantages and disadvantages of the Ledger Nano S. Before investing, it's a good idea to familiarize yourself with all aspects. As you will see, this hardware wallet has more advantages, making it the right choice in many ways. Take a look:
Pros:
Security: Cannot be hacked or attacked by viruses
Multiple asset support: Manage more than one coin or token using the same wallet
OLED display: Allows you to double-check every transaction
Affordable: One of the most affordable OLED-based hardware wallets.
PIN security: Set more than four digits to guarantee an extra layer of security.
Cons
Brand reputation continues grows: Not as established as some of the leading hardware wallets (like Trezor).
Can store up to 5 coins: Due to limited storage capacity, the wallet can store up to 5 coins at a time.
Multi-coin support and operating system compatibility
Ledger Nano hardware wallet supports over 1100 tokens and over 80 coins . Here, ERC-20 tokens can only be managed through MEW and MyCrypto software wallets. All this makes it a convenient wallet worth investing in. The following tables show the most common and commonly used assets.
Supported coins (80+):
Bitcoin [BTC]
Bitcoin Cash [BCH]
Cardano [ADA]
Dash [DASH]
Decred [DCR]
Dogecoin [DOGE]
DigiByte [DGB]
EOS [EOS]
Ethereum Classic [ETC]
Ethereum [ETH]
Litecoin [LTC]
Qtum [QTUM]
XRP [XRP]
Zcash [ZEC]
Supported tokens (over 1100+):</strong
Augur [REP]
Aurora [AOA]
Bancor [BNT]
ChainLink [LINK]
Crypto.com [MCO]
Dai [DAI]
Golem [GNT]
Holo [HOT]
IOStoken [IOST]
Maker [MKR]
OmiseGO [OMG]
Populous [PPT]
Pundi X [PXS]
Request Network [REQ]
Status [SNT]
Tether [USDT]
TrueUSD [TUSD]
USD Coin [USDC]
WaltonChain [WTC]
Zilliqa [ZIL]
0x [ZRX]
Every hardware wallet has to be OS compatible so that you can manipulate and manage your state through each device. The Ledger Nano S is very flexible in this regard. Here are compatible operating systems for proper use of your hardware client:
Windows 7 or later
Mac OS: Mac OS X 10.11 or newer
Linux Ubuntu 12.04/Fedora 21/Debian 8 or newer
Android 7.0 or higher<strong/strong>
iOS 9.1 or higher
Chrome browser extensions
Built-in exchanger: Faast
Even hardware wallets can offer a built-in exchange service. For the Ledger Nano S, this convenient feature addition is called Faast. This process is a bit different than the one software wallets use. I've summarized the process for you:
Step 1. Turn on browser support on your upgraded Ledger device. Make sure you have a balance in your wallet. Otherwise, the exchange option will not be activated.
Step 2. Configure the hardware settings on the Faast portfolio page . Select Ledger from the hardware-supported potions.
Step 3 – Click "Add all cryptocurrencies" and follow the instructions (should be for both ETH and BTC). When things are identified, click "confirm".
Step 4 – Click "exchange" on the loaded page, where you can also check the balance of your assets thanks to the pie charts.
Step 5 – Adjust the amount you want to exchange using the slider. Then click "add assets" and select the desired asset. Click "save" and the transaction will begin.
Is Ledger Nano safe?
With the Ledger Nano S wallet, the situation is different. It keeps all bits and pieces of personal data safe and helps you perform convenient and secure transactions. This hardware does this thanks to a true random number generator (TRNG) that is compatible with AIS-31. The standard used is known as BIP 39 and serves to create a basic starting number.
Additional passphrase support
BIP39 passphrases that are not stored and memorized in Ledger Nano S.
Protected Key Transactions
Transactions are allowed only after authentication by PIN-code.
Privacy and Anonymity
This important aspect of cryptocurrency activities will be taken care of by the developers from the Ledger team. It is protected by generating a hierarchical deterministic key from a single master seed. Thus, it will contain your passwords, cryptocurrency private keys, and other cryptographic data. This is not a password or PIN, but the core of each of your cryptographic information. You only need to access it the first time you create it and in case you need to restore the Ledger Nano.
Additional protection that hides your information from others
Hierarchical Deterministic (HD)
Generates multiple addresses. Use a different one with every transaction. This goes for your online tracks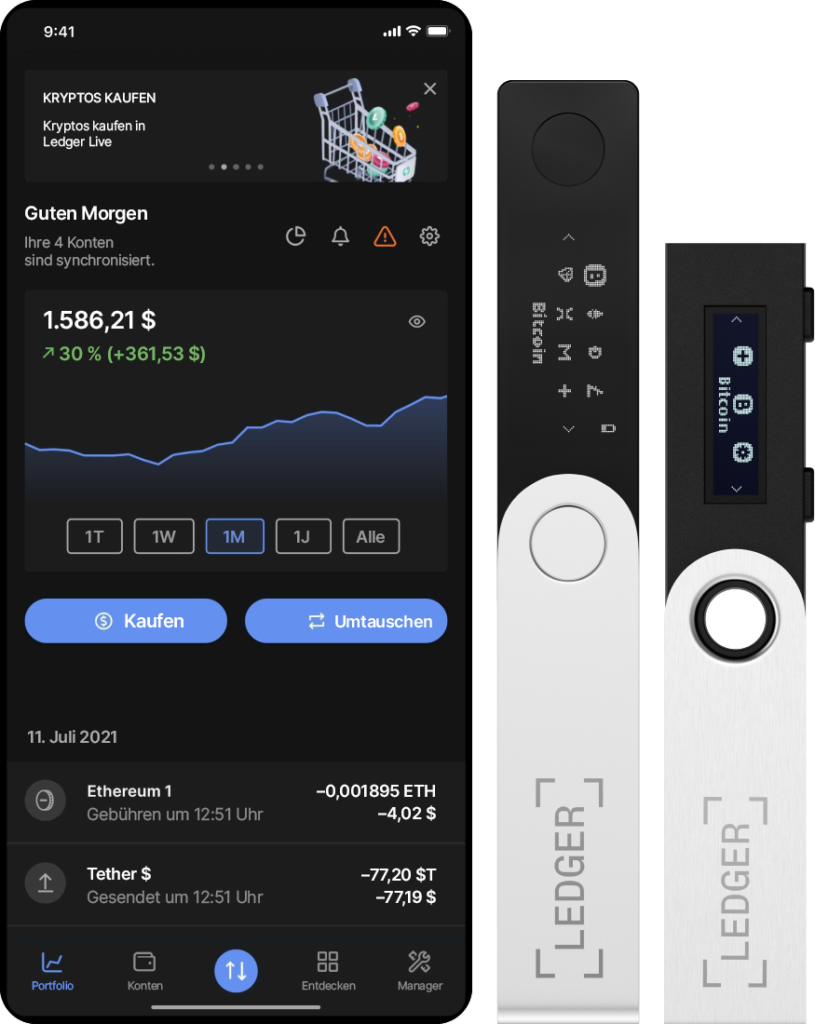 Is Ledger Wallet right for you? VIEW PRICES

https://www.ledger.com/
Transaction costs
Each transaction is accompanied by a commission, which largely determines the speed of processing. Usually the network depends on the work done by the miners. They are the ones who create each new block. For all their efforts, the fee is the price of reconciliation.
With the Ledger Nano Wallet, you can choose the amount of commission for each step you take. This is how you determine your place in the incomplete transaction queue. Normally, higher fees always have priority. If you set lower ones, you will wait a while. A handy feature of this hardware wallet is the live aspect that evaluates three types of fees: high, standard, and low. Essentially, the size of your transaction determines the commission. Consequently, more output and input is considered costly to transfer over the network. Use this information wisely.
Conclusion
Having studied Ledger Nano, I can say that it is a great choice for a cryptocurrency wallet. It's secure and even has the ability to use 2 PINs leading to separate accounts. This way you can separate assets for daily use and larger amounts. Detecting malware and keeping your data safe even when connected to an infected computer is something I'm definitely looking for.
There are a few things that might make some of you take a break when choosing a hardware wallet. That is, the investment and the not-so-popularity. The Ledger Nano S is not as widespread as the Trezor . Both are representatives of multi-money with a high level of privacy and security.
Ledger Nano wallet manual: how to set up and use
In this section I will explain the installation process for Windows, MacOS and Linux, and then give recommendations on how to use Ledger Nano. The wallet has many useful features and just a few things to pay attention to.
Step-by-step guide Ledger
How to set up
Interface Overview
Create an address
Sending/receiving assets
Crypto backup/restore
Special functions
Possible problems and how to avoid them
How to install
Even hardware wallets need an installation guide. First of all, choose the right operating system and follow the instructions exactly. They are different because the requirements are different. Take a look at the following tables:
Download Ledger Live app (https://www.ledger. com/pages/ledger live)
Click "yes" in the warning displayed after double-clicking on the downloaded file.
Click "Done" after installation is complete
Interface Overview Ledger
The interface is simple, straightforward, and has only 4 main elements that flow seamlessly into the rest of your choices. On the left you have a menu with sections such as send, receive, portfolio, manager and exchange. They will take you right to the options you want with a click of the mouse. At the top of the Ledger Nano display, you'll see the main view and application controls. From these, you can easily access your accounts, settings, current network status, and blocked access options.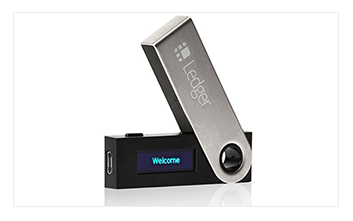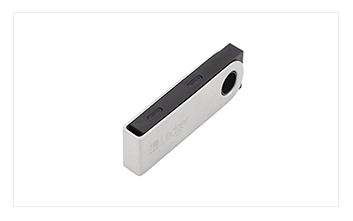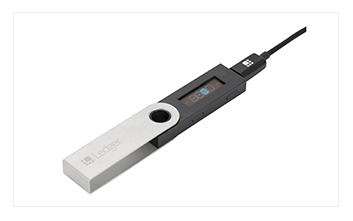 Create an address Bitcoin
When Ledger Nano supports your coin and has the appropriate application, add an account (e.g. BTC for a Bitcoin account) using the icon on the left. Choose a currency from the drop-down menu or just type it in. After clicking "Continue," Ledger Live begins scanning the blockchain for existing accounts. You then have several options: "Select Existing Accounts" (already with transactions on the blockchain), "Add New Account" (your previous account must have at least one asset transfer), and "Accounts Already in Portfolio." After clicking "Continue," the selected accounts will be added to the Portfolio. When you are finished, close the menu.
Send and receive assets
The acceptance part is automatic, without any confirmation. The only condition is that you enter the correct address. However, you will need a few actions to send – "Send" in the upper left corner, then select the account from which you want to send and enter the recipient's address. Then enter the amount and decide on a network fee. As a reminder, higher fees mean faster processing. Click "Continue."
Hint: Check the address before you click "send. The process is irreversible. Even one erroneous character can result in a loss of assets.
Backup and recovery
Set and protect your phrase: One of the backup options to restore your cryptocurrency is the 24-word recovery phrase. This is derived from the display. When writing it down for safekeeping, make several copies. Each one should be stored in separate locations. Tip – don't type the phrase on your computer or phone. Sharing them or taking pictures of them is not a good idea either.Step
Create a PIN code and save it. With the Ledger Nano you can select a PIN during initialization. Make sure that you do this alone. If you feel threatened that it has somehow leaked, change it immediately. Be careful when entering it more than 3 times. This will reset your wallet. We don't recommend using simple PINs or saving them on your PC and phone. If someone suggests you use a code not created by you, avoid using it.
Setting up and restoring the wallet from the Sid (12-24 words): Use the USB cable to connect the hardware client to your computer. Press two buttons at the same time. When you see the message to configure, press the left button. Then press the right button for "Restore Configuration". Then a seed is required.Step
Recover by importing a recovery phrase: First, press the right button to select the length of the phrase you are going to enter. Then select the letter of the first word. The letters are selected with both buttons. Continue until the Ledger Nano S shows the word choices. When you have entered the phrase. If everything is OK, you will see a message that the device is ready.
Special functions
The Ledger Nano Wallet supports one very interesting feature called "Plausible Deniability. This is a preventative measure in case you are forced to reveal the Ledger device's PIN. With this particular feature, you will have especially 2 PINs. One code accesses your main wallet, where attackers will eventually steal a small amount of cryptocurrency. The second PIN is linked to a specific passphrase (which must be set before), opening a hidden account containing all your coins and tokens (it is usually rarely used).
Possible problems and how to avoid them
Let me start by explaining what the procedure is when you have trouble connecting. To fix this for your Ledger Blue and Ledger Nano, start by changing your chosen application. Other fixes might be to disconnect the VPN, do the same with antivirus, replace the USB cable or port. The connection can be fixed after restarting the PC or just try the wallet on another computer.
There is another problem with these devices, and it has to do with the screen. If it does not respond, perform the following procedure: start the loaded manager, press and hold the left button for at least 5 seconds, connect the Ledger Nano and the display should show "Bootloader". Then the manager will be active and you are ready to use the wallet.
Frequently asked Questions
I can't access my Ledger Nano S. What should I do? If it's lost, stolen, or damaged, simply follow the recovery procedures on another device that supports 24-word recovery phrases.
I have forgotten my PIN. Now what?
What if my Nano S only shows the Settings menu?
Ledger Team
Ledger's embedded security, cryptocurrencies, and entrepreneurship team began working on secure solutions for blockchain applications back in 2014. The company has grown from 8 to over 130 employees in just a few years. They are common in more than one city – San Francisco, Paris and Vierzon. The jewel in their crown is a distinctive operating system (OS) called BOLOS. Ledger is a pioneer in providing such security solutions to the crypto world.
Interested in the Ledger Nano wallet? VIEW PRICES
---
Read more articles about cryptocurrencies and mining at CRYPTO-WALLETS.ORG.

The Telegram channel about cryptocurrency and mining Bitcoin, Ethereum, Monero and other altcoins:

CRYPTO WIKIES | Bitcoin & Altcoins Mining