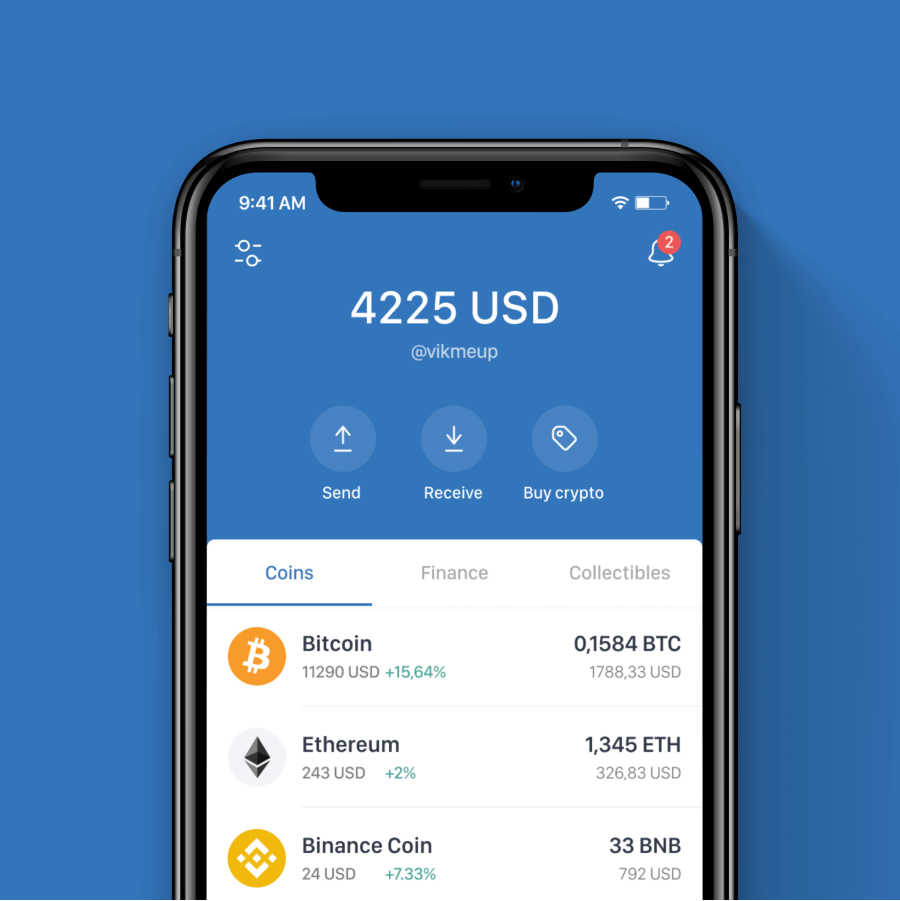 Trust Wallet – The best mobile crypto wallet for storing cryptocurrency
As more and more cryptocurrencies and decentralized applications are created every day, it is important to have a universal wallet that provides users with an easy and reliable way to access them. Here we take a look at one such wallet, known as Trust wallet. Trust Wallet is a mobile wallet for hot storage of multiple cryptocurrencies: Bitcoin BTC, Ethereum ETH, Tether USDT, Solana SOL, XRP, USD Coin USDC, Ravencoin RVN, Litecoin LTC, Dogecoin DOGE and many other crypto projects. This is one of the most popular cryptocurrency wallets, the official wallet of the Binance exchange. You can download Trust Wallet from the wallet's official website. The application is available for iOS and Android: https://trustwallet.com/download-page
Storing all of your cryptocurrency in a trading account on an exchange, even one as trustworthy as Binance, is not secure. User's account can be hacked or blocked. A more exotic variant is the bankruptcy of the exchange itself. Therefore, we recommend to keep on the exchange account only active capital, which the trader trades every day. It's safer to keep profits and coins for steaking in a wallet.
Trust Wallet features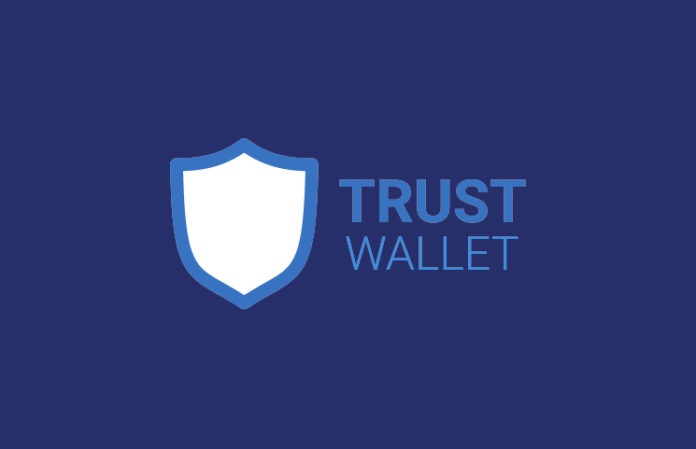 There are many reliable multi-currency wallets, and we've already talked about Jaxx and Coinomi. However, they are limited in terms of features. Whether you want to store cryptocurrency, send payments, invest in a new project or use DApps. You need a convenient all-in-one solution for all the different activities. Trust wallet is an all-in-one mobile wallet and app that makes asset management easy. In this beginner's guide, we'll show you how to download, create an account, and use Trust wallet. But before we do that, let's take a quick look at what a trust wallet is, how it works, and what it does.
In addition to fund storage, Trust Wallet allows you to buy cryptocurrencies, stack them, store NFT tokens and use a DApp browser to trade on decentralized exchanges.
Trust Wallet supports over 40 blockchains and over 160 thousand coins. Buy cryptocurrency in the wallet through Mercuryo, Simplex and MoonPay exchangers. A cheaper way is to buy coins on Binance and transfer them to Trust Wallet. You can trade cryptocurrency in Trust Wallet in "Exchange" and "Exchange" mode in the "DEX" tab. You can only exchange coins from the same network, for example ECR-20 tokens for ECR-20 tokens. In the "Exchange" mode, only the BEP-2 network is available for trading. Users can place limit orders to buy/sell tokens.

Note:ECR-20 tokens work in the Ethereum network. BEP-2 standard tokens in the Binance Chain blockchain network. In the Trust Wallet, they can be exchanged for BEP-20 tokens of the Binance Smart Chain network.
Staking Coins in TRUST WALLET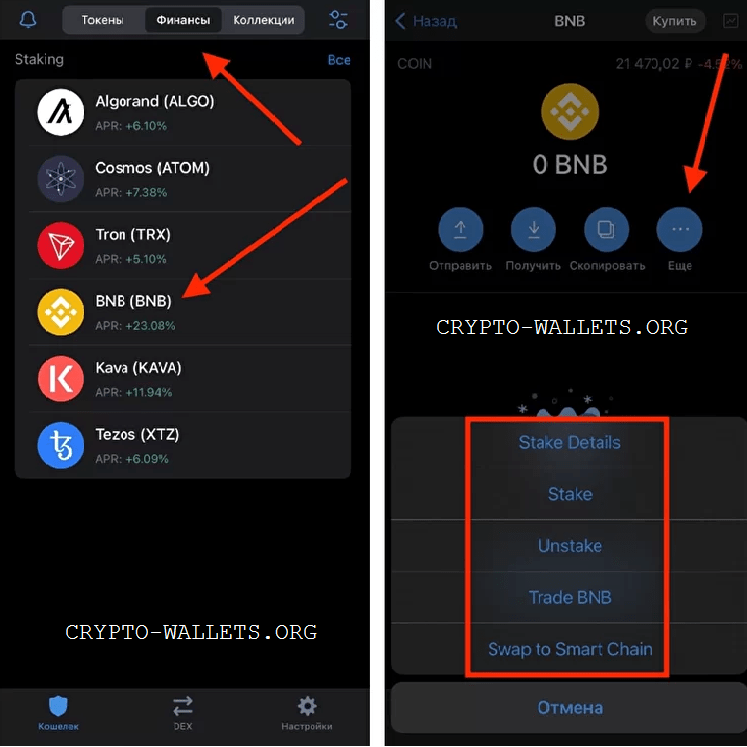 There are 6 coins available for stacking in Trust Wallet: Algorand, Cosmos, Tron, BNB, Kava and Tezos. To stake a coin, go to "Finance" and select the desired asset, for example BNB.
By clicking the "More" button, we can:
Find out the details of staking (minimum amount, interest, term).
Send coins to staking.
Stop staking.
Trade BNB.
Exchange BNB (BEP-2) to BNB (BEP-20).
Transferring cryptocurrency to TRUST
Переводить средства с Binance на Trust Wallet и обратно быстро и удобно. Чтобы перевести средства в Trust Transferring funds from Binance to Trust Wallet and back is fast and convenient. To transfer funds to Trust Wallet, go to the "Wallet" tab and click "Get". Select the desired coin, for example USDT in the TCR-20 network (this network has lower fees than the ECR-20 network). Copy the address.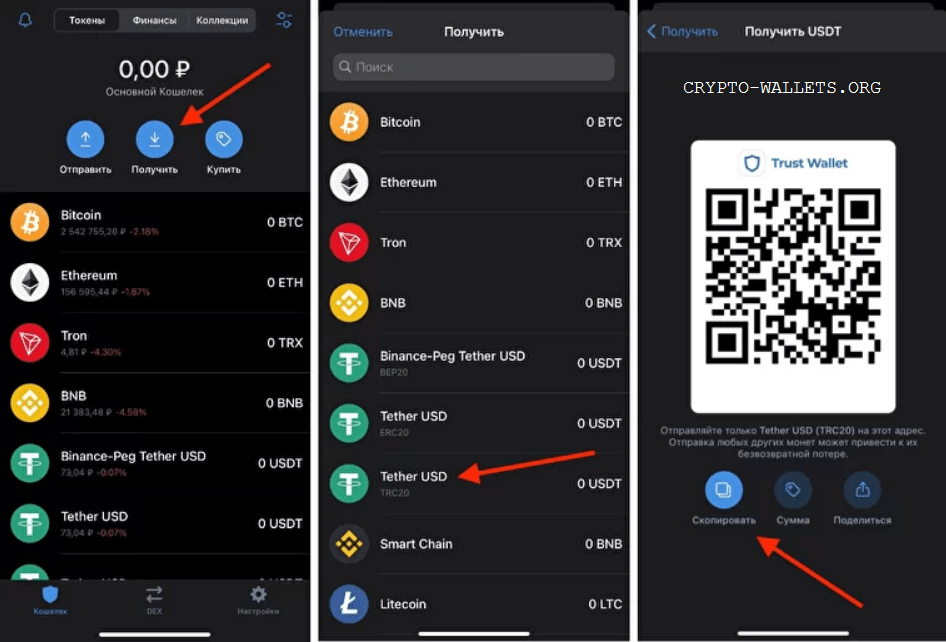 Trust Wallet – удобный и надежный кошелек для "горячего" хранения. Его безопасность – репутация биржи Binance. Конечно, можно купить аппаратный кошелек и хранить все средства там. Но при потребности держать криптовалюту "под рукой" и соблюдении элементарных правил безопасности, Trust Wallet может стать оптимальным вариантом для хранения.