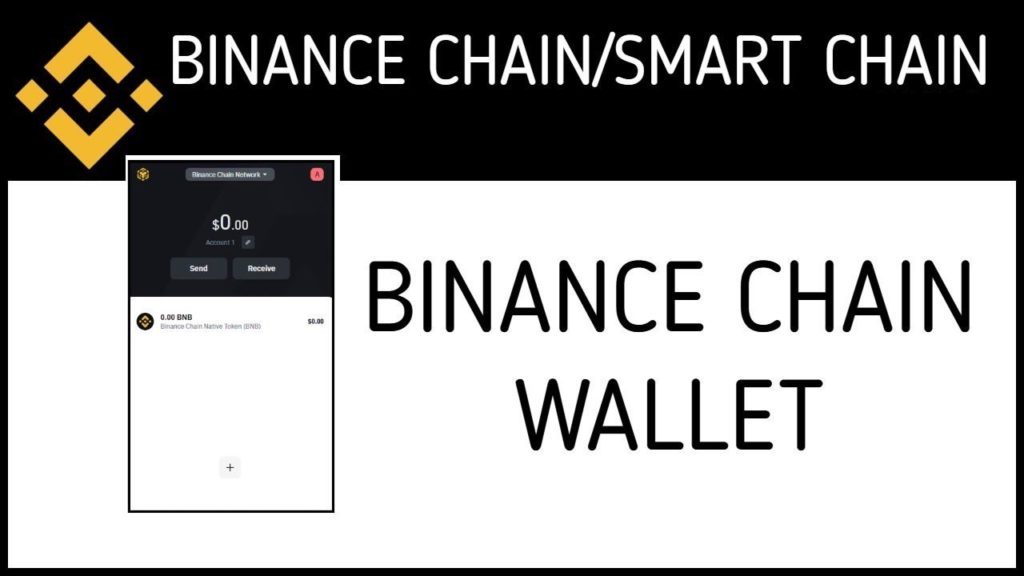 To safely store BNB and BEP20 tokens, find the best Binance Coin wallet. Are you interested in using your Binance exchange as a wallet? Are you considering developing a Binance smart wallet? In this case, you have found the right place.
In this section, we explain the difference between a custodial and non-custodial wallet. We provide a list of some of the best Binance Coin (BNB) wallets for safely storing BNB and BEP20 tokens. We will walk you through the process of creating your Binance web wallet and show you how to directly connect your wallet to the Binance exchange to deposit BNB and other tokens. You will also learn how to add new personalized tokens to your Binance online wallet. How to use tokens to interact with DeFi and Dapps on the BNB smart chain, and how to transfer tokens to and from Binance Web Wallet.
Before setting up and using the Binance Smart Chain (BEP20) wallet, let's quickly define Binance Coin (BNB) and Binance Smart Chain.
Cryptocurrency Binance Coin (BNB)
The Binance Coin (BNB) cryptocurrency was developed by the Binance exchange in 2017. This utility token gives users discounted access to the Binance.com and Binance.us exchanges. Trading costs on the Binance exchange can be paid with BNB to receive a discount. In addition, using BNB will bring you rewards. BNB can be used as collateral for loans, and having BNB gives you access to special investment opportunities on the Binance platform through Binance Launchpad events.
The main backing system for the Binance decentralized exchange is also BNB (DEX). BNB is a cryptocurrency that is used on the Binance exchanges as well as on the Binance blockchains to pay for transaction costs (both Binance Chain and Binance Smart Chain). The native token of the Binance network is called BNB. BNB, which is used to pay transaction fees for assets dependent on Binance Smart Chain or BNB Chain, works similarly to ETH in Ethereum.
BNB Network / Binance Smart Chain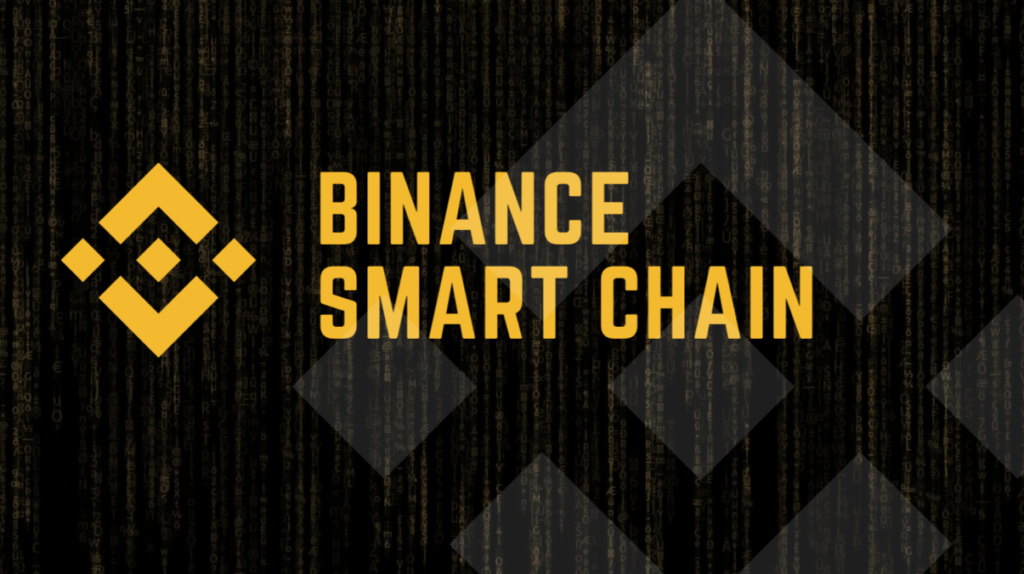 Although the decentralized application (dApp) ecosystem is supported by programmable smart contracts, which are implemented for the first time on the Ethereum blockchain, it is still not the only platform available. There are several other blockchains where decentralized applications can be created and used.
Binance Smart Chain, commonly known as BNB Chain, is one of the best examples. Decentralized applications (dApps) and DeFi (decentralized finance) can be developed and deployed on the new smart contract blockchain platform.
A smart contract-enabled blockchain called Binance or BNB Smart Chain (BSC) offers a permissionless platform for decentralized applications (DApps). It is a fast and low cost Ethereum alternative that supports a huge selection of DApps and DeFi applications. DApps can be easily migrated to Smart Chain by developers with Ethereum development experience. In addition, many programmers host their dApps on the Binance smart chain as it has much lower gas costs and faster transaction times than Ethereum.
The EVM, commonly referred to as the Ethereum Virtual Machine, and BSCs are compatible. In simple terms, this indicates that any decentralized applications currently running on Ethereum can quickly switch to Binance Smart Chain. BSC can be used with Ethereum tools like Truffle, Remix and Metamask. Infrastructures such as Chain Link and Band Protocol are merged with tools in BSC. Not only dApps and logs can be transferred, but also tokens.
Under the BEP20 token standard, which works similar to the ERC20 standard on the Ethereum network, the tokens on Binance Smart Chain are interoperable.
Developers can easily design and deploy trusted tokens on the BSC network thanks to the BEP-20 token standard. Digital assets from another network can be transferred to BSC in the form of BEP20-pegged tokens in addition to supplying fresh tokens. For example, bridges can link Bitcoin (BTC) and BTCB, Ethereum (ETH) and Binance-Peg BSC-USD, USDT and Binance-Peg USDT, and so on.
Visit https://bscscan.com/tokens/label/binance-pegged to view the list of Binance Pegged tokens.
After that, the connected BEP20 can be used in DeFi protocols on Binance Smart Chain.
A BSC wallet or BNB wallet is all that is required to connect to the web3 ecosystem and smart contracts on Binance Smart Chain.
Secure non-custodial wallet
The wallet provider that stores your private keys on your behalf is called a custodial service. The private keys of your wallet accounts that are listed on exchanges are stored in a vault called Binance Exchange. The custodian of your assets is the exchange where your account address is located. This service has some disadvantages. While you can deposit assets, trade and subsequently receive your winnings, you do not have complete control.
You have full control over your wallet only if you have the private key. A non-custodial wallet is recommended for connecting to DApps, using DeFi apps, and using money in any way you see fit, in addition to sending and receiving money regularly. They are hardy and adaptable.
Binance is an example of a custody service. Non-custodial wallets include Binance Smart Chain Wallet, Trust Wallet, and Metamask.
You can communicate with the blockchain network through the wallet. There are many other things you can do with cryptocurrencies besides sending and receiving. Decentralized applications (DApps), decentralized exchanges and decentralized financial applications (DeFi) are available through web3 and can be used.
The private keys of a non-custodial wallet are owned and managed by the wallet owner. This gives you complete control over your money, and when you have complete control, you can take any action you choose. Non-custodial wallets are the perfect choice if you want to sign transactions or communicate with DEXs or DApps such as SushiSwap, Pancake Swap, Uniswap and QuickSwap.
Knowing how to store and protect your private keys and seed phrases is all it takes to use a non-custodial wallet. The security of your private keys and seed phrases in such wallets is entirely up to you.
Best wallet for BNB or BEP20 tokens
Many wallets only support BNB; they do not accept BSC. Even though Binance Smart Chain (BSC) has been around for a while, many wallets do not yet support BEP-20 tokens.
You can use the following wallets with Binance Smart Chain: (BSC). Use wallets with browser extensions such as Metamask Wallet and Binance Chain if you are using a desktop computer. Math Wallet is also available for use on computers.
Try Math Wallet, MetaMask and Trust Wallet if you prefer mobile devices. They are available in both iOS and Android versions.
Other wallets are non-BSC, with the exception of the Binance Smart Chain Wallet. For example, no-storage multi-chain wallets such as MetaMask, Trust Wallet, and MathWallet support the most widely used and common crypto assets.
You should be aware that there are multiple blockchain networks that store different kinds of cryptocurrencies before diving into a wallet. The same tokens function on many blockchains. Using toy criteria, we can distinguish between them. For example, on the BNB smart chain, BNB is available as a BEP20 token, and on the Ethereum chain, BNB is available as an ERC20 token. This must be kept in mind when using EVM-based chains.
Below are some typical token requirements that you should be aware of:
1) BNB Smart Grid: BEP-20, BEP-721 and BEP-1155. 2) Binance Beacon Chain: BEP-2 3) Ethereum: ERC-20, ERC-721 and ERC-1155
Check out the BEP-2, BEP=20 and ERCH-20 token specifications. This will allow you to confirm that the wallet of your choice supports the type of token you intend to store.
Trust Wallet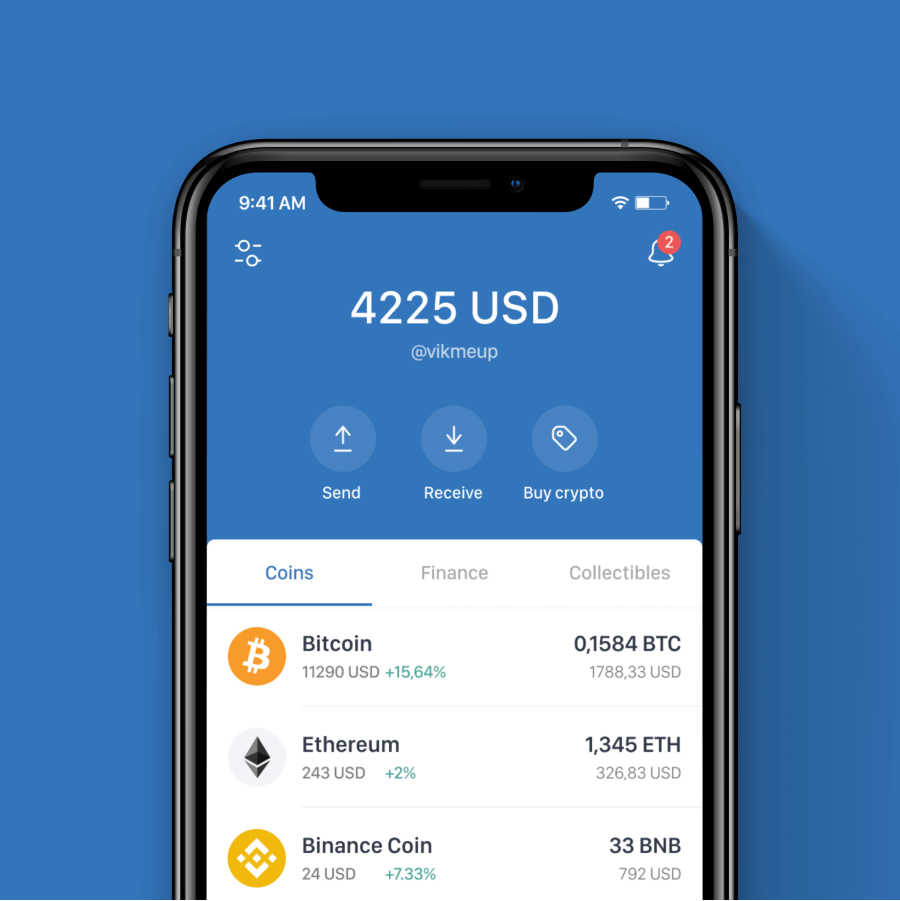 Trust Wallet was bought by Binance. It serves as both the native wallet for Binance DEX and the official Binance mobile wallet. It is an open source decentralized wallet available on iOS and Android devices. It is compatible with all major blockchains including Ethereum, Binance Chain, BSC and more.
Trust Wallet is the best BNB and BSC wallet for smartphone users. Through a mnemonic seed, this wallet gives you full access to your private keys. You can securely store your BNB in Trust Wallet, trade it on Binance DEX, and exchange data using DApps and smart chain-based DeFi protocols.
It includes a number of built-in features to enhance your cryptocurrency experience, including: B. A built-in DApp browser that makes it easy to explore the BSC ecosystem. You can exchange BEP2 and BEP20 coins via cross-chain transactions without even leaving your wallet. You can view, list and sell your NFTs by staking on Binance Coin (BNB).
Use your Binance Smart Chain address in Trust Wallet, that's all it takes. Find tokens in Trust Wallet, then enable the BNB smart chain. Next select Smart Chain >>. Submit to receive a BSC address. To copy the address, just click the QR code. To share your address, simply click Share. You can see your NFTs by clicking on the Collectibles tab.
Support for other wallets with BSC
Factors to consider when choosing a BSC/BNB wallet include storage capacity, DApp compatibility, usability, and stability. Hardware wallets are available such as MathWallet, Exodus SafePal, Ledger and Trezor. With the exception of the hardware option, all other BSC wallets listed below are free with no limits. You can send, receive and store BNB securely using these wallets. In addition to exchanging BNB for other cryptocurrencies, you can use DApps. However, we recommend using the Binance Chain wallet to enable smart chains.
Binance Chain Wallet
A secure multi-chain wallet is the BNB Chain Binance Wallet. It is an authorized Binance non-custodial wallet and browser extension. It serves as the official wallet for the Binance BNB cryptocurrency. BNB and other coins can be safely stored in a BNB wallet.
This wallet is not custodial, so no one has access to your money. Your wallet is safe – even developers can't access it. The wallet is completely protected by your password and encrypted in your browser.
You can access distributed applications in your browser thanks to the wallet's support for the Ethereum, Binance Chain and BSC blockchain at the moment. You can use it to store and access digital assets and projects on the Ethereum, Binance Chain and BNB Smart Chain blockchain.
There is an additional Binance Wallet for use with Binance Chain and Binance Smart Chain. On both chains, money can be sent and received, as well as moved between the two Binance blockchains.
Major browsers including Firefox, Chrome, Edge and Brave are supported by the Binance Network Extension Wallet. One of the easiest wallets to transfer and receive money is Binance Chain Wallet. BNB trading, successful farming or NFT mining. The BNB online wallet has the following features:
1) Multi-chain Asset Management: Easily manage your BTC, ETH, BNB and other tokens on the Ethereum network, BNB chain or BNB smart chain. 2) Stake your BNB: You can stake your BNB, which helps keep the BNB chain network secure. Delegate your BNB to a validator of your choice to participate in the consensus and earn daily rewards with up to 30% APR. 3) DApp Browser: A Web3 browser that allows you to interact with DeFi and DApps on the Ethereum and BNB Smart Chain blockchains. The connection is secure, easy to use and seamless.
Features of Binance
Extension-based wallets like Metamask and Binance Wallet are comparable. This is true. But the BNB wallet stands out from the competition due to two special features.
1) Wallet Direct: If you use Binance frequently and have an account there, you can quickly link your Binance wallet and exchange accounts using the Wallet Direct tool. Wallet Direct enables the seamless transfer of tokens such as Binance Coin (BNB), ETH and other tokens between your Binance exchange account and Binance wallet. As a result, moving digital assets no longer requires copying addresses and notes.
2) Management of threshold keys. An open source system for secure and practical threshold key management was created in collaboration between BNB Smart Network and Torus Lab (Public Key Management Network Without Storage). It is important to protect the original phrases and private keys.
Managing your keys can be simplified with TKey (Torus Key). You can easily use your Gmail/Google account with tKey to sign up for Binance Wallet. No problem if you lose your seed or lose access to your wallet. Using your Google login, you can access again. The user experience is not compromised in any way and the power and autonomy is still provided to the end user.
For those unfamiliar with bitcoin wallets, these two features make using a BNB wallet quite easy.
Setting up Binance Wallet
First, you need to install a BNB wallet – https://www.bnbchain.org/en/binance-wallet
Then simply select the browser of your choice and install the Binance extension there. Here we use Chrome as an illustration.
You will be directed to the Chrome Web Store after selecting Chrome. To download and add the extension to your browser, click Add to Chrome.
After installing the extension, a request to add a Binance wallet will appear in the upper right corner of the browser. For quick access, if you are using Chrome, click on the extension icon and enter your Binance Wallet PIN.
While we are creating a new wallet, click on the Binance wallet extension icon in the top right corner of your browser and select "Create Wallet".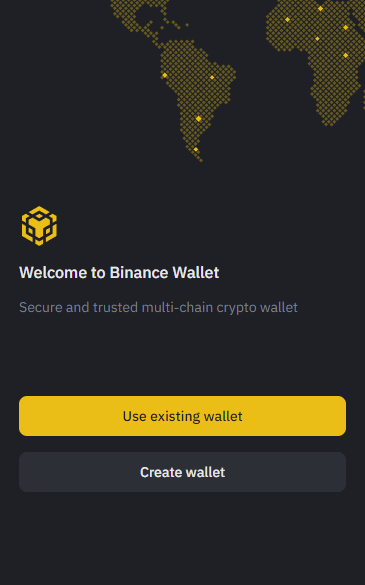 As you can see, there are several approaches to creating a new wallet.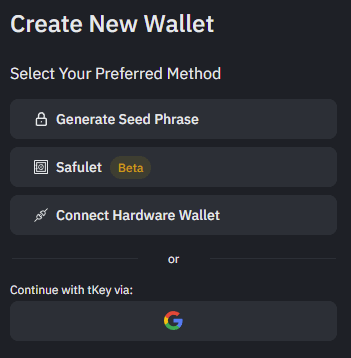 You can immediately produce the original offer,
Use Safulet (beta), BNB Vault, and the new Binance Earn feature that allows BNB holders to earn income from various commodities on Binance.
You can link a hardware wallet.
Alternatively, you can create a new wallet from your Gmail account.
Use your Google login when creating a new wallet if you are new. The original fallback phrase is still visible on the next screen. Either way, you can simply access your accounts using the Gmail login method, even if you lose it, forget your password, or lose your wallet.
Select the Generate seed phrase option if you are comfortable with cryptocurrency wallets, then follow the on-screen instructions. Enter a secure wallet password, confirm it, and then click "Next" after selecting "I accept the terms of service" on the next screen.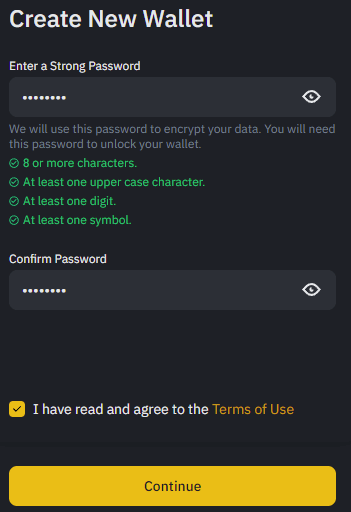 Then back up your original 12-word phrase.
Access to your wallet is granted by this seed, which is related to your account. Keep it together. You cannot extend it. Create a backup and keep it in a safe place. Also, don't use it on dangerous or phishing sites. Money can and will be taken from you. Please note that the BNB community or Binance support will never ask you to enter your seed phrase. Never divulge the first sentence to anyone because it is personal information.
When you're done, click "Next" to test your backup in the next step. All this. It's time for your new wallet.
Sign in to Gmail or Google
If you want to log into your Gmail account, go to tKey via G (Google). A pop-up window will prompt you to use your Gmail account with the Binance Network Extension Wallet again. Select your account, then move forward.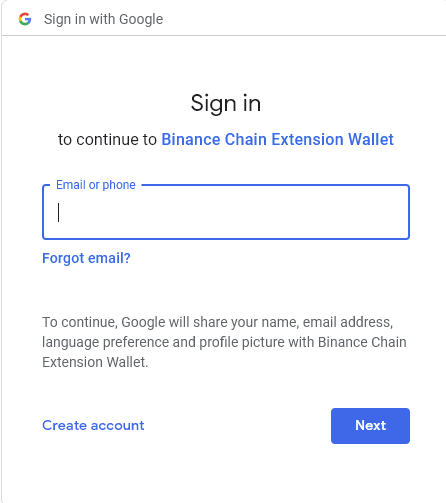 Even if you choose to sign in with Google tKey, you will be prompted to set a password as an added security measure. In addition, you will be given a "12-word original sentence" to record. Restoring your account is critical. It's not a problem if you fail. Through your Google account, you can access your accounts. However, never disclose this to anyone. Click "Next" to complete the Binance Online Wallet setup after copying the seeds.
That's all! Your Binance Chain BNB wallet has been successfully set up. It can currently send and receive Ethereum (ERC-20), Binance Chain, and BNB BSC (BEP-20) tokens. On these blockchains, you can start working with decentralized applications, decentralized financial protocols, and smart contracts.
Binance Interface
This wallet has enough to say. You shouldn't have any problems interacting with your Binance wallet if you've ever used Metamask.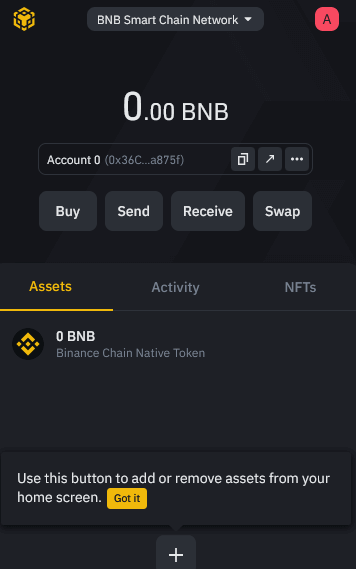 Select Network: The network selection option is located at the top center of the main page. Custom networks cannot be added. Currently, you have a choice between the Ethereum Network, BNB Beacon Chain, and BNB Smart Chain.
Account address: BNB for sending and receiving Your account details, including your wallet address and account amount, can be seen on the main screen. You have the option to purchase BNB with MoonPay directly at your address. To transfer tokens from your wallet, click "Submit". To get tokens, get a QR code to scan or copy your address. To move from one token to another, swap.
Binance Wallet – How to Add Tokens
Your assets, account activities, and NFTs may appear directly below your account. By default, assets only include the native cryptocurrency Binance Chain BNB. This is ETH if you are using the Ethereum network.
In the center at the bottom, select the + icon to add a new token to the list of assets. Then find out the name of the token.
If the required token does not already exist, you can add it using the address of the token contract. The BSCscan.com browser will provide the BEP-20 token contract address. Similar to adding custom tokens to Metamask, custom tokens can be added to a BSC wallet.
Binance BSC/BNB Address
Clicking on the account symbol in the top right corner will open the settings menu where you can enter a new BNB address. To add a new BNB address, click Add Account. You can also import new accounts. After connecting a hardware wallet, your wallet settings will be available.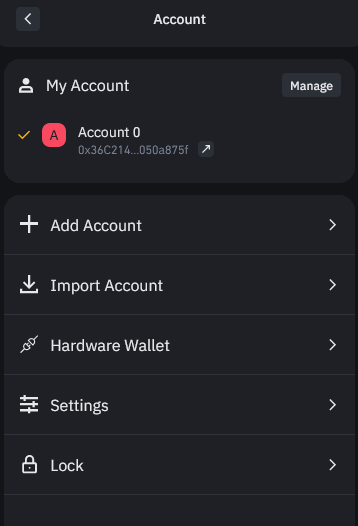 Settings
Here you can change the default wallet currency and language. You can also manage contacts and adjust security and privacy settings. Go to Settings >> Source Phrase Access and enter your wallet password to view the original phrase if you were unable to save it.
You should be familiar with these basics. Let's see how to link your BNB wallet and Binance exchange account directly from the wallet.
Connecting to Wallet Direct
In order to interact with the BNB Smart Chain network, BNB must pay a transaction fee on the network. Just like ETH on the Ethereum network, you need BNB on the Smart Chain network.
If you already have BNB in your Binance Spot wallet, you can easily transfer it to your BNB wallet using the Wallet Direct feature. To do this, you must first link your Binance account to our Binance Chain wallet using Wallet Direct, and here's how to do it.
1) First, log in to your Binance exchange account using the same browser as Binance Wallet. Then open your Binance wallet. Right next to your account, you will find a three-dot menu (the function of this interface is subject to change).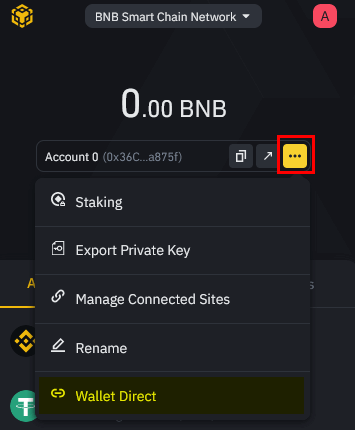 Click on it and select Wallet Direct, which will open the Binance Wallet direct access page: https://www.binance.com/en/wallet-direct.
2) To transfer coins or tokens between your Binance.com account and Binance Chain wallet, all you need to do is verify and connect your Binance address. Click "Verify my address and connect" and follow the on-screen instructions.
To verify that you are the owner of the address, click Connect. You must demonstrate that you are the originator or owner of the address. To do this, you must sign the message using the browser wallet extension.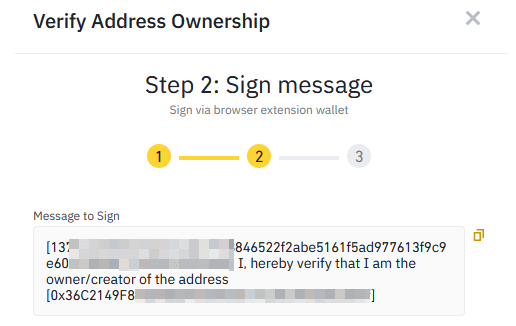 Open the secondary Binance wallet again by clicking [Sign with Wallet]. Click "Verify" after double checking the signer's home address.
Click "Link" again to complete the login process. This is a precaution. Click "Submit" after entering the authentication code from the mobile app and, if 2fa is enabled, the email confirmation code.
Binding will be successful, as you will see from the message!
That's all! Your BNB wallet and Binance account have been successfully linked.
Your Binance account can be associated with multiple addresses. You can transfer money between your Binance.com and Binance Chain wallets quickly and effortlessly thanks to the link between your exchange account and your Binance wallet.
Transfer via Wallet Direct
Open your wallet on Binance and select the asset you want to transfer after connecting your wallet to your Binance account. Next, select "Get" and the method of receiving Wallet Direct.
You will again be prompted to select an asset to transfer from the Binance exchange on the next screen. You will be shown a list of all your assets and money available on the Binance exchange. Select an asset, enter the transfer amount, confirm the transaction cost and click the "Next" button.
That's all! The tokens have been placed in your wallet on the Binance network. The procedure is quite simple if you are using the Direct Wallet option. However, the transfer only works between your BNB wallet and the Binance.com exchange.
You must select "Receive" and manually copy/paste the address in order to deposit money from another wallet or exchange account.
Be sure to follow token standards when transferring to your BNB wallet and avoid sending the wrong token to the wrong network. Addresses in BEP-20 and ERC-20 start at 0x. However, BEP-2 addresses start with BNB.
Refresh the differences between BEP-2, BEP-20 and ERC-20.
Disabling Wallet Direct
You may want to deactivate your BNB wallet and Binance account at some point. Go to https://www.binance.com/en/wallet-direct for instructions on how to disable the direct wallet feature.
The addresses associated with your Binance exchange account are listed below. To close the wallet immediately, click Disable.
Alternatively, open your BNB wallet, go to Address Settings >> Wallet Direct and click Disable.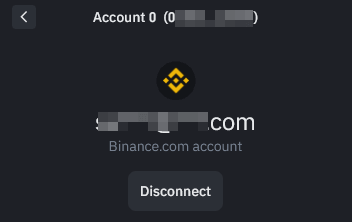 Join DApps BSC with your BNB wallet.
Linking your Binance Chain wallet to any BNB Smart Chain decentralized application is quite simple. Once linked, your Binance wallet will allow you to start interacting with Smart Chain. Betting, trading and other DeFi operations are now possible.
Please note that you can access your Binance online wallet by logging into the DApp website. Always trust the websites you connect to and use.
How to link your Binance wallet to DEX Yield farm on BNB smart chain using Pancakeswap, the best AMM protocol.
Click "Connect Wallet" in the top right corner of the DApp page. Select your Binance wallet. You will be prompted with a pop-up asking you to authorize to connect to the DApp. After reading it, allow the website to access your Binance wallet. Click "Connect" to confirm the connection. Your wallet address will appear in the upper right corner of the decentralized application after connecting.
Please note that almost all DApps have the same user interface for linking your wallet, making it easy to connect between them. However, please be aware that not all DApps support the use of the Binance Chain wallet.
That's all! The BNB wallet tutorial is complete.
Read more articles about cryptocurrencies and mining at CRYPTO-WALLETS.ORG.

The Telegram channel about cryptocurrency and mining Bitcoin, Ethereum, Monero and other altcoins:

CRYPTO WIKIES | Bitcoin & Altcoins Mining