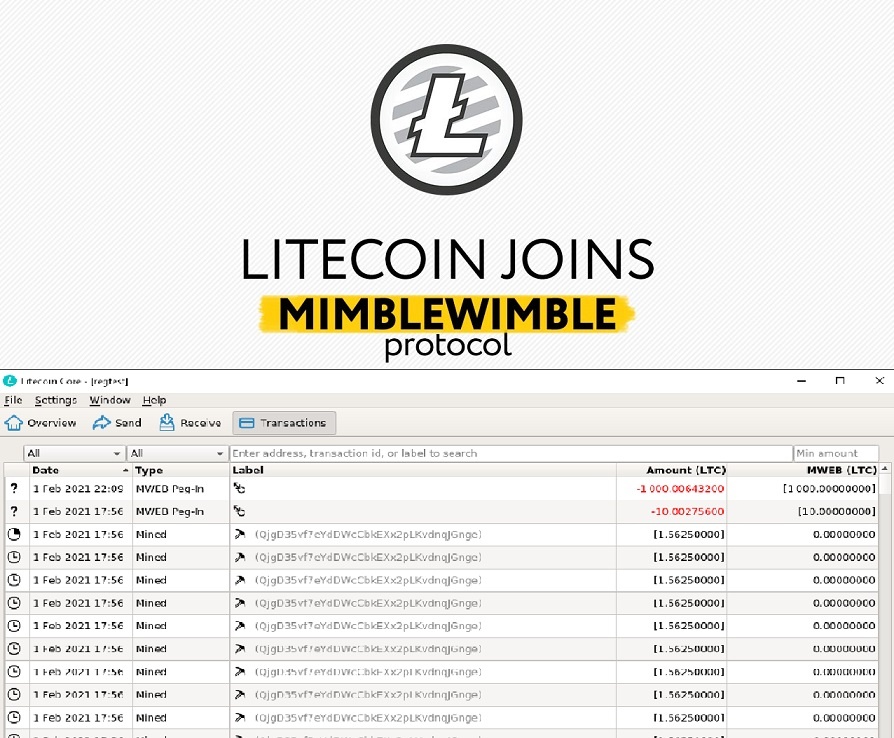 After two years of development, Litecoin ( LTC )finally launched the long-awaited update of Mimblewimble, opening the door for more privacy-oriented transactions on the network. The integration of Mimblewimble into Litecoin occurred through the Mimblewimble Extension Block, also known as MWEB, which allows network users to consent to confidential transactions. MWEB lead developer David Burkett, whose sponsored by the Litecoin Foundation, said the upgrade boosts Litecoin's viability as a fungible currency that can be used for day-to-day transactions, employee payroll, and even real estate purchases.
Mimblewimble is a privacy-focused, decentralized protocol that takes its name from the language-binding spell first made famous in the Harry Potter series of books. The protocol has a privacy feature that allows users to hide transaction information. It also provides a framework for other blockchains to enhance the usability of their cryptocurrency.
Litecoin first began integrating Mimblewimble in a pair of Litecoin improvement proposals dating back to October 2019. The network launched its first Mimblewimble test network in October 2020 after initial delays due to low community participation. The test network was also launched around the time when regulators in Europe, mainly Europol, were sounding the alarm about privacy coins. Privacy-focused tool developer David Burkett shared the milestones he reached in August and talked about the latest additions that will make MimbleWimble a reality for Litecoin (LTC). David Burkett, the developer tasked with implementing the MimbleWimble privacy protocol for Litecoin (LTC), described the latest steps on the road to releasing a test network.
The main work is almost complete
According to Burkett, he completed the Initial State Download, the point of origin of the MimbleWimble version. He then investigated numerous types of denial-of-service attacks on the MimbleWimble messaging logic in the Litecoin (LTC) network. He acknowledged that this work, necessary to prevent malicious tampering with Litecoin (LTC) nodes, must continue:
Burkett revealed that he is not the only blockchain developer tasked with researching and developing a non-interactive transactional mechanism. He shared the success of his colleagues from Tari Labs (XMR), Gotts (GRIN ) and Nervos Network (CKB). He also emphasized that this approach will become the gold standard for blockchain security in the near future , and that he is enthusiastic about its implementation:
Privacy coins that promote anonymity and attempt to obfuscate digital ledger transactions have come under scrutiny around the world. As Cointelegraph reported, several exchanges withdrew support for leading privacy coins Monero ( XMR ), Zcash ( ZEC ) and Dash ( DASH ) in early 2021 due to regulatory heat. Burkett reviewed some aspects of the "fragile" logic points; in particular, the points related to unspent transaction exits (UTXO).
As a result, he confirmed that everything is on track to launch the first version of the MimbleWimble test network by the end of this month. This release will likely include a command line interface and remote JSON-RPC procedure calls for the most advanced blockchain users. Once the test network becomes active, Mr. Burkett plans to shift his coding efforts to implementing a non-interactive transaction mechanism.
Maximum privacy and security for Litecoin (LTC)
With the implementation of MimbleWimble, transactions on the Litecoin (LTC) network will be obfuscated so that attackers cannot track them. Thus, MW activation with Litecoin could become the second important privacy-focused issue after Heartwood's ZCash (ZEC). In addition to anonymity and private transactions, Mimblewimble technology places great emphasis on interchangeability and scalability, key features currently lacking in many blockchains. The Litecoin Foundation believes that the integration of Mimblewimble will contribute to LTC's status as "safe money," a broad concept referring to stable money that is less vulnerable to depreciation and the effects of monetary policy. Despite being one of the first cryptocurrencies to enter the market, Litecoin has struggled to stay relevant over the years. LTC is currently ranked 21st in market capitalization with a total value of $7.5 billion.
Charlie Lee, the founder of Litecoin, spoke a few days ago about his admiration and desire for his coin to join the Mimblewimble project.
The Mimblewimble Project has created a furor in the community, and the success of Grin and the features it provides to coins like Beam, which use protocols to hide transactions to convert your tokens into privacy, seems to have attracted Lee to action. Mimblewimble allows token users to encrypt data for all transactions on the network, mostly due to some obscure factors. The technology uses CoinJoin, a specially designed mechanism for combining multiple payments into one to hide more transactions. For some, using MimbleWimble Beam is more private and secure than the two most popular privacy currencies on the market, Zcash and Monero.
This could be an important moment for Litecoin and prove a notable shift in approach to other coins in the crypto space. Watch this space for more information on the situation.
Lee confirmed on Twitter that the Litecoin team is discussing MimbleWimble is powered by Beam and uses it on Litecoin. This may indicate that the company is moving forward with privacy over scalability.
According to rumors circulating around the issue, LTC is considering a bulletproof version of MimbleWimble with expansion units, and many believe that if this idea does become a reality, Litecoin will probably start to become a more valuable asset in the market.
GitHub Releases Litecoin Core: https://github.com/litecoin-project/litecoin/releases
Read more articles about cryptocurrencies and mining at crypto-wallets.org. The best Telegram channel about cryptocurrency and mining Bitcoin, Ethereum, Monero and other altcoins – @cryptomineg (https://t.me/cryptomineg).