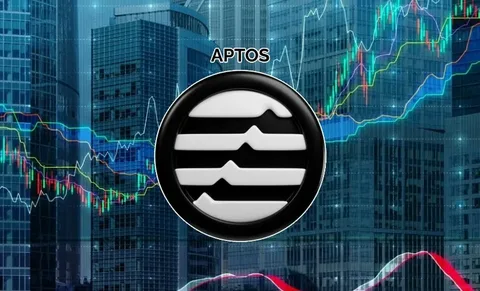 Have you heard about Aptos? If not, it's time to learn about the most promising new blockchain in the crypto industry. Let's analyze the project and wallets for the Aptos network in more detail.
Developed by former Diem engineers, Aptos (APT) is built with the goal of achieving industry-leading speed, greatest security, and maximum scalability, the three most important aspects of a Tier 1 blockchain. Aptos is built on Move, a new blockchain language that is both secure and extremely efficient.
Aptos exited the testnet stage just yesterday by launching the mainnet. Since Aptos is a level 1 blockchain, existing major wallets such as MetaMask are not yet compatible with Aptos. But the demand for Aptos is huge, and in order to meet it, many wallet options have already been launched, including Aptos' own wallet, Pontem.
About networks: main, test and devnet
Most Aptos wallets allow you to switch between multiple networks. You will likely be doing most of your NFT swaps and minting on the mainnet, but keep in mind that new dApps usually launch on the devnet first – the experimental network. Then they release a test version, and only after that – the main network.
Therefore, those who want to be the first to know about the most promising projects interact with new dApps on devnet and testnet, and receive not only up-to-date information, but also certain preferences. So, the Aptos Foundation just held a retroactive distribution of tokens to reward the first participants of the network. The team rewarded nearly 110,000 addresses with a total of 20 million Aptos tokens, valued at between $200 million and $260 million, based on the token's market price shortly after the giveaway opened.
Quick Overview of Aptos Wallets
Let's take a look at some interesting wallets for storing Aptos coins.
Pontem Wallet
Pontem Wallet was the first production-ready wallet for Aptos. Available from the Chrome Store, the Pontem Wallet extension is a great way to interact with Aptoverse. Pontem Wallet was able to store APT, BTC, USDT, USDC, MOVE, tAPT and any other current and future assets issued on Aptos during the testnet and developer network stages.
Like all Pontem Network decentralized applications, Pontem Wallet is carefully vetted to ensure user safety, and its simple interface works just like your other favorite wallets. In addition, the wallet is non-custodial, meaning every transaction happens through trustless smart contracts and only you have access to your private keys.
A new Pontem wallet is created in much the same way as other popular non-custodial wallets: you need to store your secret recovery phrase and create a password.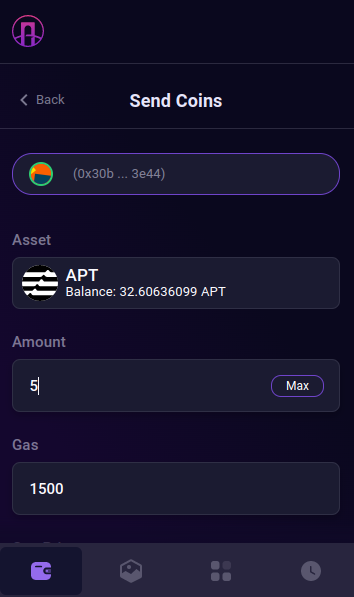 Special features
The most interesting feature of Pontem Wallet is its integration with Liquidswap, the leading automated market maker (AMM) for Aptos. This first ever DEX for Aptos was also created by Pontem, Aptos' lead partner in basic dApp development. As of October 2022, it already has over 170,000 unique users, averaging 2,000 unique swap transactions every day.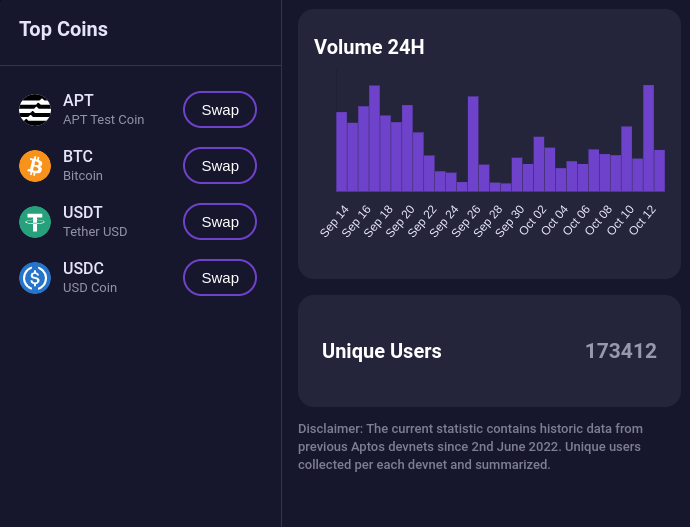 To use Liquidswap directly from the wallet interface, click Buy, then connect the wallet to the DEX. You can currently exchange APT, USDT, USDC, MOVE (BlueMove NFT marketplace token) and packaged BTC. Liquidswap has its own devnet faucet where you can request USDT and BTC.
Since everything happens on the testnet, relative prices can change quickly and differ greatly from the "official" market prices. You will first need to verify (register) both assets and then complete the exchange.
Swaps will soon be integrated into Pontem Wallet, so you don't even have to use a separate DEX interface anymore. The team is also considering native integration of other DeFi features such as liquid staking.
Pontem Wallet is also integrated with Liquidswap Bridge, provided in partnership with LayerZero. It allows you to transfer ETH, WETH and USDC from Ethereum to Aptos and vice versa.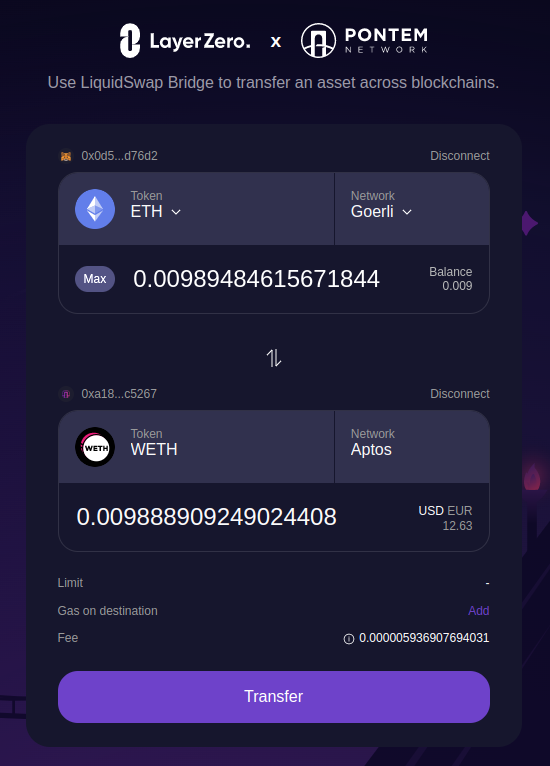 Pontem Wallet is also integrated into most of the key dApps in the Aptos ecosystem, such as:
NFT marketplaces: Topaz, BlueMove, Souffl3 and It's Rare; the wallet has a special NFT section where you can visualize everything you have bought or issued;
trading and swaps: Cetus, Hippo, Tsunami, Aries Market;
liquid staking protocols: Tortuga Finance and Ditto Finance;
yield aggregator: Satay Finance;
lending and borrowing on Aptos: Argo, Aptin, Mobius;
launchers: AptosLauncher, Aptos Launch;
Prediction Markets: Mojito.
You will find many of these integrations in the catalog section of the dApp wallet.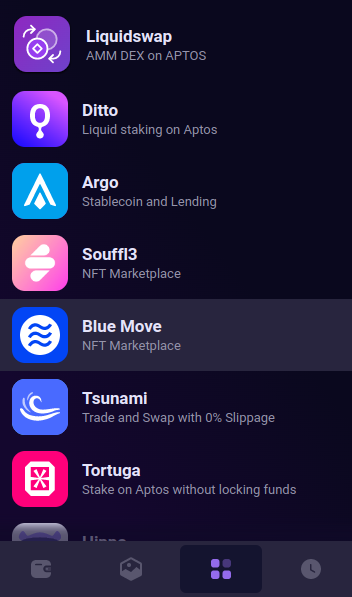 Petra Wallet
Petra is a browser-based wallet created by the Aptos development team itself. It did not immediately get the name Petra, so somewhere it may simply be referred to as the "Aptos wallet".
This wallet was designed for the testnet and includes all the essential features you need to get started with Aptos: token transactions, NFT creation, network selection, and dApps connectivity. This made it the ideal wallet choice for Aptos Incentivized Testnet members.
Petra's interface is simple and functional. You can send and receive tokens, view your NFTs, view your activity log, and more.
The Settings tab allows you to see your recovery passphrase, add a new account, rename your wallet, and switch between devnet and testnet.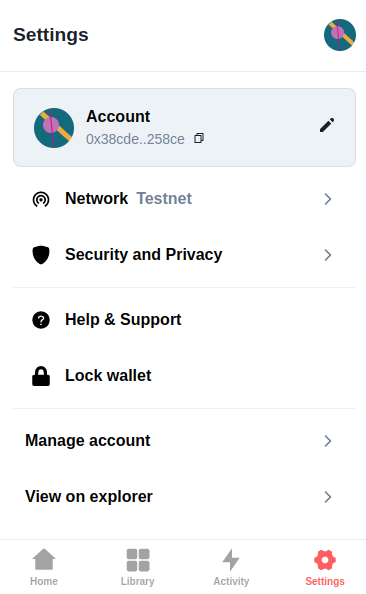 Peculiarities
Like Pontem Wallet, Petra is integrated with many Aptos decentralized applications. These include AMM, all major NFT marketplaces, lending dApps, etc. For example, you can use Petra with Pontem's Liquidswap DEX.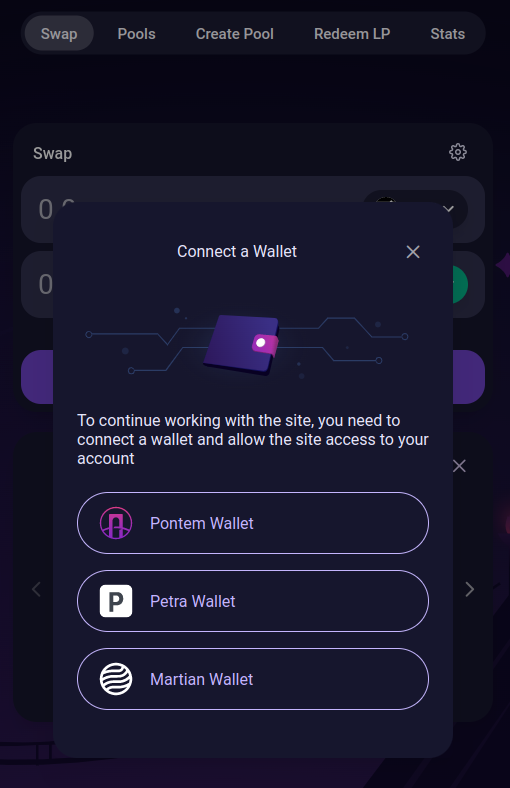 Martian Wallet
Martian is another non-custodial Chrome extension wallet, although an iOS app is also in development. It can interact with websites via Javascript and offers the ability to create demo NFTs. Martian is supported by Toy Ventures, Aptos Labs and others.
The process of creating a wallet is similar to Pontem Wallet. A handy feature is the ability to see the passphrase in the Settings tab, where you can also change your password, view a list of sites you've shared with Martian, and change your key pair for added security.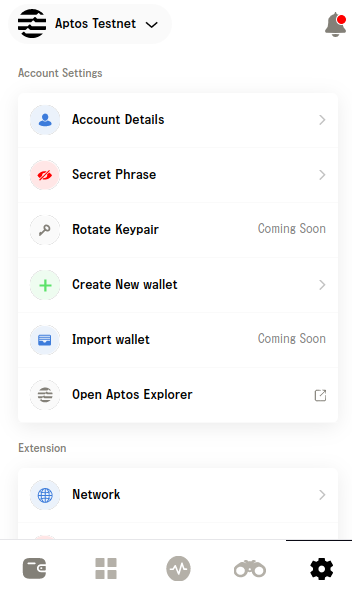 If you want to test NFT on Aptos, you can use Martian to create a Web3 identity for yourself in Aptos Names, a service similar to the Ethereum Name Service (ENS). Connect the wallet, find the name you like and, if available, approve the issue. It's free, except for a small gas fee. The NFT will appear in the Martian NFT section.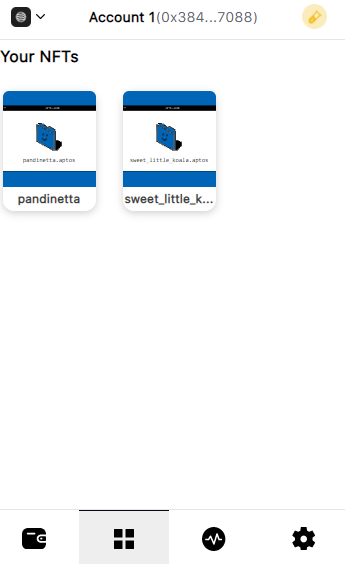 Like Pontem, Martian is integrated with LayerZero so it can bridge tokens between the Aptos mainnet and Ethereum. If you want to test the bridge for free, you can connect Martian to Pontem Bridge.
Martian also has an integration with the Mover bridge, which currently connects the Ethereum Goerli testnet and the Aptos testnet. However, as of October 2022, only users whose addresses were whitelisted during Mover's private alpha testing phase can use bridge tokens.
Read more articles about cryptocurrencies and mining at CRYPTO-WALLETS.ORG.

The Telegram channel about cryptocurrency and mining Bitcoin, Ethereum, Monero and other altcoins:

CRYPTO WIKIES | Bitcoin & Altcoins Mining