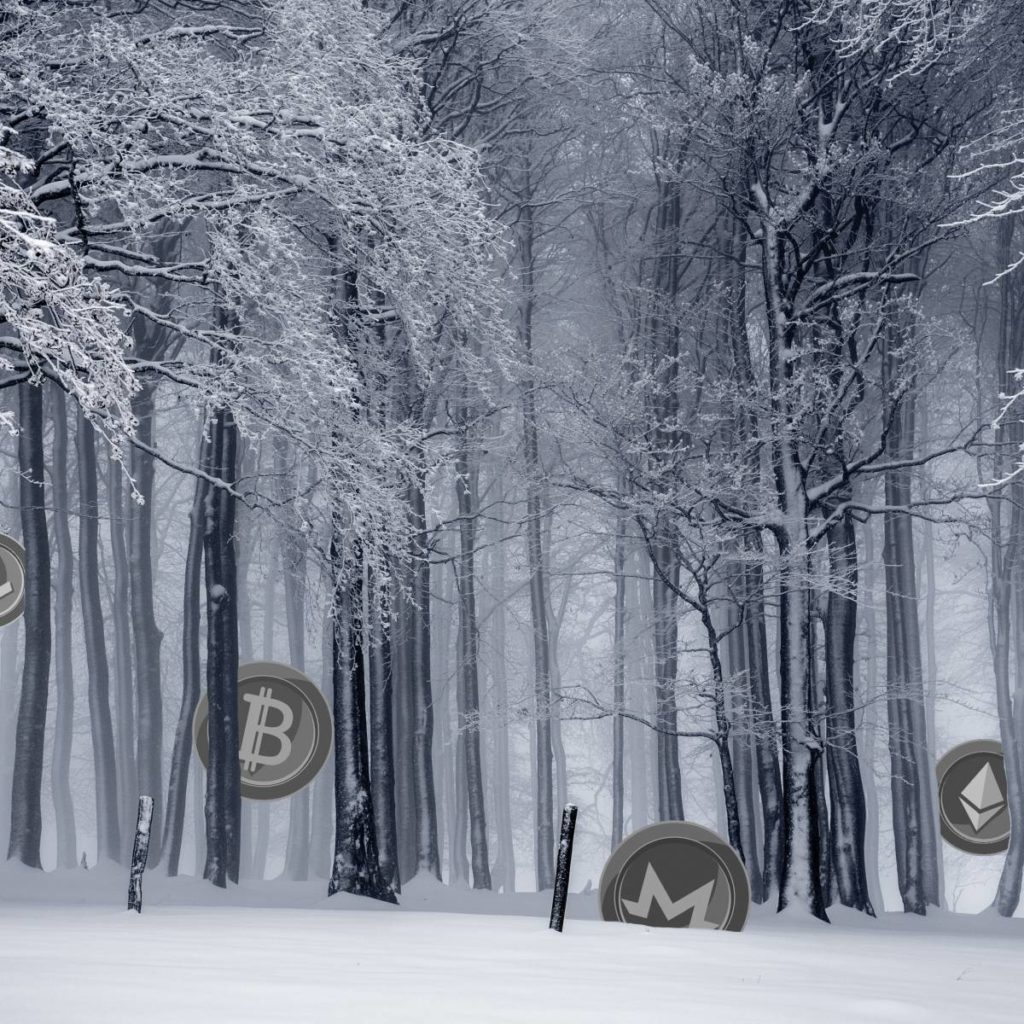 Everyone knows that there are several stages of the crypto market. Favorable – when coins grow and investors invest heavily in assets. Neutral – when the market is in a state of prosperity, everything is on the same level. Crypto winter is a state of the market when assets are falling, maximum excitement and instability. Today we will talk about cryptozyme, what leads to it and what consequences it entails.
A cryptowinter is a deep bear market in bitcoin, in which a downtrend persists for a long time. The last crypto winter took place in 2018-2019 — after a high of almost $20,000 reached in December 2017, the price of BTC first fell by half, and then completely fell to $3,500. However, since the spring of 2019, Bitcoin, with the exception of short-term corrections, has maintained long-term uptrend. But since mid-April, the first cryptocurrency has not updated its highs and even dropped below $50,000.
What led to the last crypto winter?
The main reason for the collapse of the price of bitcoin in 2018 is the hype among retail investors. Millions of beginners, far from cryptocurrencies and investing, came to the crypto market, hoping to easily get hundreds of percent of the profit. For a while, bitcoin grew steadily, but after it reached a record $20,000 at the time, most investors in BTC began to take profits.
Another of the immediate triggers for the collapse of BTC quotes was the launch of bitcoin futures on the Chicago Mercantile Exchange (CME). A new derivative financial instrument based on bitcoin allowed traders to bet on a decrease in the price of the coin.
What changed?
But the current state of bitcoin is different from the 2017 bull market. The main difference is that at that time the growth driver was the speculative expectations of retail investors – they only wanted to sell the asset at a higher price. Now the rally is due to fundamental reasons for growth: there is no hype among small investors (there are many newcomers on the market, but no one mortgages houses to buy bitcoin with their last money), big capital plays a key role, and BTC is perceived as a "protective asset" that acts as a means of conservation and accumulation in the fight against inflation.
Therefore, a situation is quite possible in which we will not see a catastrophic collapse in the price of bitcoin and the entire crypto market as a whole. It is likely that BTC will face corrections, for example, 10% or even 50%, slowly rise or fall slowly, that is, behave like most traditional assets.
But bitcoin may well remain in a long-term uptrend until the next global economic crisis. After that, it will sink along with the rest of the market, and after overcoming the crisis, it will continue to grow. There are several fundamental reasons for this view.
What could lead to a new crypto winter
We have already told in detail that a peak of $100,000–$400,000 is predicted. In short, according to many experts, this could happen this fall or early next. During this period, the price of bitcoin can rise from $150,000 to $400,000 per coin, after which it will fall several times – by 40-80%.
Another crypto winter can last from 1 to 3 years. Approximately the same figures and time are predicted by the most popular models for estimating the value of the first cryptocurrency.
There may be several reasons for the possible future collapse of bitcoin:
Overheating of the crypto market. As the cost of BTC grows, investors will begin to take profits and sell the coin. After reaching a peak, an increase in the number of sales will crash the price of bitcoin and lead to a bear market that can last for several years.
Среди вероятных продавцов — крупные компании и институциональные инвесторы, которые закупились биткоином на десятки и сотни миллионов долларов. Хотя они не заинтересованы скорой продаже своих биткоинов, но ситуация на рынке может потребовать от них этого. Например, одна только компания MicroStrategy инвестировала в BTC более $2.2 млрд, которые сейчас стоят $4.66 млрд. Хотя компания и заявляет, что намерена удерживать монеты сотню лет, но ее акционеры, среди которых есть крупные инвестфонды, могут захотеть зафиксировать прибыль. Это может стать триггером для начала массовой распродажи.
Bitcoin price cycle. Most models for estimating the value of the first cryptocurrency note a 4-year cycle of movement: from one halving (the planned halving of the reward for miners for a mined block) to another. Previously, Bitcoin peaked about 1.5 years after the halving, after which its price fell, and then slowly rose to a new halving and a maximum – this was the case in 2014 and 2017.
Conclusion
Crypto winter is a natural process in the crypto market. There are many reasons that contribute to the appearance of a period. For some, this is a good opportunity, but for some, the season of bad purchases.
Therefore, crypto-winter is good or bad for you to decide.
Read more articles about cryptocurrencies and mining at CRYPTO-WALLETS.ORG.

The Telegram channel about cryptocurrency and mining Bitcoin, Ethereum, Monero and other altcoins @cryptomineg https://t.me/cryptomineg.