More and more we are hearing about the world of cryptocurrency. This contributes to the arrival of newcomers and those who want to make good money. Most newcomers come to cryptocurrency with a bunch of beliefs that it's easy to make money here and you don't have to put any effort into it. But unfortunately, this is not partially true. For a good and full-fledged earnings will have to give not a small amount of money, and not everyone has this opportunity – that's how most of the beginners think.
Airdrop and how to participate in it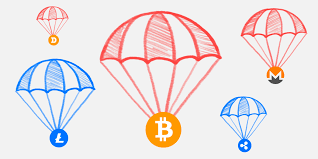 Today we are going to talk about how a newcomer can make money with minimal or no investment. After all, cryptocurrency is a world of opportunity, where everyone is equal.
Airdrop is a common type of earning among beginners. Let's imagine you wanted to create your own cryptocurrency. You found a platform for the release, made tokenomics, wrote a white list, etc. But you should understand that for successful launch of the project there must be a constant flow of investments. So this flow can be provided by investors. There are many ways to attract them and interest them to invest in your project. Airdrop is one of these ways, here patented investors can get your tokens for free, thus evaluating the project. Something like free product trials, isn't it?
Airdrops are different, somewhere they give away new tokens, somewhere existing tokens, and somewhere NFTs. It's quite profitable to participate in such giveaways. Of course you will not earn much, but the initial investment is enough.
To participate in such giveaways, you can subscribe to telegram channels where this information is published. As well as airdrops can be found on the site – coinmarcetcap, at your personal discretion. And so, you found a project that holds the giveaway and decided to take part in it. As a rule, to participate in the drop you need to interact with the social networks of the project (subscribe, repost, like, etc.). After that you will be asked to enter a wallet desired network or something like that. Congratulations, you are airdrop participant!
All active airdrop cryptocurrencies, tokens and other cryptoassets are listed below.
| Project | They took part in | Number of winners | Total giveaway amount | End |
| --- | --- | --- | --- | --- |
| IguVerseIGU | 7,095 | 1,000 | 1,000 NFT | November 6, 2022. |
| TopGoalGOAL | 136,450 | 10,000 | 10,000 NFT | November 6, 2022. |
| DeFiChainDFI | 65,078 | 1,590 | 58,383 DFI | November 9 2022. |
There are many resources on the Internet about current and future coin giveaways. 
Popular sites include CoinMarketCap, CoinMarketCal and Airdrops.io and Twitter feeds – Airdrop, DeFi Airdrops and Cosmos Airdrops. Many of these resources have calendars of past, current, and future airdrops.
What are the risks of participating in the distribution of tokens?
Novice investors see cryptocurrency giveaways as an easy way to get money. However, participating in an airdrop either requires a lot of effort or comes with risks. In particular, the concept of "free coins" is often used by scammers.
Here are some tips on how to avoid them:
Never share your private key or seed phrase from your wallet with anyone.
Be careful and independently check each project in which you want to participate. Look for information about it on the Internet and on trusted resources – for example, CoinMarketCap. If there is very little information about the project, the risks increase.
Be especially careful if you are promised fast and high income for participating in an airdrop.
Never share personal information about yourself or login information for personal accounts.
If you are asked to transfer a small amount of coins, and in return they promise to send more, these are definitely scammers. Airdrops are a free distribution of cryptocurrency, you do not need to buy it.
There are cases when scammers send a fictitious token to a wallet that mimics some popular coin. It is impossible to detect a fake until the user decides to sell it or exchange it. Typically, the response is an error message urging you to visit a malicious phishing website. The interface of the page looks similar to a decentralized application (dapp) that offers to connect a wallet. The user confirms the transaction and unknowingly approves the transfer of their tokens to the scammers.
IDO (Initial Public Offering)
IDO, Initial Public Offering – also a type of earning in cryptocurrency. But to participate in it will require at least a minimum investment. By participating in IDO, you buy company tokens even before the official listing. This makes it possible to buy coins at the lowest price, and sell many times higher. This difference is your profit.
Initial DEX Offering, or IDO for short, is a new crowdfunding method that allows crypto projects to launch their own token or coin through decentralized exchanges (DEX). The successor to the infamous Initial Coin Offering (ICO), IDO is a reliable way to launch projects or raise funds for growth and development.
An IDO, or initial DEX offering, is a cryptocurrency (or token) offering that takes place on a decentralized exchange (DEX). However, unlike an ICO, where tokens are sold before listing on an exchange, in an IDO the tokens are immediately placed on the DEX through which they are launched. This means that project developers themselves are no longer required to collect assets for pools; instead, the pool is created on DEX after the IDO is conducted through their own or a third-party launch panel.
The IDO model gained popularity because cryptoprojects could raise funds through liquidity pools without intermediaries, and investors could benefit from instant token trading, which is essentially a win-win situation for everyone.
What are the challenges facing the IDO?
From mid-2019 until now, IDOs have become the most popular fundraising method in the crypto space. But while they have some clear advantages, there are also some problems.
Pump and dump is a fairly common problem for IDO issuing projects. This is due to the fact that since token trading is available immediately, a group of people can buy a large number of tokens, leading to an unprecedented rise in price, and then sell those tokens at a huge profit, leading to a drop in price.
No stable price: again, since token trading is available immediately, token exchange starts fairly quickly, and only a few investors can get a token at a specified price.
Conclusion
It is worth understanding and realizing that the world of cryptocurrency is quite dangerous to cheat. There are a lot of scams. For this reason, carefully analyze the places where you invest your money. Good luck with your investments!
Read more articles about cryptocurrencies and mining at CRYPTO-WALLETS.ORG.

The Telegram channel about cryptocurrency and mining Bitcoin, Ethereum, Monero and other altcoins:

CRYPTO WIKIES | Bitcoin & Altcoins Mining