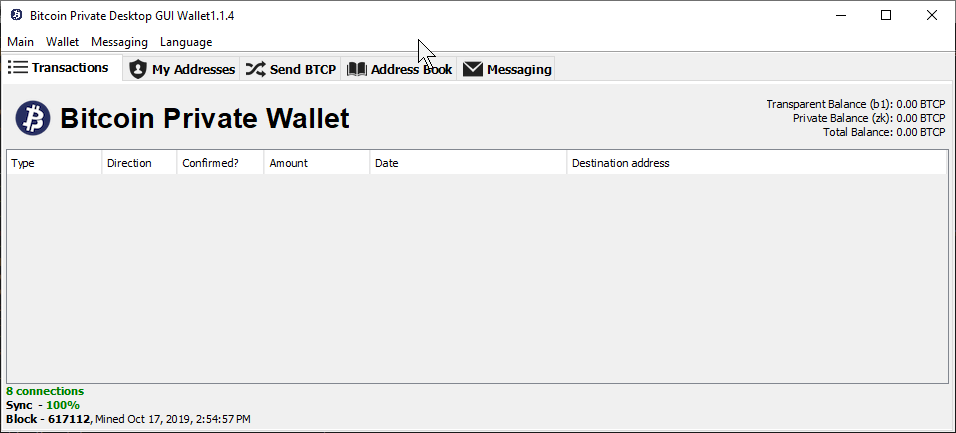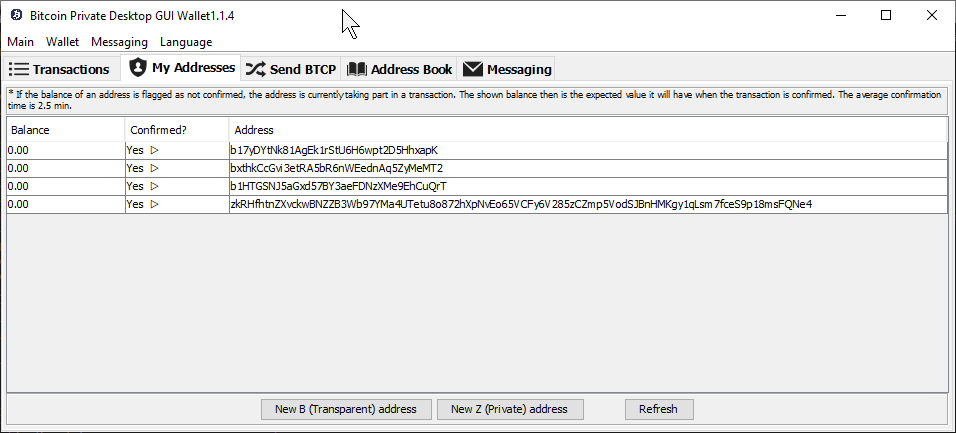 BITCOIN PRIVATE CORE – BTCP Wallet
Bitcoin Private (BTCP), Created in March 2018, it is a community-driven cryptocurrency that has been forked by Zclassic and Bitcoin. BTCP supports zk-SNARKs that mask the sender and receiver information when checking transactions in a public blockchain. It also has a larger block size of 2 MB and a faster block time of 2.5 minutes.
GitHub: https://github.com/BTCPrivate
Download Bitcoin Private Core:
Platforms: Windows, Mac, Linux
Java must be installed.
The community believes that Bitcoin Private is closest to the original vision of financial independence promoted by Satoshi Nakamoto. It has the ability to make fast, low-cost, decentralized, private transactions.
Development history and development team
Bitcoin Private cryptocurrency appeared on February 28, 2018, not through an ICO like many current coins, but through a fork from Bitcoin. The main network launched on March 3, 2018. While some of the forks of the world's leading cryptocurrency generated a lot of interest and attention from around the world, this coin was supported by a distinct minority.
Its offshoot was not exactly the same as the other BTC derivatives of cryptocurrencies. Instead of the standard generation directly from the Bitcoin blockchain, as happened with Bitcoin cash and Bitcoin Gold, Bitcoin Private was created as a copy of a digital currency known as Zclassic. Zclassic, in turn, was itself a copy of Zcash, created from the original Bitcoin, so Bitcoin Private was a coin with a complicated history of origination from its inception. The new cryptocurrency already in the first 30 days of its existence attracted more than 200 people to its community, including more than 20 engineers and other specialists who contribute to its development:
Jacob Brutman (Ph.D., operations specialist);
Giuseppe Stuto (development strategist);
Dan Farina (full-stack developer);
Chris Sulmon (Bitcoin Private wallet developer);
Jamie Owens (cloud engineer);
Tam Tran (web developer).
Technology Bitcoin Private
How does the new cryptocurrency differ from Bitcoin and ZClassic in technological terms? First of all, it has several differences in terms of privacy, speed and transparency of transactions. As with both donor coins, Bitcoin Private supports peer-to-peer transactions, which are verified by nodes through cryptography and recorded in a public ledger.
Privacy
The coin uses a technology that is also available in ZClassic. We are talking about zk-SNARKS. "ZK" is an abbreviation for "zero knowledge". This means that all transactions are published in a public blockchain, but senders, recipients and other metadata are not identified.
Speed
Bitcoin Private supports an increased block size compared to BTC, which has resulted in increased network speed. This has been achieved without compromising anonymity or security.
Transparency
The cryptocurrency provides full transparency to its community. It is an open-source coin and, according to the developers, will remain so forever. Its code base will be available to anyone on request.
Key features of the Bitcoin Private network
The cryptocurrency has several unique features that distinguish it from other coins as well as from its predecessors. These include the EquiHash algorithm, transparent and shielded transactions, a voluntary contribution program for miners, and treasury management.
Transparent transactions contain entry, exit, coin counts and an electronic signature. Shielded transactions, on the other hand, are only verified by the system, but are not verifiable by third parties. These transactions use a specialized zero-resolution algorithm called zk-SNARKS. It is designed to ensure the integrity of the system.
Roadmap
The creators of the coin have extensive plans for its development in 2018 and 2019.
2018:
III block:
completing a BTCP reboot (starting a new base node);
Conducting a soft fork to fully support SegWit;
community development;
launching a new version of Electrum Wallet;
implementation of Tor by default;
Tor Wallet release;
implementation of the second and third phase of the trading platform;
integration with e-commerce plugins (Shopify, Magento, WHMCS, 3dCart, Woocommerce, PrestaShop, Bigcommerce, etc.).
IV block:
implementation of the "dandelion" privacy protocol;
The use of obfuscation techniques including stem and fluff to ensure the privacy of transparent transactions;
activation of transaction protection by default in all wallets;
the third and fourth phases of the trading platform;
payment gateway integration;
UI / UX wallet updates.
2019:
implementation of an alternative PoW algorithm;
creation of an iOS wallet with transaction escaping;
launching the trading platform with shielded transactions;
enabling shielded transactions by default;
implementation of mandatory transaction security.
Conclusion
Because of its ability to provide fast transactions, Bitcoin Private has good potential in both private and commercial networks, including on a global scale. In addition to secure, proven and attractive cryptocurrency technologies, this coin has the added advantage and promise of anonymity and privacy. The fast creation time of new blocks, low hashing rate and constant resistance to mining with asics along with the Equihash algorithm makes Bitcoin Private one of the most profitable cryptocurrency miners at the moment. This will provide people who mine it now with potentially larger profits in the future.